Communication Arts & Sciences
(440) 826-2278
Share
OVERVIEW
Strategist. Catalyst. Creative visionary. Savvy communicator. Tap into your talent. The vibrant and engaging major of public relations enables you to build your skills in marketing, media relations, event promotion and more.
Creative and communications-focused, public relations is a dynamic, fast-paced field where strategic plans and tactics are developed and implemented to address institutional goals and values.
Real-world focused, BW's program offers meaningful hands-on learning and portfolio-building opportunities. You'll gain a comprehensive palette of skills that include research, campaign creation, public speaking, persuasive messaging and media kit design.
BW's proximity to Cleveland puts you within easy access to impressive networking, internship and job shadowing connections. Opportunities include Fortune 500 corporations, government and non-profit agencies, mid-sized businesses, media organizations and more.
A required internship enables you to apply classroom concepts to practical situations and build a portfolio that showcases your work to prospective employers and graduate schools.
BW is a member of the Public Relations Society of America and the International Association of Business Communicators, providing access to more than 100 area professionals.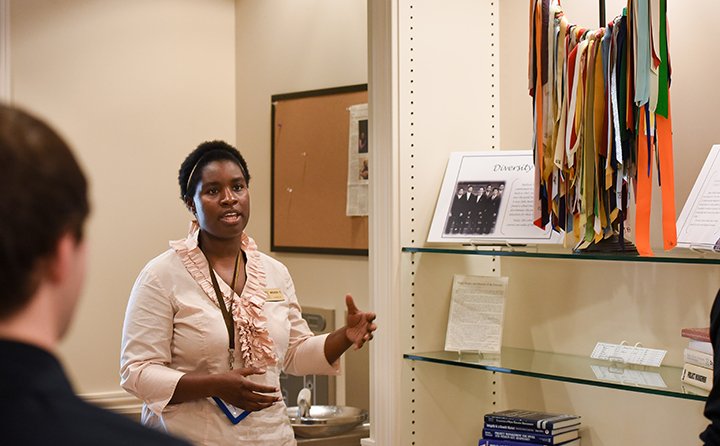 Public relations majors enhance their studies through internships and a variety of co-curricular activities. Miranda Jackson '15 leads tours for prospective students through the office of admissions.
CAREER OPPORTUNITIES
Social media and content marketing
Corporate and nonprofit community relations
Event planning
Media relations
Brand marketing
Journalism
Human resources
Development
Public service
Sales
CURRICULUM
Public relations is offered as a major and minor. Because of the variety of skills needed to work in the field, the program encourages an interdisciplinary approach that includes courses in communication, English and business.
Program flexibility is a key advantage. Through course electives, independent study, internships and more, you can customize your education to focus on specific areas of interest.
The public relations major prepares students to: 
Define, describe and apply the RACE model (research, action, communication, evaluation) to the public relations planning process
Produce and assess a public relations plan
Critique, plan and execute special events
Discuss, identify and plan effective internal and external communication strategies for an organization
Identify elements of good design as well as create professional quality materials for personal and professional use
Explain and apply influence tactics to real-world experiences
Analyze and critique a public relations campaign
Prepare and implement social media plans
Analyze and evaluate personal strengths and weaknesses to develop a personal branding strategy for personal and professional successes
Create a professional portfolio to be used for internship, graduate school and employment interviews.
STUDENT EXPERIENCES
Professors and advisers in the program are professionals in the field who bring a real-world component to the classroom.
Experiential learning bridges classroom study with real-world opportunities. You can enhance your studies through internships, co-curricular activities and other learning opportunities that include:
Outside the classroom, student-directed media includes The Exponent (newspaper), WBWC (radio station) and BWTV (program airing on local cable TV).
STUDENT CLUBS & ORGANIZATIONS
Digital Marketing Clinic
A hybrid between a class and an internship, BW's Digital Marketing Clinic is a student-run, experience-driven agency offering digital marketing expertise to local businesses. In addition to gaining portfolio-building, real-world experience and networking opportunities, students can earn certifications from digital marketing applications like Hubspot and Hootsuite.
PR for Nonprofits
This annual networking event for public relations majors and marketing majors introduces students to possible careers in nonprofit public relations, marketing and development. Professionals spend an evening sharing their careers and job roles and responsibilities with interested students. Students can network to learn more about nonprofits, as well as seek internships and jobs.
Public Relations Student Society of America (PRSSA)
BW has a Public Relations Student Society of America (PRSSA) chapter. PRSSA serves as the pre-professional organization for the PR profession, exposing students to academic and professional networking.
Lambda Pi Eta
Lambda Pi Eta is the communication studies honor society. It serves as a point of distinction for high achieving students as well as a sponsor for a service-learning initiative through Habitat for Humanity.
At the annual Honors Ceremony in the spring, recognitions include:
The Charles G. Irwin Scholarship (in honor of Dr. Charles G. Irwin for his service as professor from 1948-1973).
Donna E. Fry '58 Scholarship (in honor of Donna Fry '58, who had great admiration for BW professors).
ALUMNI SUCCESS
At Baldwin Wallace, you'll experience personal and professional growth in a supportive community that challenges and inspires you to succeed. Recent BW public relations majors are finding their success in a variety of careers.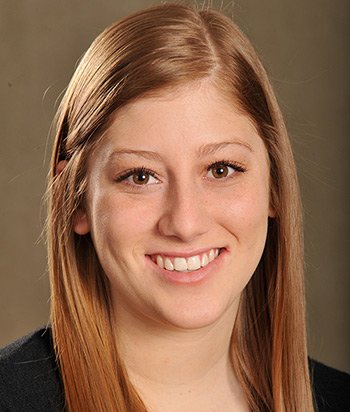 Annette Fetter '15 is assistant development director at Kidney Foundation of Ohio in Cleveland. Internships and on-campus jobs enabled her to identify a passion for non-profit public relations work and gain invaluable professional experience prior to graduation. Annette is from Stow, Ohio.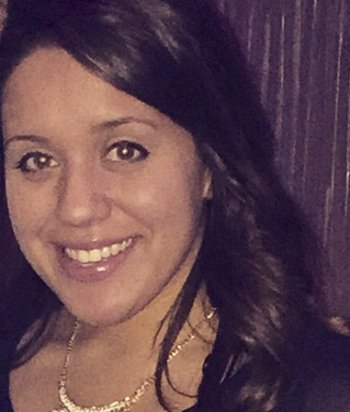 Hedy Francescangeli '15 is marketing assistant at Merit Brass Company in Cleveland. Diverse course offerings enabled her to explore opportunities in the field and identify her passion. Student organizations developed her leadership and communication skills. Hedy is from Brunswick, Ohio.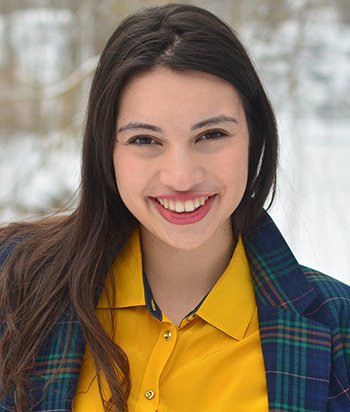 Chelsea Glosser '15 is social media associate editor at SSPR in Chicago. Internships and class projects enabled her to develop skills in social media marketing and build an impressive personal portfolio that helped her land a position upon graduation. Chelsea is from Beachwood, Ohio.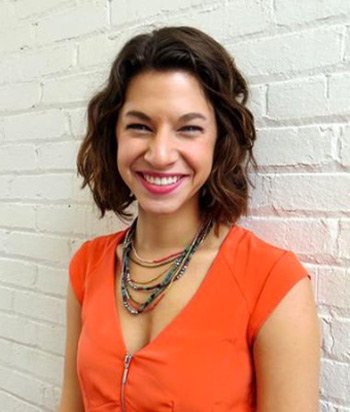 Kayla Starta '15 is client success manager at Enfusen in Akron, Ohio. Numerous BW co-curricular activities including PR club, digital marketing clinic and the arts management association enabled the Pittsburgh native to build her personal network and professional experience and get hired immediately after graduation.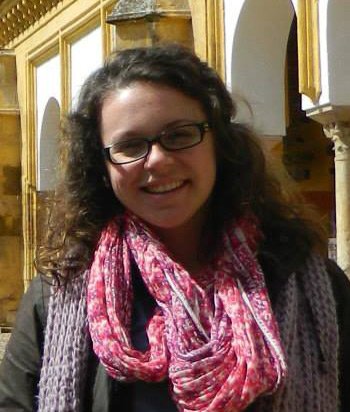 Courtney Fraley '14 is Latin American marketing and sales associate at MTD Products in Valley City, Ohio. Courtney interned for two semesters at MTD while at BW and was hired by the company after she graduated. Courtney is from Mansfield, Ohio.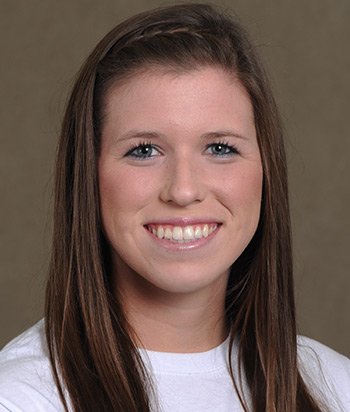 Lara Teigeler '14 is marketing specialist for OnX Enterprise Solutions in Mayfield Heights, Ohio. Classroom learning paired with co-curricular activities, study abroad, internships and on-campus jobs provided the Perry, Ohio, native with an education that was both broad and practical.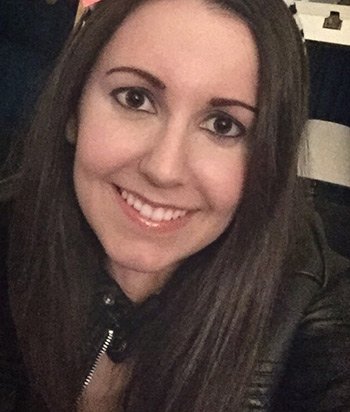 Chelsea Kertes '13 is the convention and event experience coordinator at Destination Cleveland. She is pursuing a master's in sport management at Tiffin University. Chelsea is from Fairview Park, Ohio.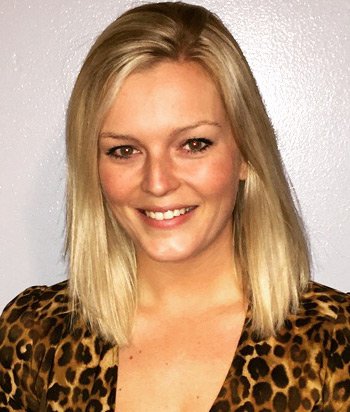 Rachel Switalski '13 is marketing associate for Gebauer Company in Cleveland. Diverse internship opportunities and close relationships with BW faculty and classmates have been crucial to her development as a person and a professional. Rachel is from North Royalton, Ohio.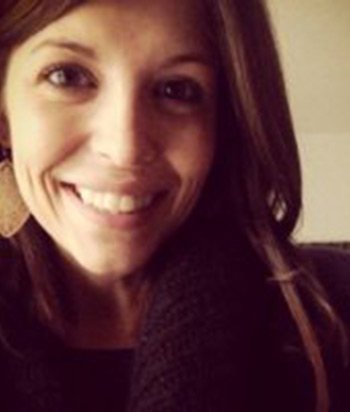 Jennifer McPherson '12 is assistant marketing manager at Fire-Dex in Medina, Ohio. Internships and co-curricular activities provided valuable networking opportunities and professional experience and have enabled the Berea, Ohio, native to continue to advance in her career.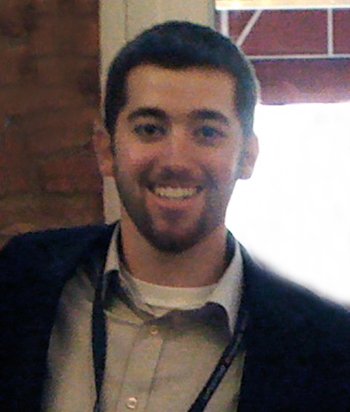 Joe Prada '12 is marketing coordinator at the Greater Cleveland Aquarium. Mentoring relationships with faculty, varied internship experiences, and support from career services helped him identify his goals and confidently launch his career. Joe is from North Olmsted, Ohio.