Share
OVERVIEW
Become a masterful storyteller whose artistic, aesthetic and classical training set you apart as an actor and prepare you for a career in the performing arts.
Baldwin Wallace's Bachelor of Fine Arts (BFA) in acting is a rigorous, comprehensive program that melds the versatility, focus and poise of classical theatre training with the ingenuity and candor of contemporary theatrical techniques.
You'll receive intensive training in acting, voice, and physical process, as well as learn skills to create a strong on-camera presence.
Small class sizes, individual attention, professional mentoring and extensive performance opportunities are at the core of the program.
BW's partnership with Cleveland's acclaimed Great Lakes Theater at Playhouse Square provides you with professional opportunities to understudy roles and earn equity points.
A New York City showcase puts you front and center to national agents, casting directors and other industry professionals.
Distinguished Program
BW's BFA in acting is an exciting new program that offers a fresh approach to classical actor training. It is the only BFA in acting in Northeast Ohio and only BFA in classical acting in the Midwest.
Lauded as a Top National Program
BW's Bachelor of Fine Arts (BFA) in acting program has been named one of the top 25 in the nation by OnStage Blog. BW's program was lauded for its impressive partnerships with nationally ranked theatre and arts organizations.
Performing Partners
Baldwin Wallace's close proximity to Cleveland and its nationally ranked theatre and arts organizations offers outstanding learning and performing opportunities.
You'll benefit from BW's formal alliance with Cleveland's Great Lakes Theater (GLT), which is one of the few recognized, active partnerships between an equity theatre and undergraduate program in the US.
Also important will be audition opportunities with GLT's partner theatres — the Lake Tahoe Shakespeare Festival and Idaho Shakespeare Festival.
BW faculty are practicing professionals with these companies as well as other leading Northeast Ohio organizations:
2018 Senior Class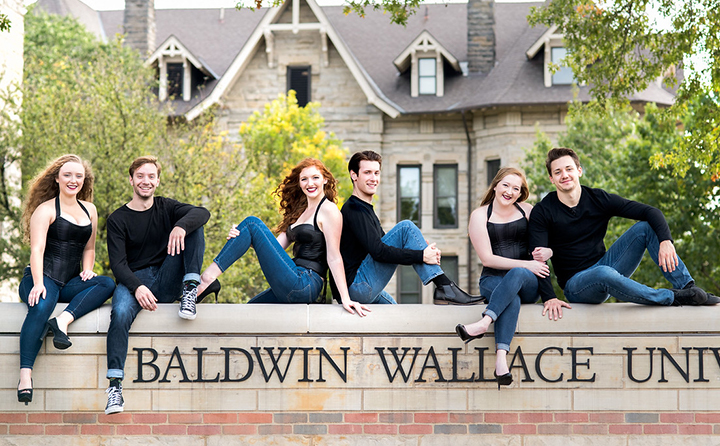 Coming Soon to a Theatre Near You
Members of the first graduating class from the BFA in acting program are poised to embark on their professional acting careers.
CURRICULUM
Strong academics, intensive hands-on learning opportunities, and personalized coaching and mentoring are inherent to the program.
You'll learn from award-winning, professionally active faculty with extensive experience in directing, acting, design and dance.
The BFA in acting builds on Baldwin Wallace's recognized strength in the theatre arts and includes a strong collaboration with BW's nationally acclaimed music theatre program in the Conservatory of Music, with faculty teaching across programs.
The comprehensive curriculum prepares you for success. You'll gain the vocal, analytical and movement skills needed to excel. It includes eight semesters of acting; a wide range of movement training, including dance and stage combat; and multiple approaches to text analysis. View the program sequence of classes and activities.
The importance of mastering dramatic verse is a priority, and emphasis will be given to its foundation in helping you develop as an actor for classic and contemporary roles. You'll learn a wide range of techniques including scansion, Folio Technique, Linklater, Fitzmaurice, Alexander, Meisner, Stanislavsky and others.
In addition to the BFA in acting, BW offers a Bachelor of Arts (BA) in theatre with four track options — design and technical, dance and movement, stage management and acting and directing.
Master Classes
BW brings to campus guest industry professionals to teach students. These include agents, graduate school representatives and directors, all of whom can help students understand what it means to work as professionals in the field.
STUDENT EXPERIENCES
Acting students are encouraged to participate in a variety of cultural, professional and educational theatre and dance programs both nationally and internationally. These opportunities, in conjunction with theatre productions and student organizations, will help you network, advance your skills and build an impressive resume and portfolio.
Theatre Productions
Performance opportunities begin early and continue through senior year, culminating in the New York City showcase.
You can audition for BW main stage and studio series plays, musicals, operas, two 10-minute play festivals, dance concerts and many student-led projects.
Within the BFA program, you are guaranteed classical performance opportunities:
sophomore class Shakespeare production
junior class outdoor Shakespeare production
understudy for a Great Lakes Theater production during senior year
Facilities
The Department of Theatre and Dance is located in Kleist Center for Art & Drama. It houses two theatres: Mainstage Theatre and Black Box Theatre.
The Mainstage Theatre is a large 500-seat proscenium theatre. The Black Box Theatre is a smaller, flexible theatre with seating between 100-250. This unique studio space is intended to provide a variety of seating arrangements, including proscenium, three-quarter-thrust and in-the-round.
There also are two dance studios and an acting studio, which operates as a small 30-seat performance space for rehearsal projects.
Student Organizations
Theatre Arts and Performance
This organization supports student theatre artists and those interested in theatre on campus. It informs students of events and opportunities in theatre, maintains an open forum for student ideas and projects, and raises awareness of on- and off-campus theatrical events.
Arts House
This campus-based, living-learning residence site is home to six to eight theatre and arts students. It hosts popular events like Diva Night and Jams & Java (a monthly coffee house concert series held in its basement theatre).
Faces for Radio
BW's improv comedy troupe holds bi-weekly workshops and performs on campus.
ALUMNI SUCCESS
Baldwin Wallace alumni can be found working as actors, directors, stage managers, artistic directors and more in performing-arts and entertainment venues across the nation. Career areas include theatre, film, television and other performing arts media. BW's outstanding reputation in the arts and longstanding networking channels benefit students in securing professional representation.
THEATRE AND DANCE DEPARTMENT
(440) 826-2239, theatre@bw.edu
Full-Time Faculty
Scott Plate
Chair, Theatre and Dance Department
Directing Program Coordinator
Associate Professor
Acting, Directing, On Camera
Tesia Benson
Assistant Professor
Make-up, Costume Construction
Beth Burrier
Music Theatre Music Director & Area Coordinator, Music Theatre
Associate Professor of Music Theatre
Victoria Bussert
Director, Music Theatre Program
Professor of Theatre
Gregory Daniels
Coordinator, Dance Program
Associate Professor of Dance
Jazz, Tap
Anjanette Hall
BFA in Acting Program Coordinator
Assistant Professor
Les Hunter
Assistant Professor
Playwriting, Script Analysis, Screenwriting
Christine McBurney
Assistant Professor
Brennan Murphy
BFA in Acting Program Coordinator
Associate Professor
Acting, Voice
Annika Sheaff
Assistant Professor
Ballet, Modern Dance
Sara Whale
Assistant Professor
Ballet, Modern, Improv, Choreography
Charlotte Yetman
Costume Design Program Coordinator
Professor
Adjunct Faculty
Laura Welsh Berg
Lecturer
Acting
Melanie Boeman
Lecturer
Costume Shop Manager
Pamela Decker
Lecturer
Theatre History, Dramaturgy, Script Analysis
Martin Friedman
Lecturer
Script Analysis, Intro to Theatre
Dylan Fujimura
Lecturer
Technical Director
Shannon B. Fujimura
Lecturer
B.F.A., Kent State University
Fred Gloor
Lecturer
Improvisation, Intro to Theatre
Tracy Grady
Lecturer
Singing for Actors, Voice
Todd Krispinsky
Lecturer
Theatre Management
Lisa Ortenzi
Lecturer
Creative Dramatics
Corrie Purdum
Lecturer
Stage Management 
Pandora Robertson
Lecturer
Movement, Devised Theatre
Kelly Smith
Lecturer
Acting
Bob Taylor
Lecturer
Theatre Seminar in London
Dusten Welch
Lecturer
Resident Fight Director, Stage Combat
Staff
Yolanda Kennedy
Office Manager
Josh Padgett
Assistant Technical Director