Share
OVERVIEW
If your interest in theatre includes scenery, costumes, lighting and sound, Baldwin Wallace's theatre design and technical major offers real-world learning opportunities.
The major is a comprehensive study that encompasses theoretical, practical, artistic and technical skill-building. It includes hands-on learning and coursework in scenic design, lighting, costume design, stagecraft, script analysis, stage management and more.
Foundation courses in literature, history, performance, technical and collaborative studies help you develop analytical skills and insights into professional theatre.
Student success is a top priority. Small class sizes, individual attention and faculty mentoring are at the core of the program. You'll be encouraged to participate in professional apprenticeship opportunities nationally and abroad.
BW faculty are practicing professionals with contacts at Cleveland's Great Lakes Theater, Cleveland Public Theatre, Beck Center for the Arts and Dobama Theatre, as well as Idaho Shakespeare Festival and Lake Tahoe Shakespeare Festival.
Through these opportunities, you'll gain experience, earn Equity points, network and build an impressive resume.
With both proscenium and black box theatres, BW offers traditional and contemporary audience settings that provide a variety of learning environments, including theatre in-the-round, thrust staging and more.
CAREER OPPORTUNITIES
Director
Critic
Scenic and costume design
Lighting and sound designer
Theatre manager
Stage manager
Playwright
Dramaturg
FOUR SPECIALIZED PROGRAMS OF STUDY
At BW, theatre majors can focus their studies in acting and directing, dance and movement, design and technical and stage management. All programs include a solid foundation of courses designed to give students a comprehensive overview of theatre.
STUDY THEATRE IN LONDON
Heighten your understanding and appreciation of British theatre through a study abroad experience. The program is a three-week, credit-earning immersion course in British theatre that includes a nine-day trip to London. It is led by BW theatre faculty.
CURRICULUM
Offered as a major and a minor, theatre offers four programs of study: acting and directing, dance and movement, design and technical and stage management. BW also offers a major in music theatre through its Conservatory of Music and a BFA in acting.
The theatre major provides a broad perspective of the literature, history and creative practices of the discipline. Courses prepare students to appreciate and participate in theatre at all levels of performance, production, direction, design and management.
You can study acting, directing, voice and movement, scenic and costume design, lighting, stage management, theatre history and more. You also can take special seminars in contemporary topics.
The theatre major prepares students to:
Develop an awareness and appreciation of theatre and/or dance as art forms and as a vital asset to society
Acquire competency in their chosen area of study
Acquire an understanding of the history of the theatre and/or dance including its literature and criticism
Develop responsible standards of criticism regarding the aesthetics of theatre and/or dance
Develop research skills/techniques applicable to scholarly and/or production needs
Develop an understanding of the collaborative nature of theatre and/or dance by active participation in production work within the program
STUDENT EXPERIENCES
Experiential learning bridges classroom study with real-world opportunities. You can enhance your studies through theatre productions, internships, co-curricular activities and student organizations.
Student Organizations
Theatre Arts and Performance
This organization supports student theatre artists and those interested in theatre on campus. It informs students of events and opportunities in theatre, maintains an open forum for student ideas and projects, and raises awareness of on- and off-campus theatrical events.
United States Institute for Theatre Technology (USITT)
The BW student chapter of USITT is committed to strengthening the skills of technical theatre students while carrying out the mission of the national organization. USITT serves to create vibrant dialogue among practitioners, educators and students. USITT members attend the annual conference each year.
Facilities
The Department of Theatre and Dance is located in Kleist Center for Art & Drama. It houses two theatres: Mainstage Theatre and Black Box Theatre.
The Mainstage Theatre is a large 512-seat proscenium theatre. The stage has a 67-foot fly loft with a counterweight system. The stage opening is 44' by 24' with an extended 15-foot apron, ample wings and depth measuring 30 feet. This facility also boasts a new lighting system installed by ETC. With over 200 dimmers, lights are operated on an Emphasis board including a WYSIWYG program.
The Black Box Theatre is a smaller, flexible theatre with seating between 100-250. This unique studio space is intended to provide a variety of seating arrangements, including proscenium, three-quarter-thrust and in-the-round. The theatre has a balcony around three sides and a lighting grid 23 feet above the stage floor. This space also boasts a new Strand Century Lighting system with a 520 series light board.
Off-Campus Experiences
Baldwin Wallace's close proximity to Cleveland and its nationally ranked arts organizations offers outstanding learning and performance opportunities. BW students worked with many of them, including:
ALUMNI SUCCESS
At Baldwin Wallace, you'll experience personal and professional growth in a supportive community that challenges and inspires you to succeed.
Recent BW theatre design and technical majors are finding their success in a variety of careers and studying at top graduate schools.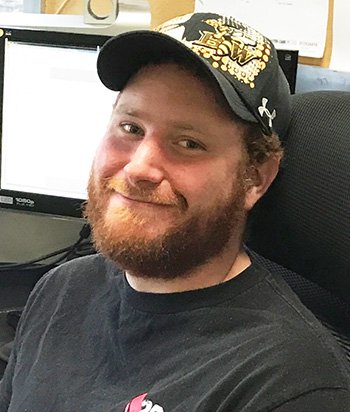 Nicholas Moertl '13 is technical designer at All Access Staging & Production in Los Angeles. After BW, Moertl attended the prestigious Yale School of Drama, earning a MFA in technical design. He was part of an elite group of technical designers to stage Lady Gaga's Super Bowl LI halftime show.
FACULTY
DEPARTMENT OF THEATRE AND DANCE
(440) 826-2239, theatre@bw.edu
Jeff Herrmann
Chair, Department of Theatre and Dance
Professor
Full-Time Acting Faculty
Victoria Bussert
Director, Music Theatre Program
Professor of Theatre
René Copeland
Assistant Professor
Directing Program Coordinator
Keira Lea McDonald
Associate Professor
Movement Specialist
Full-Time Dance Faculty
Gregory Daniels
Associate Professor
Dance Program Coordinator
Jazz, Tap
Annika Sheaff
Associate Professor
Ballet, Modern Dance
Sara Whale
Assistant Professor
Ballet, Modern, Improv, Choreography
Full-Time Design/Tech Faculty
Tesia Benson
Associate Professor
Make-up, Costume Construction
Jeff Herrmann
Chair, Department of Theatre and Dance
Professor
Adjunct Faculty
Laura Welsh Berg
Lecturer, Acting
M.F.A., DePaul University
Melanie Boeman
Lecturer
Costume Shop Manager
Martin Friedman
Lecturer
Theatre Literature
Dylan Fujimura
Lecturer
Technical Director
Tracy Grady
Area Coordinator, Music Theatre
Lecturer
Singing for Actors, Voice
Lisa Ortenzi
Lecturer
Creative Dramatics
Josh Padgett
Lecturer
Assistant Technical Director
Dusten Welch
Lecturer
Resident Fight Director, Stage Combat
Staff
Shelly Taylor
Administrative Assistant