Department of English
(440) 826-2293
Share
OVERVIEW
A versatile, career-preparative major that builds outstanding skills in critical thinking, reading and writing, English is a rewarding program of study. At BW, you'll engage in rigorous coursework, enriching experiential opportunities and comprehensive studies that span classic and contemporary literature.
English is intellectually stimulating and intrinsically rewarding. It offers outstanding preparation for graduate and professional school or entry into the fields of business, communication and education.
It builds competencies in oral and written communication, close reading, formal analysis, critical thinking, research strategies and debate.
Personal attention and faculty mentoring are at the forefront of the major. You'll supplement classroom studies with experiential learning opportunities that include independent study projects, internships, service-learning and study abroad.
BW professors bring impressive academic and scholarly credentials to the classroom. Whether you are fascinated with American, British or World literature, playwriting, poetry or other genres, BW faculty can help you explore your interest.
If you're looking to be published, you can contribute to BW's literary magazine and student-run newspaper. Another valuable source is BW's faculty, many of whom have published books, poems, articles and scholarly works.
ENGLISH IS A CAREER-FOCUSED MAJOR
Majoring in English aligns well with career preparation by developing characteristics employers value:
Effective oral and written communication
English majors become highly articulate in all areas of communication.
Critical thinking and analytical reasoning
Close reading enhances an ability to use logic, balance various points of view, recognize how meaning is determined by context and develop a sustained argument.
The ability to analyze and solve complex problems
Literary interpretation is an exercise in complex problem solving. English students learn to synthesize diverse points of view and apply multiple perspectives–social, political, economic, philosophical, historical and others–to understanding literary texts.
Ability to make ethical decisions
Through literature, readers reflect on the meaning and consequences of human action. Literature enables a deeper understanding of ethical questions by contextualizing them.
INTERESTED IN BECOMING A TEACHER?
If you would like to become an English teacher, BW has an outstanding teacher education program.

CAREER OPPORTUNITIES
Attorney
Journalist
Teacher
Librarian
Technical writer
Media representative
Public relations practitioner
Marketing director
Law enforcer
Human resources director
CURRICULUM
Comprehensive and rigorous, English offers the following programs of study:
Major in English
Major or minor in creative writing
Minor in writing
Minor in literature
Teacher licensure
Baldwin Wallace is one of only two schools in Northeast Ohio offering a creative writing major.
Within the English program, dynamic, engaging courses span traditional offerings like American, British and World Literature, Composition, Exposition and Argumentation, as well as contemporary and creative offerings that include:
Men Behaving Badly
Romantic Rebellion
Gender and the Gothic
On Madness and Murder
Nature Writing
Detective Fiction: Private Eyes
Creative Writing–Poetry
Fiction of Addiction
Grant Writing
Creative Writing–Playwriting
At the upper level, a departmental thesis and the honors thesis are options that invite students to engage in singular, long-term projects with a faculty director. Creative theses have focused on the writing of short stories, prose poems, vignettes, poetry and the lyric essay.
The English major prepares students to:
Develop into sensitive and perceptive readers of literature
Develop into effective writers
Increase their understanding of the history and nature of literature
Increase understanding of the history and nature of the English language
STUDENT EXPERIENCES
Small class sizes, individual attention and faculty mentoring are at the core of BW's English program.
Hands-on learning opportunities include independent study, research, study abroad, internships and service-learning.
Independent study offers students enrichment opportunities beyond the classroom for individualized and advanced study. Students work one-on-one with a faculty member. Summer Scholars is another BW opportunity that blends faculty mentoring and independent study with research, scholarly and creative endeavors.
BW's 20-minute proximity to Cleveland puts you within easy access to impressive networking, internship and career connections at corporations, government and nonprofit agencies, advertising and media organizations and more.
Study abroad offers exciting immersion experiences. Consider studying British writers by spending a semester in Great Britain or traveling to Costa Rica, Italy, Hong Kong or any of the many other sites recently visited by BW English majors.
The student literary and arts journal, "The Mill," is a high-quality publication that enables you to hone your craft as a writer or editor. The Mill Reading Series sponsors emerging and established writers to read their works on campus each semester.
You also can gain writing experience serving as an editor or staff member of the student-run campus newspaper "The Exponent."
Other hands-on activities include a project that places BW students at local high schools to tutor writing and a Grant Writing course that matches students with nonprofit organizations to research and write real-world grant proposals.
Students in Dr. Susan Oldrieve's advanced studies Chaucer class delve into their studies in a fun, creative way. They reenact the famous Canterbury Tales pilgrimage with their own version that takes them throughout Northeast Ohio.
The department's Career Explorations Book Club assists students in charting their path to a satisfying career in the early stages of their English major.
On campus, English students are regularly recognized for their achievements.
Alpha Mu Zeta (BW's chapter of Sigma Tau Delta) is the international English honor society. It fosters a sense of community among English majors and minors by organizing social and cultural events.
At the annual Honors Ceremony in the spring, recognitions include:
A.W. "Bud" Collins Prize in Creative Writing (in honor of A.W. Collins '51).
Twila Haines Coxon and A. Williams Coxon Scholarship (in honor of Twila Haines '19 and A. Williams Coxon).
English Department Essay Prize (made possible by a gift from J. Richard Hankins, who taught at BW and helped establish the BW Writing Lab).
Amelia and Clara Harding Scholarship (in honor of Amelia '36, Charles '37 and Clara Harding).
Robert Howells Memorial English Scholarship (in honor of Robert Howells, who taught at BW 1967-88).
Ruby V. Redinger Prize (in honor of Ruby Redinger, an author and member of the English department 1956-1981).
Dr. Neille and Jeanne Shoemaker Scholarship (in honor of Dr. Neille Shoemaker, who taught in the English department 1946-86).
Bertha Stiefel Scholarship (in honor of English professor Bertha Stiefel '20, who taught at BW 1938-68).
ALUMNI SUCCESS
Baldwin Wallace has long championed the success of its students. Evidence of this can be seen in the extraordinary achievements of its alumni spread throughout the United States and the world.
Alumni with English majors and minors have found exciting careers in marketing, advertising, writing and editing, secondary and higher education, law and the nonprofit sector.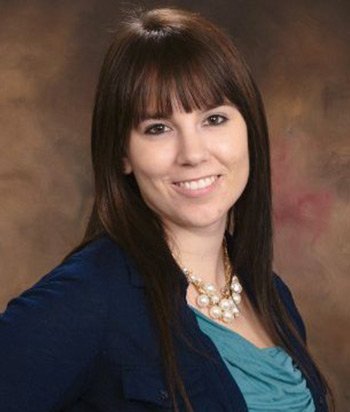 Paige Greene '14 is marketing communications specialist for Millwood Inc. in Vienna, Ohio. A campus job enhanced her professional writing skills, and BW career services programs helped her develop the confidence and job-seeking skills to land her current position. Paige is from Franklin, Pa.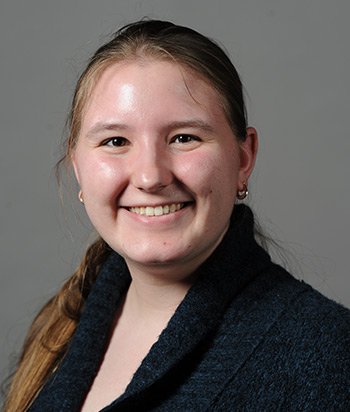 Katherine Brink '13 is industry analyst and copy editor for The Freedonia Group in Cleveland. At BW, Katherine worked as a course assistant, providing feedback on student business plans. She also worked as student consultant for BW's business plan clinic. She is from Strongsville, Ohio. 
Doug DeGirolamo '13 is coordinator of strategic events for the School of Medicine at Case Western Reserve University in Cleveland. His writing and critical thinking skills have enabled him to build a career in higher education and nonprofit administration. From Parma, Ohio, he holds an M.A. in leadership in higher education from BW.
Brooke Hamilton '13 is law clerk for Reminger Attorneys at Law in Cleveland and J.D. candidate at Cleveland-Marshall College of Law. Under the mentorship of BW faculty, the Cleveland native developed her ability to comprehend and analyze large amounts of information critically and accurately, essential skills in law school.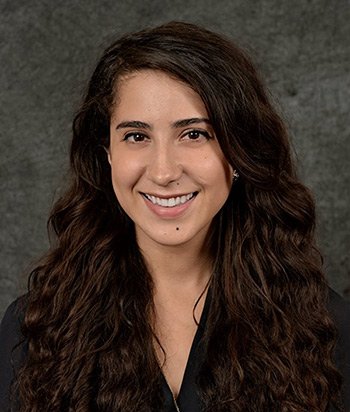 Candace Hisey '13 is language arts teacher for Bio-Med Science Academy in Rootstown, Ohio. An interdisciplinary education allowed the Grafton, Ohio, native to become an educator with both broad interests and specialized knowledge, a combination that has made her highly valued in her profession.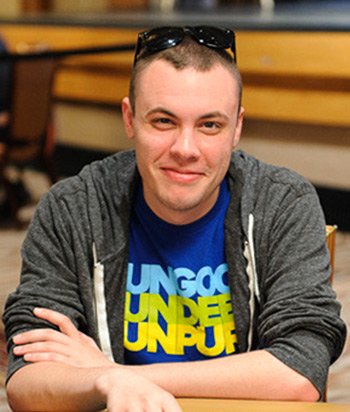 Josh Cahlik '12 is media coordinator and tournament reporter for World Series of Poker. He is based in Cleveland but travels frequently in this position. A demanding curriculum and mentoring relationships with BW faculty helped the Berea, Ohio, native develop his professional writing skills and launch an exciting career.
Lisa Ferian '12 is marketing communications specialist for Invacare Corporation in Elyria, Ohio. Independent study allowed her to hone her writing skills while a liberal arts education and diverse internships gave her the knowledge base to be marketable in a variety of fields. Lisa is from Strongsville, Ohio.
Michael Johnson '10 is currently pursuing a Ph.D. in rhetoric and composition at Ohio University. Individual attention and mentoring from BW professors supported his growth as a thinker and writer and prepared him for graduate study. Extracurricular activities helped him develop as a leader. He is from West Salem, Ohio.
Sara Tackett '10 is assistant public defender for the Office of the Public Defender in Lake County, Ohio. As an English major, the Perry, Ohio, native developed the writing and speaking skills to effectively advocate for her clients. Co-curricular work experiences with local non-profits reignited a passion for public service.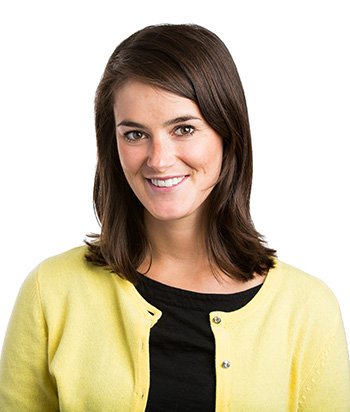 Colleen Benoit '09 is archivist at History Associates Inc. in Rockville, Md. She earned an M.A. in history from Kent State University. BW faculty mentors connected her to internships and community-based work experiences and helped her develop confidence in her skills. Colleen is from Fairport, N.Y.
Adam Bowers '09 is campaign coordinator for Northeast Ohio Media Group in Cleveland, Ohio. Clear and concise communication, in-depth research and a highly detail-oriented nature are all important skills the North Ridgeville, Ohio, native honed as a BW English student that have allowed him to excel in his career.
Chris Boddy '08 is freelance editor and ESL test writer for Cambridge Michigan Language Assessments based in Cleveland. He develops questions for several high-stakes English-language tests administered around the world. He is from Parma, Ohio. 
Kattie Basnett '07 is technical writer and communications specialist for Texas Department of Assistive and Rehabilitative Services Center in Austin, Texas. Her dissertation, "Animal Remainders, Remaining Animals," earned her a Ph.D. in literature from Rice University. She is from North Royalton, Ohio.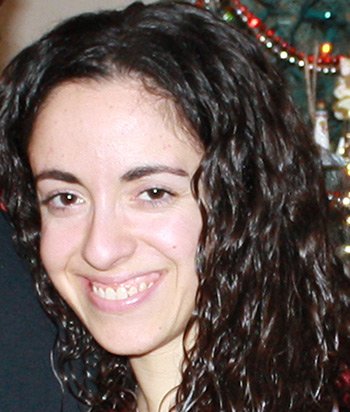 Mary Assad '06 received a Ph.D. in English from Case Western Reserve University in Cleveland, where she is lecturer teaching writing and ESL. She graduated from BW with a B.A. in history and a minor in English. The Parma, Ohio, native published a book on the history of BW, "Baldwin-Wallace College" (Arcadia, 2008).
Full-Time Faculty
Denise Kohn
Chair, English Department
Professor
Ph.D., University of Houston
Ana de Freitas Boe
Professor
Ph.D., State University of New York at Buffalo
Jeff Covington
Assistant Professor
Ph.D., Brown University
Michael Dolzani
Professor
Ph.D., University of Toronto
Michael Garriga
Associate Professor
Ph.D., Florida State University
Les Hunter
Assistant Professor
Ph.D., Stony Brook University
Sharon Kubasak
Associate Professor
Ph.D., Case Western Reserve University
Terry Martin
Professor
Ph.D., State University of New York at Buffalo
Susan Oldrieve
Professor
Ph.D., University of Virginia
Heidi Thoenen
Assistant Professor
M.A., University of Akron
Writing Specialists
Eric Gardener
Writing Specialist
Ph.D., Southern Illinois University at Carbondale
Judette Kullins
Literacy Specialist
Tammy Layton
Writing Specialist
M.A., John Carroll University