English grad excels both academically and creatively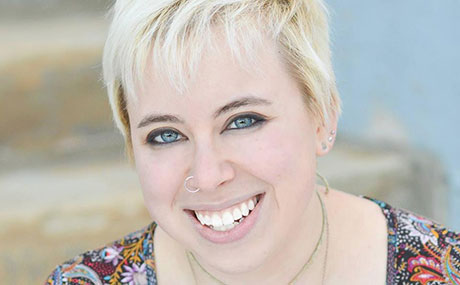 With creative works both published and performed and a recently-completed Master of Arts degree in English, Nic Campeotto '15 is utilizing and expanding upon her BW English degree to follow her passions for education and creative writing.
Graduate program
Campeotto recently finished up her graduate program at George Mason University.
While earning her MA, she worked as a tutor in the George Mason Writing Center, created Writing Center workshops and served as a graduate teaching assistant for freshman English composition courses.
"I also had the opportunity to give a paper at a George Washington University graduate symposium and had a poem and a collaborative multi-media piece accepted for publication in an upcoming anthology," Campeotto explained.
Creative works
Campeotto has found other success with her creative works, including being published in several literary journals. Her pieces have been featured in publications such as For Books' Sake, Fiction Southeast and Cactus Heart as well as in BW's own literary journal, The Mill.
Her poem "dreambody" for Cactus Heart was nominated for a Pushcart Prize in 2016.
Recently, Campeotto contributed a poem to the performance piece "haumapuhia rising," which was presented in New Zealand in March as part of an arts festival. The performance focused on women's narratives and featured layered recordings of poems by several poets, including Campeotto.
Paying BW support forward
Campeotto is grateful for the lasting support she has had from the BW community, which has extended beyond her time as an undergraduate.
"The faculty in the English department in particular has always been willing to go out of their way to give me all of the support, encouragement and advice I needed," Campeotto shared, "for everything from pushing forward both my creative and academic work to presenting at conferences to applying to graduate school to writing a syllabus for the first time.
"It's my hope that I can give my students even a fraction of what they have given me," Campeotto said.