School of Social Sciences
(440) 826-2161
Share
OVERVIEW
The criminal justice major offers diverse career opportunities in corrections, law enforcement, law and courts, juvenile justice, casework, victim advocacy, corporate security and asset protection.
The interdisciplinary nature of this major helps you understand the psychological, sociological and political factors underlying criminal and delinquent behavior and critical issues within the criminal justice system. Coursework includes criminal justice as well as psychology, political science and sociology. It offers outstanding preparation for employment as well as graduate or professional school studies.
Through BW's program, you'll gain critical thinking and problem-solving skills that prepare you for a career in law enforcement, courts and corrections. You'll gain insights, strategies and professional practices that can be readily applied to real-world situations.
Complementing BW's comprehensive, rigorous curriculum are rich experiential learning opportunities that include internships, professional mentoring opportunities and co-curricular organizations like the Criminal Justice/Sociology/Forensic Science Club.
BW's 20-minute proximity to Cleveland puts you within easy access to impressive networking, internship and career-focused opportunities at criminal justice agencies. BW also brings practitioners to campus to recruit students and help you prepare for your career.
The criminal justice program has created a pipeline to employment with internship and career opportunities with local, state and federal agencies. Our faculty also keep an extensive database of alumni who work in federal positions and are available for networking.
Career Opportunities
Federal law enforcement (with additional experience)
Law enforcement at local, county and state levels
Juvenile justice positions
Juvenile and adult probation/parole
Institutional corrections - jails and prisons
Laws and courts (some positions require a law degree)
Victim advocate
Intelligence analyst
Crime lab
Popular Major for Law School
Criminal justice offers relevant undergraduate preparation for students interested in attending law school, especially those aspiring to become prosecutors or criminal defense attorneys.
Transfer Student Opportunities
Criminal justice is offered as an affiliated program for students transferring from community colleges. Students transferring to Baldwin Wallace after completion of an Associate of Applied Science (AAS) degree in law enforcement, criminal justice or police science will be awarded up to 62 semester hours of transfer credit as criminal justice majors if the AAS degree is from Cuyahoga Community College or Lakeland Community College. An AAS degree from an institution other than those mentioned will be evaluated on a case-by-case basis.
CURRICULUM
A comprehensive, interdisciplinary program, criminal justice includes coursework key areas such as policing, criminology and victimology, as well as relevant courses in psychology, political science, sociology and statistics. It is offered as a major and minor.
For individuals interested in forensics, there is also a forensic science minor that is part of the criminal justice program. An internship with criminal justice agencies offers firsthand experience and networking opportunities.
The criminal justice major prepares students to:
Become familiar with a body of knowledge as concerns the three major subsystems of the criminal justice system - law enforcement, courts and corrections
Develop an ability to understand and analyze critical issues in criminal justice from an interdisciplinary perspective (psychological, sociological, and political implications)
Develop familiarity with career opportunities within the criminal justice system and to adequately prepare for such opportunities
STUDENT EXPERIENCES
Experiential learning bridges classroom study with real-world opportunities. You can enhance your studies through internships, co-curricular activities and other learning opportunities that include:
STUDENT CLUBS ORGANIZATIONS
Sociology/Criminal Justice/Forensic Science Club
Through educational and social activities, this organization provides opportunities for students to gain experience in and exposure to the criminal justice and sociology fields.
ALUMNI SUCCESS
At Baldwin Wallace, you'll experience personal and professional growth in a supportive community that challenges and inspires you to succeed.
BW criminal justice majors have found success as:
Federal "special agents" including:


Federal Bureau of Investigation
U.S. Secret Service
Department of Defense
Alcohol, Tobacco and Firearms
Drug Enforcement Administrator
Postal Inspector
Department of State
U.S. Customs and Border Protection

Police officers
Chiefs of police
Detectives
County deputy sheriffs
Public defenders, prosecutors
Probation officers
Adult parole authority officers
Juvenile corrections officers
Victim advocates
FBI analysts
Corrections officers
Pre-sentence investigators
State highway patrol officers
Corporate asset protection
BCI crime lab agents and analysts
Case workers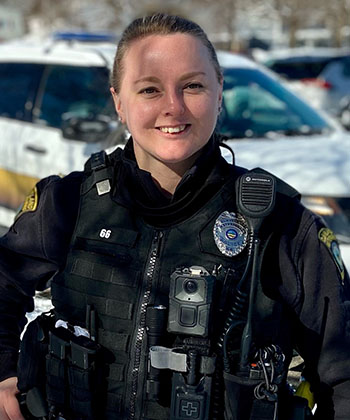 Mallory Crawford '13
"After BW, I attended and graduated from the Polaris Career Center Police Academy and have been a police officer for the Cleveland Metroparks since 2016. I enjoy the venue because each reservation has something unique to offer and provides new challenges each day. Currently, I am on the bicycle unit, honor guard, and recently became a BAC machine operator.
"Aside from making some wonderful connections, BW established a foundation of social theory, case law, and practical skills that are applicable to the field. It also helped me solidify where I wanted to work in the criminal justice field by offering unique learning opportunities, field trips, and internship experiences. In the future, I hope to become an instructor for both my department and surrounding police academies, as well as attend graduate school."
---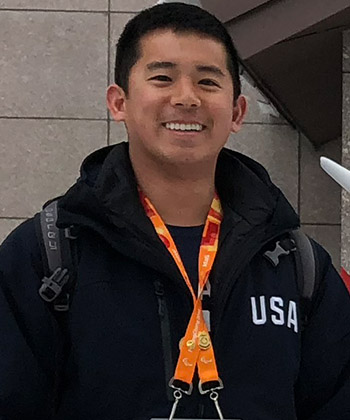 David Tran '11
"After graduating from BW, I earned a Master of Science from Bowling Green State University. Currently, I am a special agent focused on complex criminal investigations pertaining to various violations of U.S. criminal statutes - interacting with individuals from different walks of life and coordinating investigations to help my community and bring justice to victims.

"Baldwin Wallace prepared me for the challenging times and gave me the ability to be flexible while remaining focused on the mission. BW offered many unique leadership opportunities and experiences - giving students the ability to hone their skills before they go into the 'real' world. BW continuously strives to teach critical thinking and how to work with different perspectives, which are necessary skills to be successful in this career field."
FACULTY
Full-Time Faculty
Carol Gregory
Director, Criminal Justice Program
Professor
Ph.D., University of Delaware
Theron Quist
Assistant Director, Criminal Justice Program
Chair, Sociology Department
Professor
Ph.D., University of Arizona
Brian Monahan
Professor
Ph.D., University of Delaware
Julie Newcamp
Associate Professor
Ph.D., Purdue University