Share
OVERVIEW
The data analytics major is an interdisciplinary program that equips students with the skills needed to unlock the power of data and become indispensable contributors to their organizations. This rigorous program combines the technical skills involved in data work with training in business and communication to empower students to provide data-based insights to their organizations.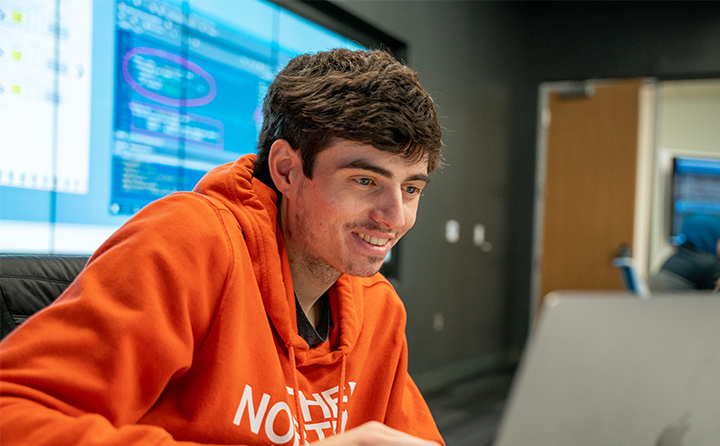 From high-level strategic decisions down to individual clicks on websites, nearly every facet of a business involves data. In the coming years, the collection and utilization of data will be an important determining factor in a company's success, and data analysts will play an integral part in decision-making. 
If you excel in math or have an interest in using code to make a valuable contribution to the business world, BW's data analytics program offers the perfect foundation.
What Can You Do with a Data Analytics Degree? 
Employers are looking for candidates with the knowledge and skills to address the unexpected problems that confront their organizations. Earning a bachelor of arts in data analytics can open a number of doors for you after graduation. You can pursue opportunities in almost any field, as the skills you learn in data analytics can be applied in different organizations and industries. Below are just a few examples of roles you can pursue after graduation.
Data analyst – Use statistical techniques to analyze data and interpret results to others.
Business intelligence analyst – Identify ways to turn data into value for your organization.
Market analyst – Research clients and market conditions to guide the direction of your organization.
Quantitative analyst – Apply statistical techniques to problems involving risk management.
Data scientist – Gather large datasets and develop tailored models to answer important business questions.
Data Science vs. Data Analytics
BW offers data analytics and data science majors, both of which feature many common courses and goals, but with some key differences between the two programs. Your professional goals and career path will help determine which major is the best fit for you.
The data analytics degree places a more targeted focus on applications of data to business contexts, while the data science degree gives students more technical preparation in mathematics and computing.
If you are unsure about which program you would like to pursue, the similarities in the two majors allow you to easily switch from one to the other, especially early on. Below you can see how the two fields overlap, as well as some distinct differences.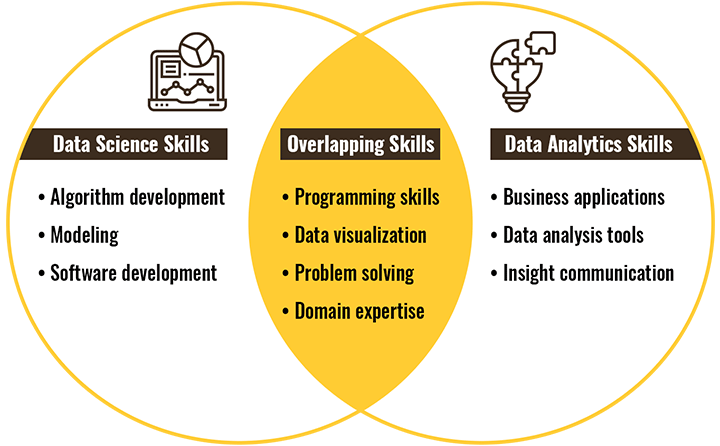 Courses required for the B.A. in data analytics but not for the B.S. in data science include:
BUS-358 (Business Communication)
BUS-365 (Business Analytics)
CAS-263 (Special Topics in Communication)
CURRICULUM
The data analytics program features a core set of courses and outcomes designed to train all students in data literacy.
In order to apply data skills to meaningful problems, students completing the bachelor of arts in data analytics will fulfill the BW commitment to an arts and sciences education by choosing a preferred subject area external to mathematics and computing.
The project-based nature of the program will give you a valuable, well-rounded experience while helping you to build a portfolio that showcases your work to future employers.
Learning Outcomes
Students completing a data analytics degree will be able to:
Demonstrate relevant programming skills for obtaining, transforming and analyzing data.
Use appropriate mathematical and statistical skills in the analysis of data.
Analyze and interpret data using an ethically responsible approach.
Apply technical skills to analysis and understanding of data in at least one application domain.
Work successfully in groups.
Communicate data-driven results to a wide variety of audiences.
Apply data skills to business-oriented contexts.
Develop data-driven insights appropriate for nontechnical audiences.
Key Data Analytics Courses
DSA-201 (Colloquium): Repeatable 1-credit seminar
DSA-301 (Practicum): Course in which students will work in teams to complete a meaningful project for a BW community member or an external partner.
DSA-470 (Internship or Summer Research Experience)
DSA-494 (Senior Capstone Project)
View the University catalog for a full list of courses.
Choose a Concentration in an External Discipline
In addition to the courses above, students will complete a sequence of courses in an external discipline designed to provide enough depth in a discipline to pose and answer a meaningful data-oriented question. Students are encouraged to use this to explore a passion in another area. You can choose from a wide range of disciplines at BW:
Arts and Humanities
Business
Health Sciences
Science
Social Science
Moreover, students have the option to create a personalized sequence of courses in cooperation with a faculty member in an area of their choosing. View all areas of concentration.
Hands-On Experience
We believe that students learn best through hands-on experience working with data and solving problems. Beginning with the first week of Introduction to Data Science and Analytics, you will write code to solve problems and build skills throughout the curriculum with the supportive mentorship of faculty members.
Demonstrate Your Skills in a Portfolio
Much of the hands-on learning in data analytics courses will take the form of projects, which will be assembled into a portfolio that you can use to demonstrate your skills to potential employers. You will also be able to explore an interest in an external discipline by completing a senior capstone project in that area.
The capstone project has the potential to be a signature portfolio piece that presents your skills in writing code or building models, your ability to communicate and your scope of scholarly interest. Whether you want to study biology, communication or philosophy, you will be encouraged to explore your passions through the lens of data. 
Facilities Designed for Learning and Collaboration
Most data analytics courses will take place in BW's state-of-the-art Knowlton Center. This facility features classrooms equipped with modern technology, comfortable common-area seating and myriad spaces available for collaboration. You will also have access to the data visualization lab, which features large screens designed to foster teamwork and sharing of ideas.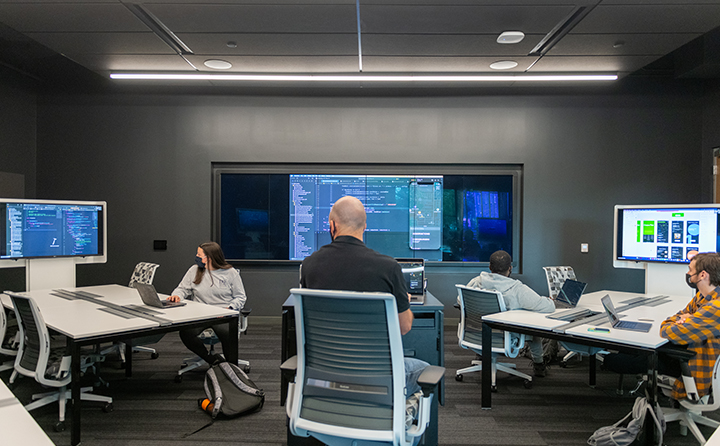 Choose Ohio First STEM Scholars Program
The BW Choose Ohio First STEM Scholars Program is open to Ohio residents who are entering Baldwin Wallace in the fall as a first-year student or transfer student and are interested in data analytics. Students are eligible to apply to the program which also offers the Choose Ohio First scholarship, awarding annual, renewable scholarships of up to $5,000.
ALUMNI SUCCESS
While the data analytics program is new, many recent BW graduates have completed studies in related fields, including mathematics, cybersecurity analyst, applied mathematics or computer science and have successfully found jobs working with data.
Many BW alumni currently work as data scientists, data analysts, business intelligence analysts, quantitative analysts, and software developers, working for companies such as KeyBank, Proctor & Gamble, Cleveland Clinic, Joann's and more.
As a student in the data analytics program at BW, you will develop a network of professional contacts and gain valuable experience working with data as part of the internship and practicum requirements. Program graduates will be well-equipped to find employment or to continue their studies in pursuit of a higher degree if they choose.
Full-Time Faculty
Aaron Montgomery
Coordinator, Data Science & Analytics
Associate Professor of Mathematics
Ph.D., University of Oregon
Brent Strunk
Chair, Mathematics & Statistics Department 
Professor of Mathematics
Ph.D., Purdue University
Andrew Watkins
Chair, Computer Science Department
Associate Professor
Ph.D., University of Kent, UK
Laura Croyle
Assistant Professor of Mathematics
Ph.D., University of Kentucky
Melissa Dennison
Professor of Mathematics
Ph.D., University of Illinois
Navneet Grant
Assistant Professor of Computer Science
DBA, Cleveland State University