Share
OVERVIEW
Help create a more sustainable future for our planet and its people. Gain the skills to assist organizations and communities in achieving success through Triple Bottom Line thinking and operations.
Baldwin Wallace's sustainability major is a comprehensive program offering four concentrations - business, policy and ethics, quantitative science, and science - that enable you to customize your coursework to align with personal and professional interests.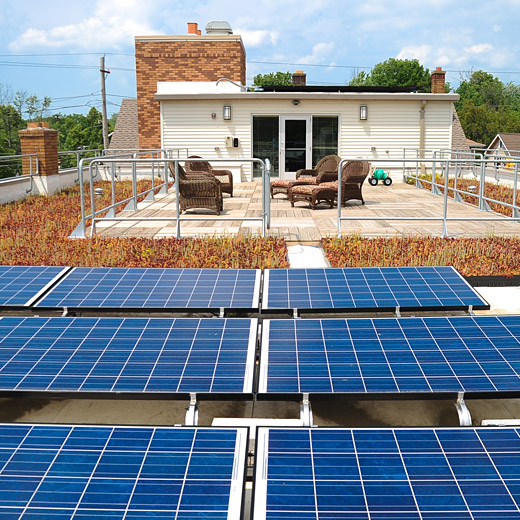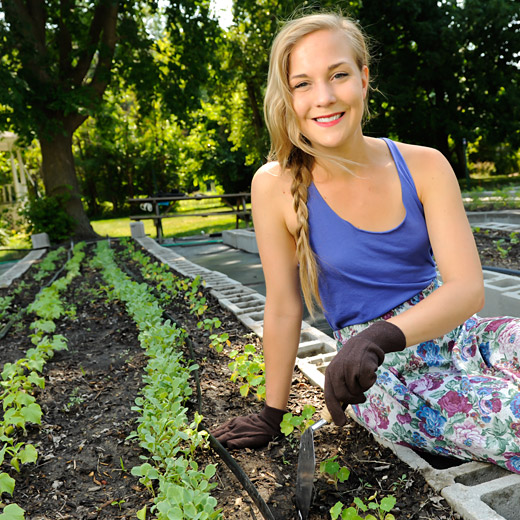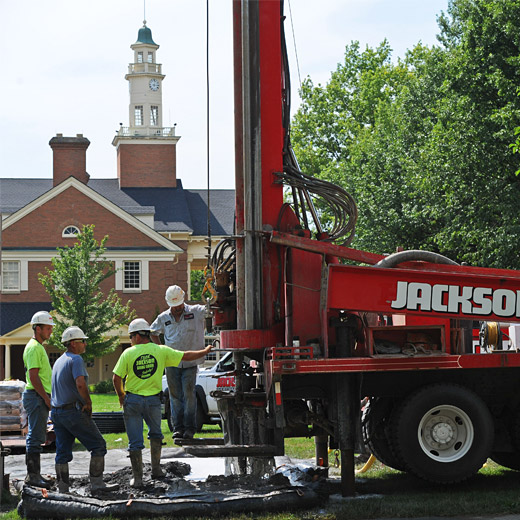 Sustainability Major Based on Elite Global Standard
As a Silver STARS*-rated AASHE** member institution, BW teaches students in the sustainability major in the problem-solving methodology of Triple Bottom Line thinking - people, planet and prosperity. This approach employs a transdisciplinary cost-benefit assessment, lifecycle analysis and nested systems mode of evaluating the environmental, social and economic consequences of the choices people make individually and collectively to achieve the greatest benefit at the least cost to future generations.
*Sustainability Tracking Assessment Rating System
**Association for the Advancement of Sustainability in Higher Education
Comparing Sustainability, Environmental Science
Sustainability focuses on developing solutions that enable communities and organizations to be socially responsible, environmentally friendly and economically savvy innovators. Environmental science focuses on the application of biological, chemical and physical principles to the study of the physical environment and the solution of environmental problems.
CURRICULUM
Baldwin Wallace's sustainability program provides a direct pathway to a rewarding career. Sustainability majors may choose one of four concentrations:
Business - broad-based business coursework - including options in management, marketing, entrepreneurship, finance and communications - provides the knowledge and skills for developing business plans and strategies for wide range of organizations.
Policy and ethics - an interdisciplinary focus - spanning economics, politics and sociology - offers a global understanding of sustainability that is ideal for graduate studies in policy or ethics, or for work in a nonprofit or government sector.
Quantitative science - a calculus-focused concentration offering excellent preparation for careers involving mathematical modeling, renewable energy, and data analysis.
Science - a deep immersion into biology and other sciences provides a strong foundation for careers and graduate studies that require higher levels of knowledge and literacy in the sciences.
All four concentrations in the sustainability degree program begin with similar foundational coursework and interdisciplinary options. Upper-level coursework is geared towards deepening the knowledge base of students in each of the four concentrations in preparation for a career.
In your junior year, you will put your inventiveness to work proposing bioinspired and biomimetic products via a biomimicry course that teams you with engineering and business students.
Senior year includes a capstone course that will provide you with a team-based learning experience working on projects emphasizing the practical application of sustainability methods.
View the University Catalog for course descriptions, requirements for the major and additional information.
What You'll Learn
BW's sustainability major prepares students to:
Develop sustainable solutions through a holistic approach that focuses on environmental justice and corporate social responsibility.
Effectively use tools for calculating an environmental footprint and projecting the impact of sustainable initiatives.
Understand the challenges and opportunities that arise from contemporary sustainability issues and address them through strategic planning and decision-making to improve an organization's environmental impact while supporting bottom-line efficiencies and profitability.
Build professional competencies through the assessment and redress of real-world sustainability issues like air quality, food waste and insecurity, energy consumption and resource depletion through a transdisciplinary approach.
Additional Sustainability Programs
In addition to BW's major in sustainability, there are other programs that can enhance your studies.
If you have a strong interest in the sciences, double majoring in sustainability and environmental science allows you to complete various BW Core requirements in the sustainability major along with shared science coursework.

BW's sustainability in engineering minor aligns with ABET's (Accreditation Board of Engineering and Technology) foundational Criteria for Accrediting Engineering Programs that incorporate sustainability into design thinking along with multidisciplinary systems thinking in addressing complex challenges of the 21st century.
Sustainability minor and certificate program.
STUDENT EXPERIENCES
Faculty mentoring and real-world learning experiences offer outstanding opportunities both inside and outside the classroom.
Internships
BW sustainability majors have secured internships at many corporations and nonprofits such as Goodyear, Oatey, Wendel Architects and Engineers, the Flying Horse Farms, West Creek Conservancy, City Ashtabula, Lake Erie Energy Development Corporation (LEEDCo), Cleveland's Office of Sustainability, the Metroparks and the Cleveland Port Authority.
Research
Currently, more than 25 BW faculty are engaged in sustainability-related research. The sustainability program has secured more than $500,000 in funding for various projects, including from the US Environmental Protection Agency (EPA) to help fight food waste and insecurity through smartphone technology.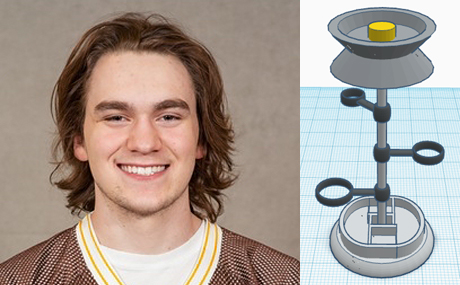 Over the past three years, sustainability majors have been selected to participate in the BW Summer Scholars program to work on food insecurity, stormwater runoff and air quality mapping. Several students have won prizes in campus competitions, including Jonathan Schroeder '23 (pictured to the right), who won $1,000 in BW's 2021 IdeaLabs Competition for the invention of a solar powered hydroponic tower called the Branch Light™ that he and teammates developed for a class, Biomimicry - Naturally Inspired Innovation.
Other student teams from the course won cash prizes in 2018-20 in the BW Start Something competition for a penguin-inspired water bottle, shark gill-inspired drain filter and turtle shell-inspired iPhone case. In addition, another student received the Women for BW award for a guerilla gardening hydroponic tower concept.
Student Clubs & Organizations
Biomimicry Club facilitates the expansion of knowledge and practice of biomimicry through discussion, community service and education. Pictured below, the Biomimicry Club's Team Waddle Bottle took the first-place prize of $300 in the social enterprise category of the 2018 Start Something BW competition. From left to right, Jake Davis, Bryce Posner, Rachel Neuerer and Joe Rini were inspired by penguin blubber to design a lightweight, flexible, insulated water bottle suited to outdoor enthusiasts, military personnel and others working in extreme weather conditions.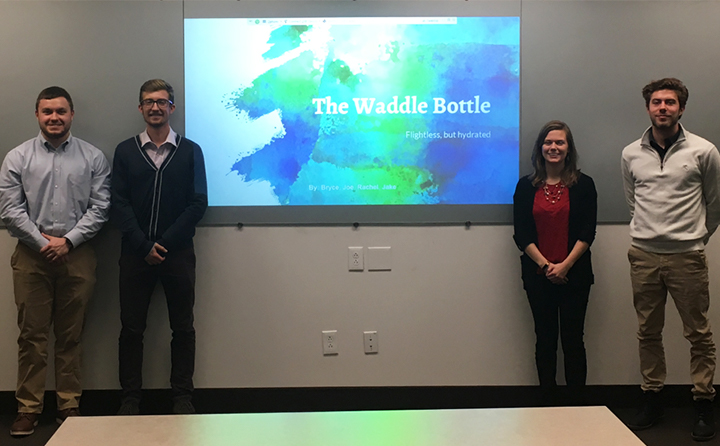 Students for Environmental Awareness work on sustainability events on and off campus. The impact of the club can be seen across the BW campus, including the EZH20 water stations, which have taken over a million plastic bottles out of circulation.
Student Tended Natural Garden (STNG) sponsors a community garden through which it educates the campus and surrounding community about the importance of composting, sustainable initiatives and local food.
Campus Committed to Sustainability
Ohio's First Undergraduate Sustainability Major
BW launched Ohio's first undergraduate major in sustainability in 2008 and has earned the prestigious STARS Silver rating from the international Association for the Advancement of Sustainability in Higher Education. BW is ranked in 2021 Sierra Club Cool School and has been designated a Tree Campus USA® by the Arbor Day Foundation. We were ranked 88 of 420 Green Colleges and Universities in 2021 by the Princeton Review.
Campus Sustainability Programs and Initiatives
Baldwin Wallace is dedicated to sustainability as a signatory to the Talloires Declaration. Though too numerous to name, some initiatives include:
Two solar arrays, a wind turbine, bioswales and vegetated swales, and a composting system called Grind2Energy utilized by dining services.
Five geothermal fields - including the first for a college residence hall in Ohio - that heat and cool campus buildings.
Green residence hall, Harding House, for students to experience sustainable living firsthand. The solar-powered building has rain barrels to serve raised vegetable beds.
BW offers more than 70 courses that have been reviewed for their sustainability content.
BW is home to more than 1,500 trees, most of which are native to Northeast Ohio.
Campus cleaning service operations (through Aramark) employ the company's Green Cleaning Products program.

ALUMNI SUCCESS
Networking is a key part of the sustainability program. In addition to faculty advising, BW students with a major in sustainability receive individualized mentorship from professionals in the field through our external advisory committee comprised largely of alumni.
BW sustainability majors are achieving success in diverse, rewarding career fields, among them: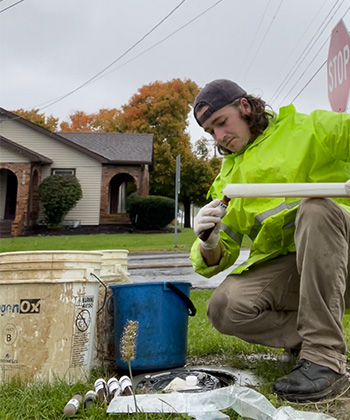 Shane Cornell '21 is an environmental geologist at Flynn Environmental collecting soil and water samples from client properties. He writes tier 1 source investigations, notifications and underground storage tank (UST) closure reports, and assists in phase I and II environmental assessments for commercial real estate, testing ground water and soil for RCRA Metals & VOCs.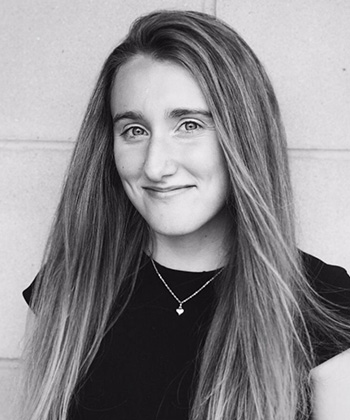 Hastings Marek '21 is pursuing a master's degree in environmental and sustainability studies at the College of Charleston, where she is currently a teaching assistant in biology. She will be helping with the school's AASHE STARS reporting, as well as continuing research for innovations in sustainability on college campuses.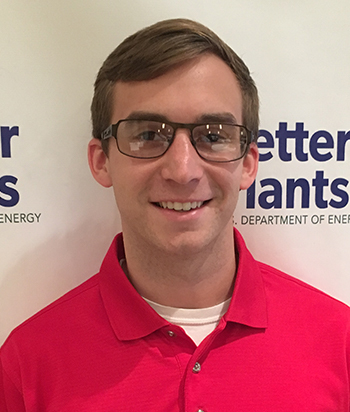 Nathan Onchuck '16 is the energy and sustainability manager at Ozinga Ready Mix. He led the implementation of a company-wide utility tracking system, manages energy procurement and works with personnel to minimize energy waste. He leads Ozinga's involvement with the Energy Star and Better Plants programs.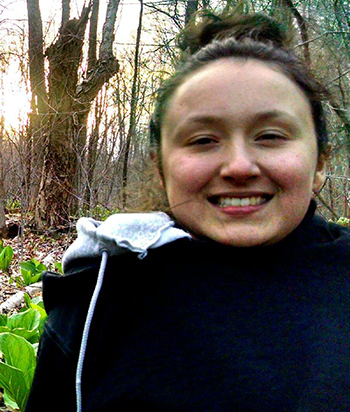 Anna Piazza '15 is a senior GIS analyst at EnviroScience, Inc, a company that specializes in environmental consulting, ecological restoration, marine services and biomonitoring. She previously worked at the Northeast Ohio Regional Sewer District, where she assisted with the Regional Stormwater Management Program.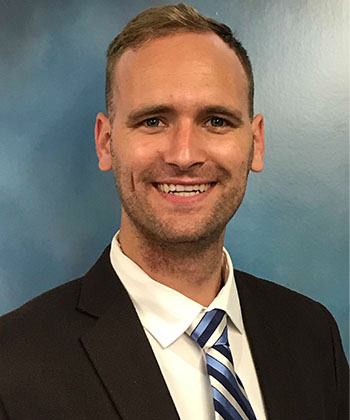 Eric Sokol '15 is a public involvement specialist at Burns & McDonnell, a global engineering, architecture and construction firm. A certified Envision Sustainability Professional, he plays a pivotal role in addressing environmental concerns for clients. He looks beyond immediate project needs to create a positive impact on affected communities.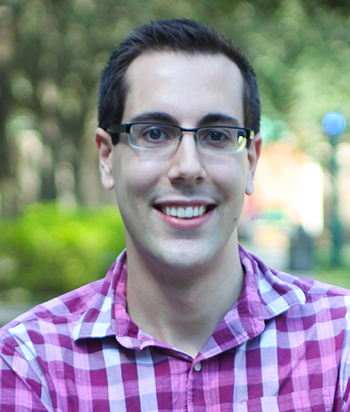 Richard Bargielski '14 is NSF grant writing and research specialist for Wissen, Inc. He received an MA in anthropology from The Ohio State University and PhD in applied anthropology from the University of South Florida. He has taught general anthropology and honors environmental science courses.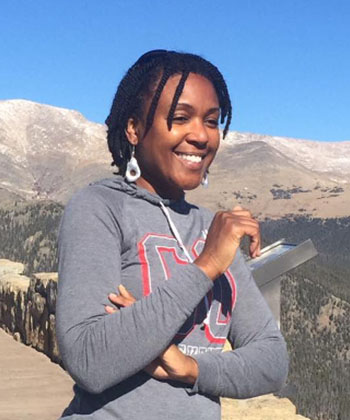 Ebony Hood '13 is cofounder of Syatt, where she leads the U Matter Institute, a youth participatory action research program that culminates with an abroad experience that focuses on sustainable efforts across the environment, government, and ethnic contributions of selected countries. She's also a community relations specialist with the Northeast Ohio Regional Sewer District.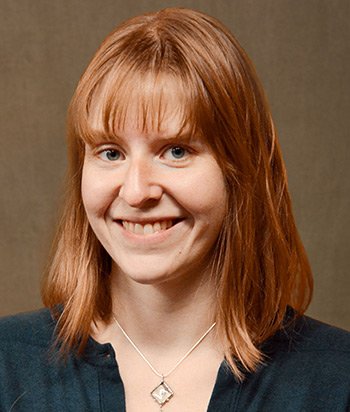 Emily (Bryant) Katzin '10 is project manager of the Office for a Healthy Environment with the Cleveland Clinic. She was previously sustainability manager at the Philadelphia Zoo. Her sustainable art is currently exhibited at Art.Science.Gallery. in Austin, Texas, and has been featured in The STEAM Journal. Emily is from Rocky River, Ohio.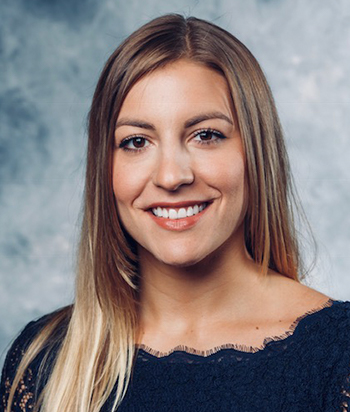 Erika Meschkat '10 is senior sustainability analyst at the J.M. Smucker Company. In her previous position as sustainability manager for the City of Cleveland, Mayor's Office of Sustainability, she helped lead the 2018 update of the Cleveland Climate Action Plan and the development of the city's Climate Action Plan Racial Equity Tool.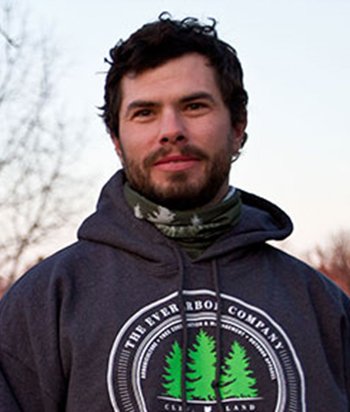 Derek Skapes '06 is owner of Everarbor, an outdoor lifestyle company specializing in apparel, landscaping, arboriculture, wildlife solutions and Everbrew, a soil additive made from local brewery and coffee shop waste. From Lakewood, Ohio, he is also wildlife research technician and forestry technician with Cleveland Metroparks.
FACULTY
Full-Time Faculty
David Krueger
Co-Director, Sustainability Program
Professor
Ph.D., University of Chicago
Faculty Advisory Council - Sustainability in the Major
Kelly Coble
Chair, Philosophy Department
Professor of Philosophy
Ph.D. in Philosophy, DePaul University
Jill Stephens Fleisher
Associate Dean, School of Social Sciences
Professor of Sociology
Ph.D., Purdue University
Helen Muga
Associate Professor of Engineering
Ph.D., Michigan Technology University
Lisa Ponton
Associate Professor
Ph.D., Iowa State University
Ellen Posman
Professor of Religion
Ph.D., University of California, Santa Barbara
Annette Trierweiller
Assistant Professor of Environmental Science
Ph.D., Princeton University
Campus Sustainability Committee
Charles Vesei, Committee Secretary and Ritter Library Director
Charles Fairchild, Director of Dining Services
Robin Gagnow, Operations Manager, Residence Life
Randy Hudak, Director, Buildings and Grounds
Dr. David Krueger, Committee Chair, Co-Director of Sustainability Program
Dr. Michael Melampy, Professor Emeritus, Biology and Geology
Professor Paul Penko, Physics
Dr. Christy Walkuski, Director of Community Engagement and Service Learning
Steve Crone, Director, Aramark Custodial Services