Communication Arts & Sciences
(440) 826-2278
Share
OVERVIEW
Envision yourself presenting a business plan in a boardroom full of engaged listeners who are following your every word. They're impressed by your confident speaking style, compelling message strategy and thorough research.
If the construction, execution and effects of communication–whether interpersonal, organizational or nonverbal–intrigue you, communication studies is an excellent option. A major in communication studies will not only further your understanding of the intricacies of human and mediated communication, but it will lead you to rewarding career opportunities.
Communication studies is a practical and comprehensive program of study offering career versatility in today's information-based society.
Through this major, you'll learn to effectively use tools, strategies and analytical data for creating and interpreting communication. Depending on your career interest, you can tailor your studies to focus on communication relating to public relations, mass media, business, diversity, education, technology, legal and political issues and more.
A required internship and capstone course offer you relevant experiential learning opportunities. You'll apply classroom concepts to practical situations and build a portfolio that showcases your work to prospective employers and graduate schools.
BW is one of a few colleges in the nation offering an intensive two-semester communication studies research investigation at the baccalaureate level. Through this project, you'll gain valuable hands-on research experience as well as analytical, scientific writing and oral presentation skills that provide a solid background for graduate school and prospective employers.
CAREER OPPORTUNITIES
Event planning/coordination
Entrepreneurship
Public relations
Higher education
Human resources
Customer relations
Sales
Law
Corporate/nonprofit community relations
Why Study Communication Studies?
Communication studies provides theories, tools and methods for analyzing, managing and improving communication in professional and personal interactions. It is ideal for those students with a variety of interests. Employers identify effective communication skills as the number one criterion for hiring. Courses help develop and increase your awareness of communication practices as well as improve your communication skills and broaden your views.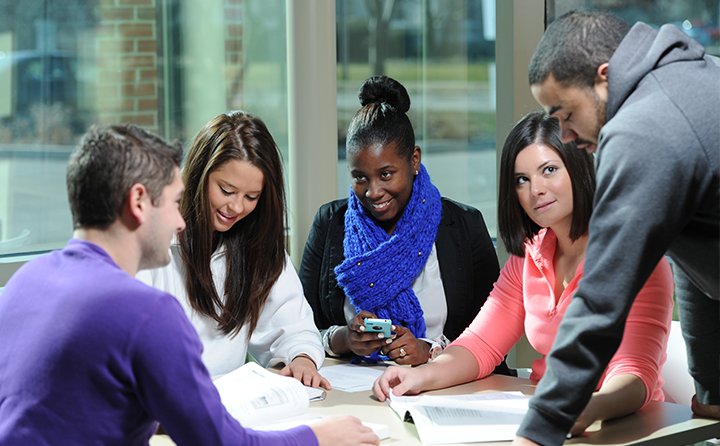 Small class sizes encourage close relationships with faculty and peers, enabling you to begin developing your professional network early in your career.
CURRICULUM
Communication studies is an excellent companion field of study. It is often chosen as a second major or minor. We also offer a major in applied communication studies for adult and continuing education students. 
Program flexibility is a key advantage. Through course electives, internships and more, you can customize your education to focus on communication pertaining to a specific area of interest.
Experiential learning is a key. The communication studies major includes a required internship that helps you gain valuable networking contacts in addition to real-world experience. A required capstone course provides additional benefits. You'll learn the technology for creating a web-based portfolio that includes a resume, recommendation letters, samples of speaking presentations, communication-related papers, projects and documentation of experiential learning.
The communication studies major prepares students to: 
Demonstrate the acquisition of disciplinary knowledge 

Students will complete introductory and advanced courses in the major contexts of communication studies including interpersonal, group, organizational, intercultural, nonverbal, public speaking and persuasion.

Demonstrate an ability to directly apply disciplinary knowledge to lived experiences

Students are required to complete two academic credit hours of internship experience. 
Students are encouraged to engage in study-abroad opportunities, including Seminar in Germany, a program centered on intercultural communication offered in the spring semester of even years (2016, 2018, 2220, etc.)

Demonstrate competence in public/presentational speaking 

Students are required to complete courses at the 100- and 200-level focused on the development of presentation skill. 
Students are required to complete formal presentations at the conclusion of their internship experience and at the University's annual Spring Ovation.

Demonstrate competence in written forms of communication

Courses in propaganda and persuasion, communication theory and communication research methods focus students on evidence-based, argumentative writing.

Demonstrate competence in the conduct, analysis and reporting of research

Students are introduced to social scientific methodology across the curriculum via assigned readings and analysis of regional and national communication journals.
Students are required to complete a research project during a two-semester research methods sequence course typically taken during the student's senior year.
STUDENT EXPERIENCES
Student success is a top priority. Small class sizes, individual attention and faculty mentoring are at the core of BW's communication studies program.
Experiential learning bridges classroom study with real-world opportunities. You can enhance your studies through internships, co-curricular activities and other learning opportunities.
On campus, communication studies students are regularly recognized for their achievements.
Lambda Pi Eta is the communication studies honor society. It serves as a point of distinction for high achieving students as well as a sponsor for a service-learning initiative through Habitat for Humanity.
At the annual Honors Ceremony in the spring, recognitions include:
The Charles G. Irwin Scholarship (in honor of Dr. Charles G. Irwin for his service as professor from 1948-1973).
Donna E. Fry '58 Scholarship (in honor of Donna Fry '58, who had great admiration for BW professors).
ALUMNI SUCCESS
At Baldwin Wallace, you'll experience personal and professional growth in a supportive community that challenges and inspires you to succeed.

Recent BW Communication Studies majors are finding their success at:
Julie Chambers '14, community event coordinator, Life Line Screening
Lucia Galassi '14, sourcer, Alexander Mann Solutions
Brian Bethenfalvy '13, client services, Transworld Systems
Keith Blazek '13, new business development specialist, Equity Trust Co.
Tiera Cummings '13, patient service representative, Human Arc
Andrea Horning '13, alumni & special event coordinator, Lorain County Community College
Alexandra Lofquist '13, sales account executive, XPO Global Logistics
Molly Matusek '13, quality assurance project coordinator, AmTrust North America
William Pantages '13, associate athletic director for athletic communications, Wake Forest University
Dalton Rimbert '13, real estate agent, Key Realty
Shannon Swope '13, recruiter, Tradesmen International, Inc.
Kate Boothby '12, marketing manager, ABC Packaging
Jenna Brodkowski '12, special events, Walt Disney World
Laura Cappetto '12, grants coordinator, Sister of Charity Health System
Arianna Harsar '12, coordinator II, The Cleveland Clinic
Kathryn Hodgson '12, project manager, Hyland Software
Richard Jaskolski '12, district sales executive, Expeditors
Bethany Meadows '12, business development, Dakota Software
Scott Rosenau '12, sales support specialist, Hyland Software
Deborah Cappretta '11, compliance analyst, Wolters Kluwer
Nicole Carlone '11, social media community manager, Kent State University
Julee Kanya '11, service manager, Century Link (formerly Quest Communication)
Robert Misener '11, finance and procurement coordinator, Greater Cleveland Habitat for Humanity
Victoria Shaw '11, marketing and program associate, Leadership Lorain County
Frances Spellman '11, graduate student, West Virginia University
Julianne Wayton '11, global human resources generalist, Hyland Software
Full-Time Faculty
Adjunct Faculty