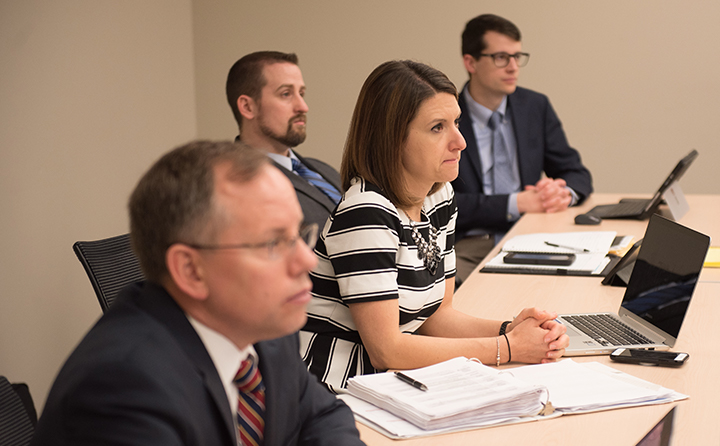 Why the BW Healthcare MBA?
Healthcare in America is a complex and rapidly changing industry. The rising cost of services, and rapid proliferation of new technologies contribute to creating complex challenges for consumers, providers, business and government. The BW healthcare MBA gives you the knowledge and skills to navigate this complexity and contribute to sound business solutions.
Program Highlights
The healthcare MBA is built on the foundation of an innovative MBA curriculum integrated with healthcare issues and applications. Students gain the knowledge and practical skills to lead and to find solutions and success in the healthcare industry.
With a flexible schedule designed for experienced professionals, this cohort program enables students to expand their leadership roles and/or advance their careers. Students develop a wide range of skills while exploring current and emerging trends.
A new optional specialization in Applied Analytics provides further coursework to prepare students to leverage data to design growth strategies, manage change and make more informed business decisions.
The diversity of student backgrounds, both clinical and professional, small class sizes and emphasis on team learning creates a unique and dynamic educational experience. A typical class may include students who work as:
Physicians
Advanced practice nurses and nurse managers
Administrators
Sales representatives
Allied health professionals
Program Format
The program schedule is ideal for working professionals who seek a graduate degree without interrupting their careers. Classes meet on alternating weekends from 4-6:45 p.m. on Fridays and 8 a.m. - 2 p.m. on Saturdays in the fall and spring. The program does not meet in the summer.
Classes meet nine times each semester. The program is offered at Corporate College East. Using collaborative technology, students can attend the seated class or participate in real-time from a distance. The cohort is designed to be completed in two years, but can accommodate an individual plan over a longer period of time.
Compare Our Healthcare Programs
Baldwin Wallace University offers three healthcare programs to meet the diverse needs of students, including a healthcare MBA, healthcare management MBA and healthcare management certificate.
Course Descriptions
Course descriptions and additional information about the curriculum can be found in the University catalog.
Curriculum
First Year — Fall
| COURSE NUMBER | COURSE NAME | CREDITS |
| --- | --- | --- |
| MGT 702 | Organizational Theory & Systems Approach to Management | 3 |
| FNC 746 | Financial Management | 3 |
| MGT 772 | Health Economics | 3 |
First Year — Spring
| COURSE NUMBER | COURSE NAME | CREDITS |
| --- | --- | --- |
| ACC 706 | Accountability/Financial Resources | 3 |
| MGT 705 | Leadership & Teams | 3 |
| BUS 749 | Operations Management | 3 |
Second Year — Fall
| COURSE NUMBER | COURSE NAME | CREDITS |
| --- | --- | --- |
| MGT 770 | Health Informatics | 3 |
| MKT 761 | Strategic Marketing | 3 |
Second Year — Spring
| COURSE NUMBER | COURSE NAME | CREDITS |
| --- | --- | --- |
| MGT 760 | Healthcare Policy, Law & Ethics | 3 |
| MGT 871 | Strategic Mgmt. of Healthcare Orgs | 3 |
Applied Analytics Specialization
These optional courses enable students to manage projects that involve complex data; make effective, data-informed decisions; and utilize analytics to better understand the impact of internal and external changes that affect the cost, quality and provision of care.
| COURSE NUMBER | COURSE NAME | CREDITS |
| --- | --- | --- |
| BUS 623 | Data Visualization | 3 |
| BUS 626 | Applied Analytics | 3 |
| BUS 627 | Predictive Analytics | 3 |
Alumni Success
With a healthcare MBA, career mobility takes different forms. Many graduates have moved from clinical positions to management and administrative roles. For others, the move has been to a new department within the organization or to a new organization, such as an insurance or pharmaceutical company.
Healthcare MBA alumni are working in a variety of settings, including many leading healthcare organizations in Northeast Ohio. You can be sure BW graduates are addressing the healthcare challenges and making the healthcare system more responsive to the needs of consumers and the community. The BW healthcare MBA can gives the knowledge and skills you need to take the next step in your career.
TUITION, FEES & FINANCIAL AID