Strategic Marketing MBA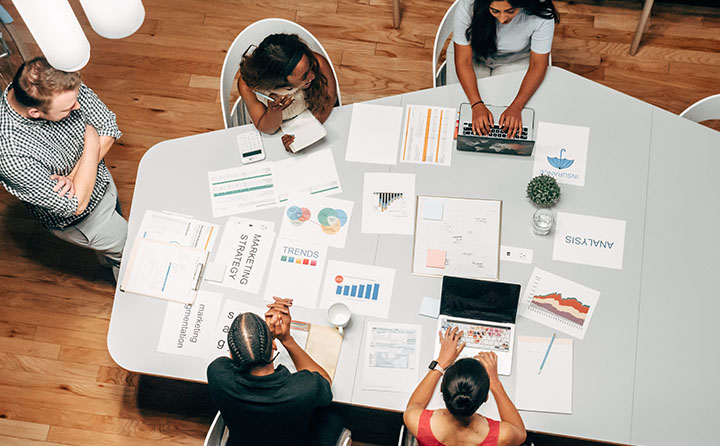 Businesses need savvy communicators with strategic, creative and digital skill sets to lead internal marketing teams and manage relationships with agencies, contractors and other vendors.
The strategic marketing MBA is designed for professionals who seek to expand their knowledge of modern best practices in marketing and emerging tactical areas while strengthening their data-informed decision-making and management abilities.
The program offers experienced marketers the opportunity to reposition themselves by preparing for career advancement in the age of big data and digital-first strategies. It will also support professionals interested in making a career pivot to a marketing, sales, product management or marketing communications role.
Perfect your digital marketing skills. Learn how to develop and implement an effective digital marketing strategy using tools like inbound marketing, search engine optimization (SEO); search engine marketing (SEM); social media and content marketing; and email, customer relationship management (CRM) and marketing automation.
Decide with data. Apply data analysis to make both functional and strategic decisions with the data gathered from the web, including web-based surveys, web analytics, online communities, blog scraping and web spiders.
Examine real-world strategies. Develop both strategic and tactical marketing skills by working on real-world products/services using market research, segmentation approaches, international and product life cycle management and financial analysis.
Career Outcomes
According to the Bureau of Labor Statistics, the employment of advertising, promotions, and
marketing managers is projected to grow 6 percent by 2029, faster than the average for all
occupations, adding nearly 18,800 jobs. Job titles of master's-prepared marketing professionals include:
Brand Manager
Digital Marketing Specialist
Marketing Analyst
Marketing Manager
Product Marketing Manager
Sales Manager
Social Media Manager
Faculty
Small class sizes led by thought leaders and executives from across industries provide a rich learning experience. Our instructors are focused on teaching, real-world application, and, most importantly, positioning you for career advancement. BW faculty bring first-hand knowledge and industry connections from their professional careers into the classroom.
Flexible MBA
Our flexible MBA option allows students to choose a start term (fall, spring or summer), class times (weeknight evenings or weekdays), the pace of the program and three options for attending classes (in-person, in real-time online or by watching a recording). Students can utilize all three options throughout the program based upon the most convenient option for their schedule.
Learn more about the flexible MBA
Stackable Certificates
If you're interested in earning your MBA but don't have the time to commit to a full program, our stackable certificates allow you to earn credits toward an MBA degree and earn micro-credentials along the way.
Learn more about stackable certificates
Curriculum
The strategic marketing MBA program combines powerful coursework on strategic marketing for the modern firm with classes designed to enhance your leadership capabilities and overall business knowledge.
Classes do not need to be taken in the sequence below; your advisor can help you select and register for courses throughout the program.
Course Descriptions
Course descriptions and curriculum can be found in the University catalog.
MBA Core Courses
| | | |
| --- | --- | --- |
| Course Number | Course Name | Credits |
| MGT-501 | Systems Management & Organizational Theory | 3 |
| MGT-509 | Organizational Leadership | 3 |
| BUS-526 | Operations Analysis Models | 3 |
| ACC-548 | Accounting for Business Decisions | 3 |
| FNC-548 | Financial Management I | 3 |
| MKT-551 | Strategic Marketing | 3 |
| FNC-581 | Managerial Economics | 3 |
| BUS-670 | Strategic Management | 3 |
Strategic Marketing Specialization (Required Courses)
| | | |
| --- | --- | --- |
| Course Number | Course Name | Credits |
| BUS-628 | Applied Marketing Analytics | 3 |
| MKT-537 | Digital Marketing Management | 3 |
Elective (Choose 1)
| | | |
| --- | --- | --- |
| Course Number | Course Name | Credits |
| MGT-645 | Project Management | 3 |
| MGT-657 | Managing Change/Creativity/Innovation | 3 |
| MKT-761 | Healthcare Strategic Marketing | 3 |
| SPM-511 | Sport Marketing | 3 |
Tuition, Fees & Financial Aid