MBA - Master of Business Administration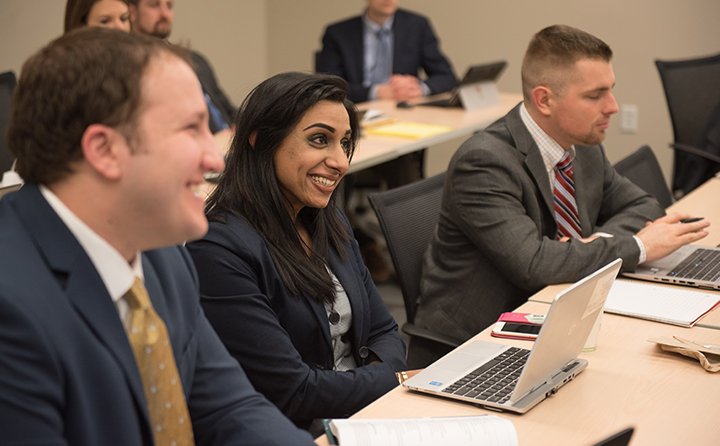 With a focus on leadership, innovation, critical thinking, and communication, the Master of Business Administration (MBA) options at Baldwin Wallace University can provide you with the tools, insights, and skills you need for professional success throughout your career.
Scholarships, a tuition reimbursement repayment plan, and various flexible scheduling options put your MBA at BW well within reach.
MASTER OF BUSINESS ADMINISTRATION (MBA) OPTIONS
Flexible Part-Time MBA Options
Flexible Start Term, Weekdays/Evenings and Online Course Offerings
Learn More About Our Flexible (Online or In-Person) MBA >
Weekend Part-Time MBA
Full-Time MBA
WHY CHOOSE BW FOR YOUR MBA?
At BW, business education is personal. We are focused on teaching, real-world application and, most importantly, positioning you for career advancement. Your success during and after the MBA program is our top priority.
No matter which area of specialization you choose, each program can enable you to enhance your skills, expand your network, and advance your career. The Baldwin Wallace MBA experience is:
Flexible: Choose the schedule that works best for you. Working professionals can select from a variety of scheduling formats.
Powerful: Learn to manage more than just teams and departments -- lead an entire organization to success. Our focus on systems prepares you to direct the complex organizations of today and tomorrow.
Relevant: Go beyond books - tackle challenges and solve problems facing real businesses and organizations in exciting hands-on projects. Small classes led by thought leaders and executives from across industries provide a rich learning experience.
Proven: Baldwin Wallace MBA alumni achieve success. You'll find them driving business in Fortune 500 companies, mid-market firms, nonprofits and startups in Ohio and beyond.
Networking Opportunities
Students build their professional networks, not only among faculty and classmates, but among the more than 6,500 BW MBA alumni who work in and lead the Northeast Ohio business community.
Investing in your MBA
Pursuing an MBA requires an investment of time, money, and hard work. Fortunately, the MBA is an in-demand degree that leads to opportunities for advancement -- and scholarships and a tuition reimbursement payment plan are available at BW!
Accreditation and Membership
Baldwin Wallace University is accredited by the Higher Learning Commission. The BW Carmel Boyer School of Business is a member of the Association to Advance Collegiate Schools of Business (AACSB). The School of Business is an accredited member of the Accreditation Council for Business Schools and Programs.
Learn More
Ready to take the next step and learn more about graduate business programs at BW? Submit the form below or contact Carmen Castro-Rivera at (440) 826-3331 or ccastror@bw.edu today.
Loading...