"Big Data" isn't just a buzzword. Analytics is not a trend. The ability to analyze and leverage data is one of the most sought-after skills in today's job market.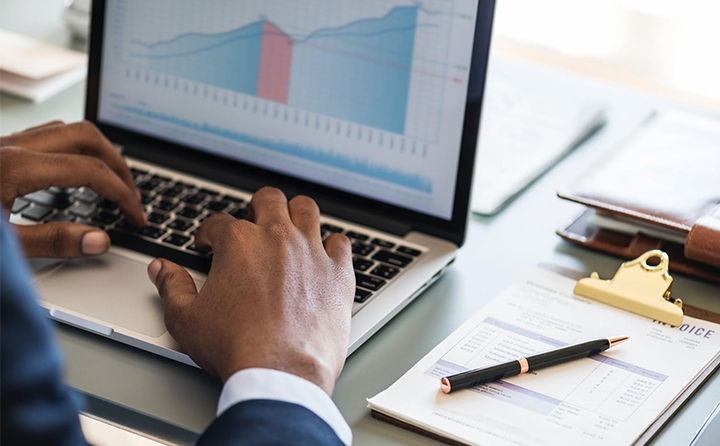 The Business Analytics MBA track at Baldwin Wallace University provides specialized training in techniques and tools that can be applied immediately to solving business problems and making critical decisions, equipping graduates to tackle a range of challenges in any industry.
Make decisions based on data. Apply analytics to real business decisions. Explore computer models and statistical principles necessary to manage the complex relationships involved in an integrated organization.
Use cutting-edge platforms. Take a deep dive into prescriptive analytics and the software applications used to aggregate, analyze and report on various aspects of business intelligence.
Understand your customers. Understanding consumer behavior is key in today's marketplace. Look for patterns in buyer behavior, measure both a return on investment and return on engagement, and present your findings and communicate recommendations using data visualization tools.
CAREER OUTCOMES
A McKinsey & Company report estimate the United States could face a shortage of up to 1.5 million data-literate managers. Globally, 51 percent of all companies surveyed by the Graduate Management Admissions Council planned to hire business graduates to fill roles such as these:
Business Intelligence Manager
Business/Operations Analyst
Product Analyst
Business Analytics Director
Global Marketing Analytics Manager
Manager of Business Analytics and Insights
Process Improvement Manager
FACULTY
Small class sizes led by thought leaders and executives from across industries provide a rich learning experience. Our instructors are focused on teaching, real-world application, and, most importantly, positioning you for career advancement. BW faculty bring first-hand knowledge and industry connections from their professional careers into the classroom.
SCHEDULING OPTIONS
Each semester, you can choose from classes that meet on weeknight evenings, weekends or in an online/hybrid format, or any combination that best fits your schedule.
CURRICULUM
The Business Analytics MBA track combines powerful coursework on managing complex analytics for the modern firm with a sequence of classes designed to enhance your leadership capabilities and business knowledge.
Classes do not need to be taken in the sequence below; your advisor can help you select and register for courses throughout the program. Course descriptions and curriculum can be found in the University catalog.
MBA Core Courses
| | | |
| --- | --- | --- |
| Course Number | Course Name | Credits |
| MGT-501 | Systems Management | 3 |
| MGT-509 | Organizational Leadership | 3 |
| BUS-526 | Operations Analysis Models | 3 |
| ACC-548 | Accounting for Business Decisions | 3 |
| FNC-548 | Financial Management | 3 |
| MKT-551 | Strategic Marketing | 3 |
| FNC-581 | Managerial Economics | 3 |
| BUS-670 | Strategic Management | 3 |
Business Analytics Track
| | | |
| --- | --- | --- |
| Course Number | Course Name | Credits |
| BUS-626 | Applied Analytics | 3 |
| BUS-627 | Predictive Analytics | 3 |
| MKT-628 | Applied Marketing Analytics | 3 |
TUITION, FEES & FINANCIAL AID