BW Speech Clinic is caring community for people with Parkinson's disease
Breakthrough moments are common at the BW Speech Clinic. So are smiles and cheers for accomplishments that may have taken weeks or months to achieve. For individuals diagnosed with Parkinson's disease, the clinic is more than a therapy site — it is a community where heartfelt care goes hand-in-hand with professional service that meets their cognitive, communication and social needs.
Client-Centered Program with Passion and Purpose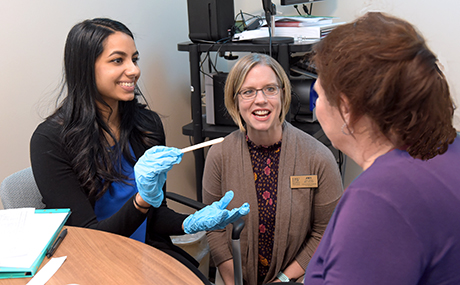 "I could talk for hours about this program. I'm really passionate about the work we do," emphasized BW assistant professor Amy Larocca, MA, CCC-SLP, who oversees the Parkinson's Clinic within the BW Speech Clinic.
"Parkinson's disease is a neurological movement disorder that can affect adults. It's chronic, progressive and systemic. But therapies can help individuals maintain neuro-muscular control of important motor functions like walking, talking and swallowing," said Larocca.
"We work with clients on their speech, breath support and cognition as well as swallowing safety," she explained. "We started programming for people with Parkinson's in 2017. Since that time, we've gone from four to 30 active clients and received grants from the Parkinson Voice Project and Northrup Foundation that have enabled us to substantially expand our programs.
Win-Win Clinical Experiences
"The work being done is phenomenal — not just for our clients and the community, but also for Baldwin Wallace students in the undergraduate communication sciences & disorders major and two-year master of science in speech-language pathology (SLP) program. The experience they gain in the BW Speech Clinic is invaluable to their career success," she added.
"But beyond the extraordinary professional experiences they gain, our students know they are making a difference in people's lives," she said. "To look into a client's eyes and see determination or the joy that comes from completing a goal is really amazing and even emotional. This isn't just a profession we do. It's much bigger — it's intrinsically rewarding to be part of something so important and meaningful."
"Equally fulfilling is the role our clients have in helping BW students. Our clients take great joy in knowing they are at a clinic that provides outstanding, hands-on learning experiences for students. It is a win-win for everyone," she said sincerely.
Dual Therapy Approach … All for Free
It's no surprise that BW has become a support partner for many clients in the Parkinson's Clinic. Not only are the services free, but clients have access to additional interventions.
"Due to the limited number of visits for private insurance and therapy caps for Medicare coverage, many adults cannot afford consistent therapy services. The BW Speech Clinic fills the void," noted Larocca.
She went on to say that clients in the Parkinson's Clinic can participate in an interdisciplinary collaboration between BW speech students and students in Allied Health, Sport and Wellness, advised by Dr. Amy Jo Sutterluety.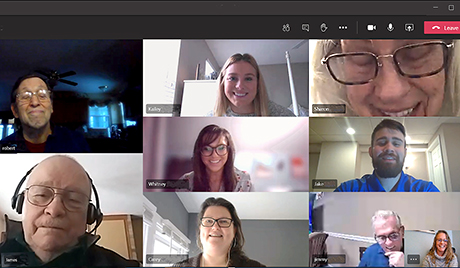 Because movement improves overall symptoms and people often move when they speak, clients with Parkinson's disease can benefit from therapeutic intervention that combines verbal and physical movement. Within a group session, a client can receive therapy from both a speech student and a student majoring in exercise science or pre-physical therapy/pre-allied health. The dual therapies help the clients feel more confident in their abilities to interact with others in functional settings.
Not Just a Program … A Thriving Community
According to Larocca, the Parkinson's Clinic is a social setting as well as a therapeutic one. In past years, clients and staff have gathered for "Friendsgiving" in November and have put together a team for the Parkinson's Foundation Moving Day Walk in Cleveland.
"Social situations that involve utilizing skills like eating and speaking are important for our clients from a therapeutic standpoint. But it is so much more. Our clients become friends, their care partners become friends, and they provide support to each other. We're happy that we can help to foster those relationships and increase their quality of life," she emphasized.
Bob and Marie Dylong of Parma, Ohio, would agree. Bob has had Parkinson's disease for more than 30 years. He has been a client at the BW Speech Clinic since 2017.
"Knowing he is helping the student therapists in advancing their careers, as well as meeting many wonderful people who share in the trials of Parkinson's disease, is a strong motivator for him to attend group sessions regularly, get moving and improve his speech," explained Marie, Bob's wife.
"When the clinic closed due to COVID-19, Bob and I noticed his speech declined, and he missed his friends. Once sessions were offered virtually, Bob was in much better spirits and back on track with his speaking," she emphasized. "We can honestly say the clinic has been beneficial on all levels — physically, socially and emotionally. It is an irreplaceable and valuable service."