For newbies and diehards alike, esports ramps up at Baldwin Wallace University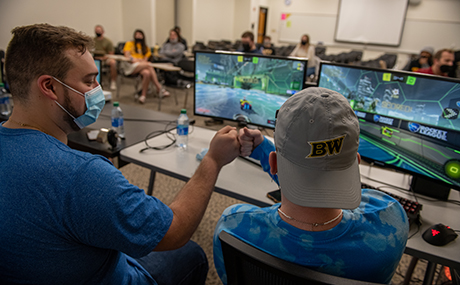 GG, Baldwin Wallace University!
GG (or "good game" in esports shorthand) is the goal of the BW esports program, the latest student activity under the BW Rec Sports banner. "Noobs" (newbies) welcome.
Open to all levels
After a soft roll-out in the spring, sport management graduate program student Jake Grasso '20, MBA '21, and other involved students and faculty are looking to ramp up the experience this year, with the goal of establishing a meeting and competition space and building membership.
"I compete in a variety of titles, so I'm familiar with the esports space and how leagues are run," says Grasso. "But our vision is to create a program that is open to everyone. Beginners can try games like 'Among Us' and 'Smash,' which build community, and then branch out from there."
Diverse roles 
There are already BW teams and individuals playing competitively in "Overwatch," "Rocket League" and "Madden."
But Grasso notes that even in the competitive team space, there are relevant roles for students with a variety of interests and aspirations, including event management, live streaming/broadcasting, digital marketing, graphic design and computer science, just to name a few.
"The beauty of gaming is that it's inclusive and welcoming to a wide variety of people," Grasso notes.
Popular pastime
Gaming is a highly popular pastime for college students. According to Pew research, "Young adults are particularly likely to play video games,'" with two-thirds of those ages 18 to 29 saying they play.
While participation in BW's club aims at building a community around shared interests and experiences, faculty advisor John Fuehrer says a number of skills are developed in the process, such as teamwork/collaboration, communication and problem-solving.
Homecoming event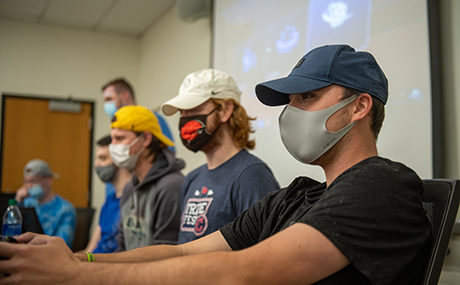 Over the BW Bold & Gold homecoming weekend, BW's Center for Coaching Excellence and esports program staged a "Rocket League" competition pitting students against alumni.
The event also featured a guest speaker: Cavs Legion Gaming Club (GC) head coach Austin Peterson '17, a BW sport management grad who leads the NBA 2K League affiliate of the Cleveland Cavaliers. Peterson is also an assistant coach with the Canton Charge, the Cavs NBA G League affiliate.
Future growth goals
By the spring semester, the esports program is hoping to field solid competitive teams for "Rocket League" and "Overwatch."
The #EsportsEDU hashtag can be found on platforms like Twitter and Discord. 
GLHF! (Good luck, have fun!)