'Start Something Summer Grind' inspires BW students to make a difference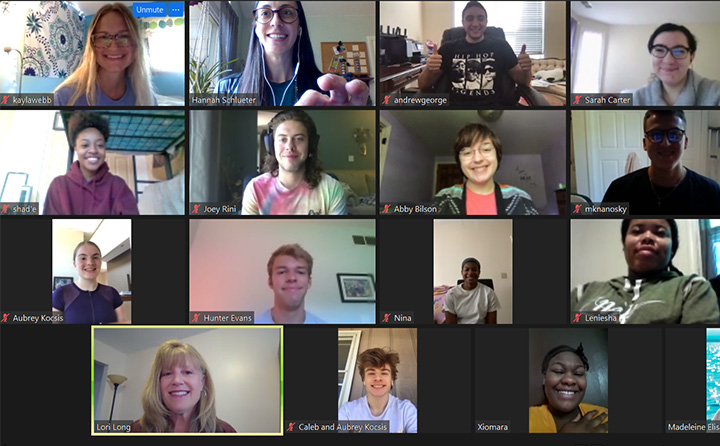 After the challenges presented by the pandemic this past spring, many BW students sought an opportunity to do something meaningful this summer.
The latest initiative from the Center for Innovation and Growth (CIG), Start Something Summer Grind, presents an opportunity for students to engage in work that will not only build their resumes but also help them to prepare for the future.
A Program Designed to Inspire Creativity and Innovation
With more than 30 students already committed to the program, each participant chose a project based on their interests, such as helping or creating a non-profit venture or service project, starting a side hustle, building a prototype for an invention, writing a book, making a movie, developing a course, or creating a blog or podcast … the opportunities are endless.
Once a student chooses a project, they register with BW's LaunchNET, where they connect with a coach to put together a plan. LaunchNET is a co-curricular program powered by the Burton D. Morgan Foundation which offers free and confidential venture coaching, idea contests, pitch competitions, networking opportunities, in-class presentations and a host of visiting entrepreneurs and activities that complement BW's innovation and entrepreneurship courses.
Throughout the summer, students will participate in ongoing programming to support their work, culminating with final reflections to help them assess the skills they've developed and better understand how to integrate their experience into a resume or portfolio.
Maintaining a Connection to the Arts During a Pandemic
Sarah Carter '23 is working on a project through the organization she's interning for this summer, the Lone Tree Symphony Orchestra. As a double major in music composition and arts management and entrepreneurship, Carter will be producing and editing several videos to help the orchestra stay on the radar of its patrons. Since the orchestra is unable to perform in person, her primary goal is to ensure they're still able to make an impact within the community.
Carter said, "I'm interested in the community engagement side of arts management and the COVID-19 pandemic presents a unique challenge to find ways to engage the community with an arts organization that has been rendered unable to produce their normal product."
Inspiring Fellow Neuroscience Students
Program participant Elizabeth Castro '21, a neuroscience and psychology double major, will be working on a blog targeted toward fellow neuroscience majors and high school students who are interested in the field. Castro plans to feature interviews with professionals, information about neuroscience programs and new research in the field.
She says, "I'm excited about this program because I'm already feeling productive. I not only want to use this experience as something to share with employers but hope to explore more in depth in my field of study and potential career options."
Newly Appointed Chair Leads First Initiative
Start Something Summer Grind is Dr. Lori Long's first initiative as BW's new Burton D. Morgan Endowed Chair in Entrepreneurial Studies. In this role, she is tasked with fostering faculty excellence in entrepreneurship education across all academic disciplines. In partnership with the CIG, Long will also encourage students of all majors to pursue big ideas and innovative thinking by working with LaunchNET program manager Hannah Schlueter.
Long shared, "Due to the pandemic, many students were left without meaningful work for the summer and were also struggling with motivation and disengagement. We started this initiative to help students do something this summer that would not only be meaningful but could help them build critical skills to help prepare them for the future.
"While not all of the student projects are businesses, the students are all engaging in creative and innovative work that will support the development of an entrepreneurial mindset."
Long took over the Burton D. Morgan chair from Dr. Tom Sutton who is focusing his time as director of BW's burgeoning public opinion unit, the Community Research Institute.