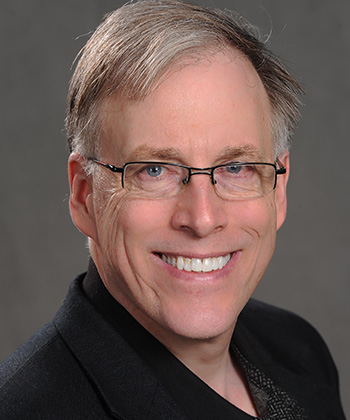 Associate Dean, School of Natural Sciences, Mathematics and Computing
Professor of Chemistry
Ph.D., Kent State University
B.A., The State University of New York at Potsdam
Contact:
(440) 826-2313, jmccarga@bw.edu
Dr. James W. McCargar is a professor of physical chemistry and the associate dean of the School of Natural Sciences, Mathematics and Computing. McCargar earned his bachelor's degree from State University of New York (SUNY) at Potsdam and his doctorate from Kent State University.  Before coming to BW in 1991, he held postdoctoral research appointments at the Kent State University Liquid Crystal Institute and at the University of Cincinnati. Within the field of chemistry, McCargar has co-authored several articles in the areas of solution thermodynamics, electrochemistry, spectroscopy and materials.  He has been a visiting scientist at Kent State University and The University of Akron and was a summer research fellow at NASA–Lewis Research Center and Ohio Aerospace Institute. McCargar was selected as a 2003-04 American Council on Education (ACE) fellow.  The ACE Fellows program is the signature leadership development program for higher education leadership.  During his time at Baldwin Wallace, McCargar has received the Bechberger Award for Human Development and has twice been recognized with the Student Senate Faculty Excellence Award.
McCargar is interested in the scholarship of teaching and learning, specifically in the relationship between guided inquiry and open inquiry in the physical chemistry laboratory.  Most recently, he has developed a guided inquiry-open inquiry approach to kinetic modeling of atmospheric reaction mechanisms.
Research Interests
McCargar's research interests span a number of areas related to physical chemistry, chemical physics and chemical education.  Within the area of physical chemistry, he is interested in the adsorption of molecules from aqueous solutions on various substrates and the solubility properties of pesticide metabolites in aqueous and non-aqueous systems.  In chemical physics, he is interested in spectroscopy - the interaction of light with matter - and computational chemists - the use of computer algorithms to determine optimal molecular geometries, energies, molecular orbitals, vibrational modes and frequencies, etc.-  to determine the structural and chemical properties of molecules.
Publications
"Infrared Spectrum and Group Theoretical Analysis of the Vibrational Modes of Carbonyl Sulfide", Michael J. Tubergen; James W. McCargar, J. Chem, Educ., 77, 1537 (2000).
"Rotational Spectroscopy and Ring Puckering Conformation of 3-Hydroxytetrahydrofuran", Richard J. Lavrich, Rachele L. Rhea, James W. McCargar, and Michael J. Tubergen, J. Mol. Spec.  199, 138 (2000).