Faculty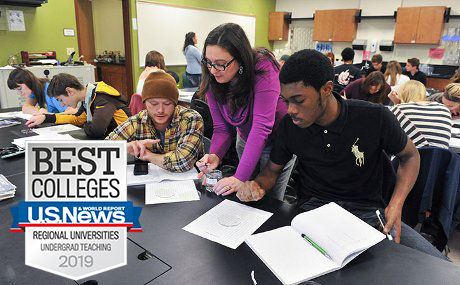 Teaching First and Foremost
Faculty teaching and mentoring are at the core of the Baldwin Wallace experience. At BW, you'll learn from professors - not graduate students. Our professors are accomplished scholars, practitioners and artists with impressive academic credentials plus real-world insights and skills.
As your professors mentor, advise and teach you in small classes, you'll get to know them as individuals who care about you and your goals.
Personal Support for Your Goals
At BW, you aren't a number. But you will experience a number of learning opportunities that position you for life beyond graduation­ - a career, graduate school, service initiative or something else.
Our professors work side by side with you in and out of the classroom, whether you're investigating a cadaver in a high tech campus lab or presenting a business proposal to a leading software company in Cleveland.
Collaboration + Connection
Our student-focused faculty will support and challenge you to join in research or other academic pursuits. It's common to see BW undergrads co-authoring research papers and presenting at state and national conferences.
Members of our multi-faceted faculty also serve as student group advisors, study abroad trip leaders, and experiential learning facilitators. They'll connect you to their career networks and open the doors that can lead to fulfillment of your highest aspirations and dreams.
Get to Know our Professors
As you explore
BW's majors
, don't forget to check out the faculty bios. Would you like to meet with a member of the faculty? Your admission counselor can make that happen.