Strategic Marketing Graduate Certificate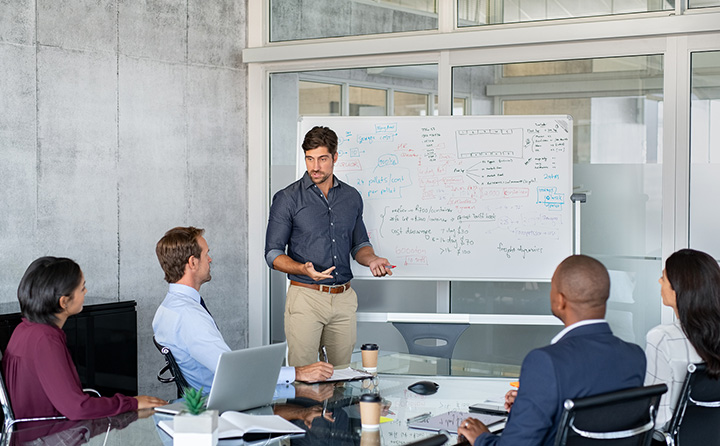 Today's businesses need savvy communicators with strategic, creative and digital skill sets to lead internal marketing teams and manage relationships with agencies, contractors and other vendors.
The strategic marketing graduate certificate is designed for professionals who seek to expand their knowledge of modern best practices in marketing and emerging tactical areas while strengthening their data-informed decision-making and management abilities.
The program offers experienced marketers the opportunity to reposition themselves by preparing for career advancement in the age of big data and digital-first strategies. It will also support professionals interested in making a career pivot to a marketing, sales, product management or marketing communications role.
Course Descriptions
Course descriptions and additional information about the curriculum can be found in the University catalog.
Strategic Marketing Graduate Certificate Curriculum
Students will complete 12 credit hours including:
Required Courses
Applied Marketing Analytics
Digital Marketing Management
Strategic Marketing
Electives (Choose One)
Healthcare Strategic Marketing
Managing Change, Creativity and Innovation
Project Management
Sport Marketing
Schedule and Class Participation
Classes meet on weeknight evenings and students choose how to participate with three options for attending classes: in-person, in real-time online or by watching a recording. All three options can be utilized throughout the program based on the most convenient option for your schedule. This format enables you to balance a busy schedule and earn a credential in less time than a traditional MBA or other master's program.
Stackable Certificates
If you're interested in earning your MBA but don't have the time to commit to a full program, our stackable certificates allow you to earn credits toward an MBA degree and earn micro-credentials along the way.
Learn more about stackable certificates
Tuition, Fees & Financial Aid
LEARN MORE
Ready to take the next step and learn more about graduate business certificate programs at BW? Submit the form below or contact Carmen Castro-Rivera at (440) 826-3331 or ccastror@bw.edu today.