Enlightened Leadership Certificate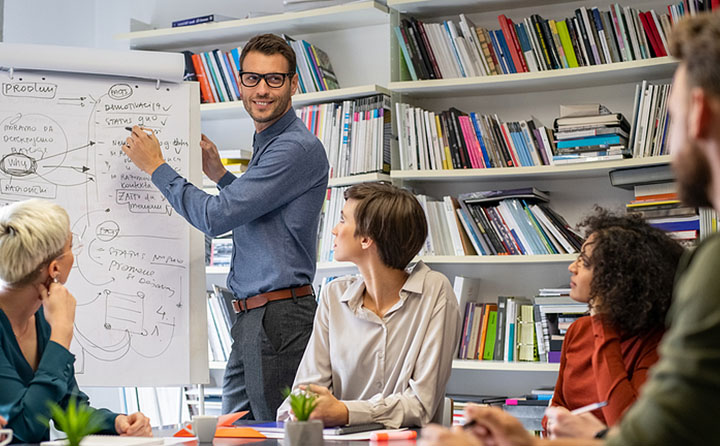 Enlightened leadership differentiates superior leaders in complex business environments. At Baldwin Wallace, we aim to empower students to become more than managers. By equipping you with the tools to guide your team with empathy, self-awareness and integrity, we enable you to become a transformative leader.
Through a combination of unique competencies in systems thinking, conflict transformation, mindfulness, change management, design thinking and emotional resilience, you'll learn the managerial and interpersonal skills that are used by the highest-ranking leaders. The graduate certificate in enlightened leadership will prepare you to excel by becoming an enlightened presence with differentiating leadership capabilities.
This innovative program was developed with the help of our faculty expert and former TEDx speaker, Dr. Param Srikantia. Watch his TED Talk, "Why Life Sucks" below to learn more about what it means to be an enlightened leader.
Enlightened Leadership Certificate Curriculum
Students will complete 12 credit hours including:
Required Courses
Systems Management & Organizational Theory
Leadership as Enlightened Presence
Electives (Choose Two)
Organizational Leadership
Organizational Development and Change Management
Organizational Innovation by Design
Course Descriptions
Course descriptions and additional information about the curriculum can be found in the University catalog.
Schedule and Class Participation
Classes meet on weeknight evenings and students choose how to participate with three options for attending classes: in-person, in real-time online or by watching a recording. All three options can be utilized throughout the program based on the most convenient option for your schedule. This format enables you to balance a busy schedule and earn a credential in less time than a traditional MBA or other master's program.
Stackable Certificates
If you're interested in earning your MBA but don't have the time to commit to a full program, our stackable certificates allow you to earn credits toward an MBA degree and earn micro-credentials along the way. Learn more about stackable certificates.
Tuition, Fees & Financial Aid
LEARN MORE
Ready to take the next step and learn more about graduate business certificate programs at BW? Submit the form below or contact Carmen Castro-Rivera at (440) 826-3331 or ccastror@bw.edu today.