BW Commencement honors record-breaking graduates ages 19 and 81
BW records indicate two fall 2022 graduates are the oldest and youngest students ever to earn a BW bachelor's degree.
Nineteen-year-old Julia Partem '22 was eager to be on the fast track to college graduation, while 81-year-old Darnell Worley '22 took a longer road to make good on a longstanding goal to complete his degree.
Together, they now bookend the age range of Baldwin Wallace University graduates as the youngest and oldest on record.
Following in his son's footsteps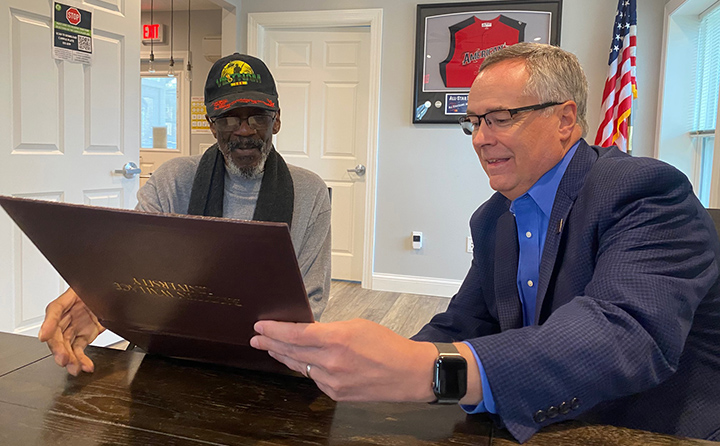 Worley will not walk the stage at commencement this weekend. Instead, he has already been honored with a small, personal ceremony led by BW President Bob Helmer at BW's All-Star Veteran's Center.
The retired U.S. Army Sergeant First Class was inspired to go to college by his son's academic success.
"I had been attempting to finish for many years, attending different schools off and on," he explains. "I wanted to set an example for all of my children and grandchildren."
Overcoming fear, finding acceptance
Although BW previously graduated an undergraduate at age 70, Worley admits he was hesitant to walk on campus in his late 70s and wondered what the reaction of the younger student body would be.
"I was scared, at first, about the social parts of the experience," Worley shares. "I am so grateful that I was accepted into this academic community. The acceptance I received was more than I could imagine."
Eye-opening experience
The rigors of the classroom also fostered a new appreciation for what Worley's son had achieved.
"After my first semester, I called my son to apologize. I had no idea how much it was to go through college; it was like basic training," he observes. "Young people need support through college. My experience opened my eyes."
Worley found support for his educational journey from his "impressive" BW business professors — he majored in organizational leadership — and remembers mathematics lecturer Barbara Aylward as "a tremendous help."
"She would not let me give up," he recalls. "She would treat me like a college kid and keep tabs on me. She made me feel part of the school and not just some old guy getting in the way."
Graduating at age 19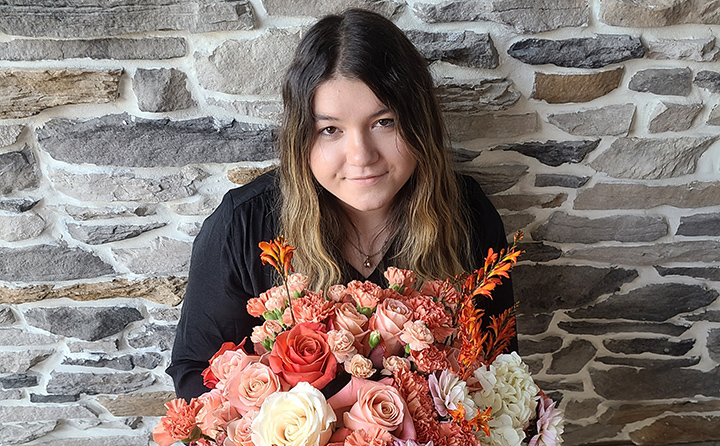 Meanwhile, young Julia Partem is edging out BW's previous record-setting youngest grad by a month. She started taking College Credit Plus courses as a 14-year-old Brunswick High School student.
"Tri-C had an 'A2BW' pathway partnership with BW, and I started following that," she explains. "I received my associate's degree in 2020 and later graduated from Brunswick High School one year early in 2021. I had around 72 college credits from both Tri-C and CSU before graduating high school."
Becoming a BW business student
During the pandemic, after listening in on a friend's engaging BW class via Zoom, Partem was sold on becoming a Yellow Jacket. 
At BW, she was able to complete a double major in human resource management and business administration in three busy semesters, plus a summer session.
While Partem's time on campus was short, she made the most of it. "I loved BW's atmosphere and the way you can contact professors and they are so responsive," Partem recalls.
Taking a pause
Now that her fast track to a bachelor's degree is complete, Partem plans to pump the breaks and take a well-deserved breather.
"After I graduate, I want to be more invested in my church ministries," she explains. "I'm currently on the production team, media team and a Sunday School teacher for third and fourth graders and have loved being a camp counselor." 
With one internship and a part-time job under her belt, Partem is also looking to gain additional HR experience while she considers the next steps in her career.
"I believe the experiences I've had at BW will help me both in my personal and professional life," Partem concludes.
BW will celebrate the bright futures of all fall '22 graduates at 2 p.m. on Saturday, Dec. 10.