19-year-old transfer student is BW's youngest bachelor's degree earner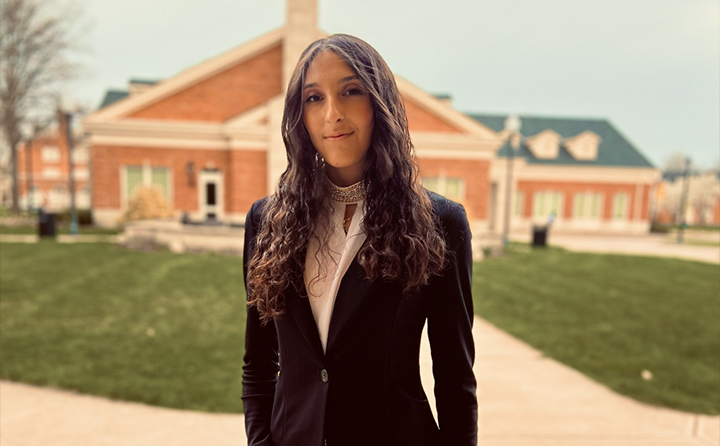 She's a rap musician, runs her own audio production studio that just wrapped a project for Netflix, and, now, at age 19, she's believed to be the youngest bachelor's degree graduate in Baldwin Wallace University history.
Georgiana "Giana" Hasrouni '22 from Brunswick, Ohio, simultaneously earned her high school diploma and Associate of Arts degree through Cuyahoga Community College's College Credit Plus program in late 2019 at the tender age of 16.
She then transferred those credits to BW and will graduate summa cum laude on Saturday, May 7. In fact, Hasrouni could have completed her BW degree in December 2021 at age 18 but took off a full semester to pursue recording arts projects before returning to complete the requirements for a communications: media production major with a minor in social media production.
Engineering, producing and performing music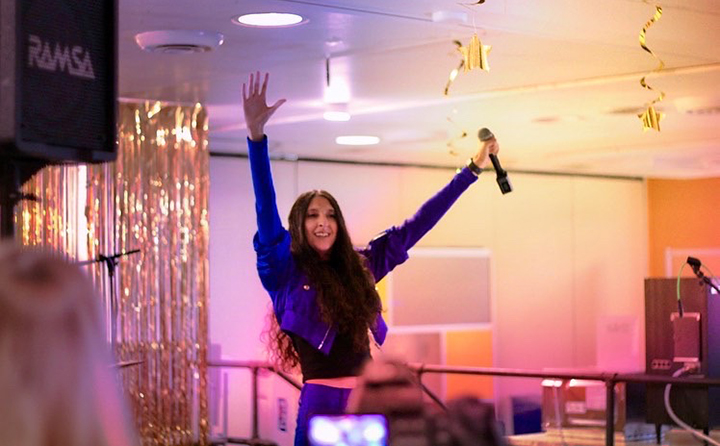 Hasrouni has worked as a sound engineer for a number of DJs, artists and other clients across the world.  
Recent projects include audio engineering a song featured in the Netflix original series "Al Rawabi School for Girls," and The Cheesecake Factory hired her to produce a commercial jingle for a spot that will air in Kuwait.
On the performance side, Hasrouni, who raps under the moniker "Little G Fresh," started entering (placing and winning) music contests when she was 14. She was crowned a back-to-back finalist in the Rock & Roll Hall of Fame's "High School Rock Off," the first rapper in 22 years to enter against the typical rock band acts.
"I'd been making music since I was 11, but the Rock Hall contest was my first public performance," Hasrouni says.
Today, you can find her music on most major streaming sites, from Spotify to Apple.
Campus communications experience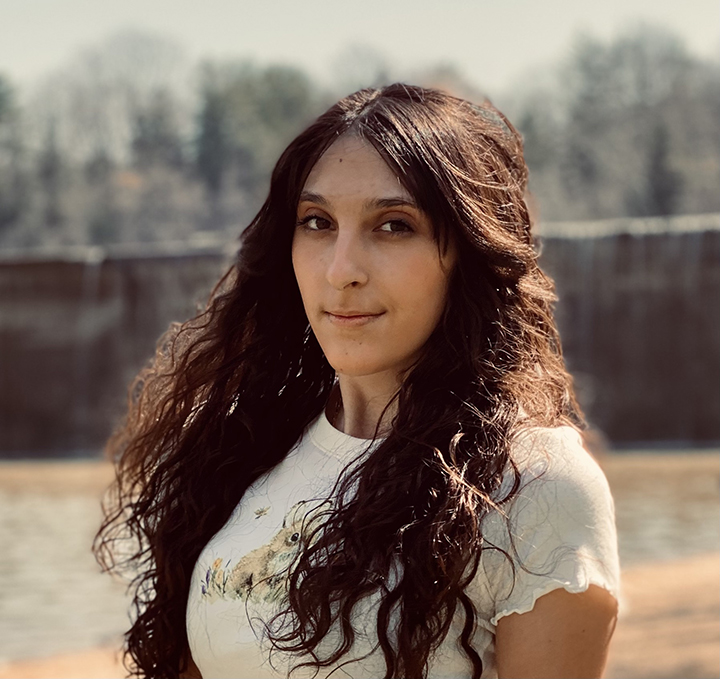 According to a grad database analysis, Hasrouni is the youngest student to earn a bachelor's degree from BW, edging out a 2014 grad by one month.
She is also among just 63 May 2022 graduates to earn Summa Cum Laude or "highest honors" with a GPA of 3.90 or better.
Outside the classroom, Hasrouni served as a video producer in BW's Digital Marketing Center (DMC), was a DJ for the campus-run radio station, WBWC-The STING 88.3, and is current chapter president of Lambda Pi Eta, the National Communication Association Honor Society.
"BW opened many doors for me," Hasrouni says. "My professors supported my work, and being a media production student helped me turn my passion into a career by mastering many professional production techniques. My involvement in the DMC and campus radio helped me obtain real-world experience while in school."
With a career goal to become a video and audio producer, Giana Hasrouni '22 is well on her way.
She joins the Class of 2022 at BW's 172nd Commencement Ceremony on Saturday, May 7, at 2 p.m., where every grad has a personal success story to tell.