BW Sport Management majors back in action at NFL Draft, Kentucky Derby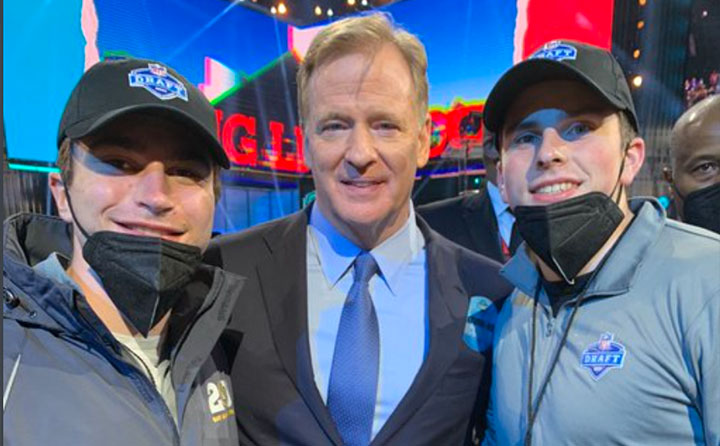 When the 86th Annual NFL Draft came to Cleveland April 29-May 1, some 60 students in Baldwin Wallace University's sport management programs, both undergraduate and graduate, were in on the action.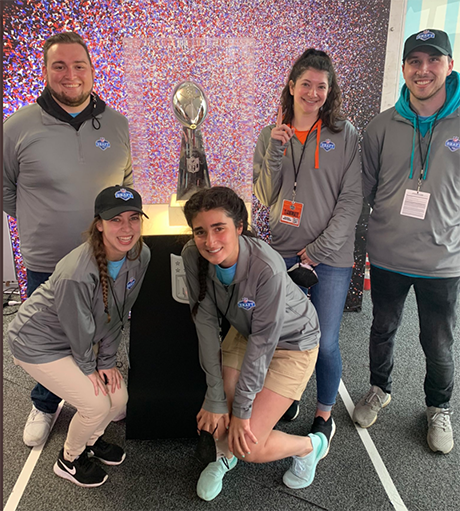 This year, COVID-19 protocols and travel restrictions pulled the plug on BW sport management's signature involvement in world-class sporting events, including an annual trek to the Super Bowl. Now, as large events are resuming, and with the NFL Draft in BW's backyard, the experiential learning that is a hallmark of the BW programs powered back up. 
"Students seeking bachelor's degrees and those and in our new sport management MBA, have been gaining experience with BW athletics and through virtual internships all along, but there is a lot of excitement to resume the hands-on, off-campus experiences that define our programs," said Dr. Charles Campisi, who chairs marketing and sport management for the BW School of Business.
"Public health protocols were in place for employees, volunteers and guests at these major events," he added.
NFL Experience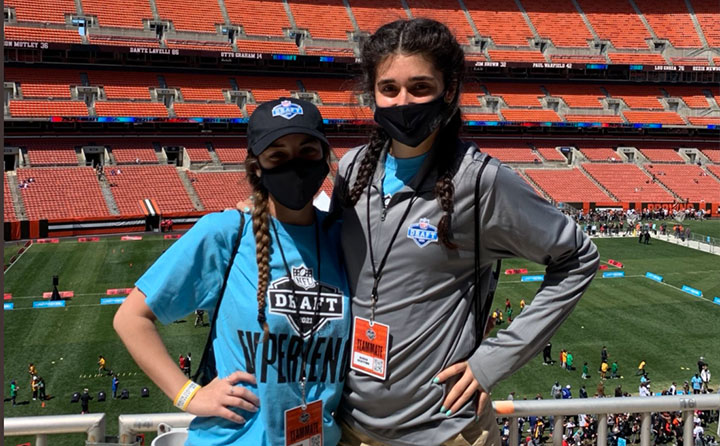 For the NFL Draft, BW students worked in both paid and volunteer positions at The NFL Experience, an interactive football theme park near First Energy Stadium, and at the inaugural NFL Alumni Draft Pro-Am & Experience at Firestone Country Club.
Brandon Moore '23, who was part of the paid OnePass team helping to oversee the NFL Experience, signed on to work the event for both a love of football and the opportunity to learn and grow. "I believe events like these help to improve my communication, problem-solving and troubleshooting skills," Moore said.
Moore, Daniel Rittgers '23 and Kamaria Montgomery '24 all see the NFL Draft as an honor for Cleveland.
"This was a once-in-a-lifetime opportunity to see all the logistics of running an outstanding event like the NFL Draft," Montgomery said.
"I have watched the Browns with my family every year, and I have seen how much football means to the people who live in the Cleveland area," Rittgers added. "To have an event of this magnitude in our hometown was incredible."
Run for the Roses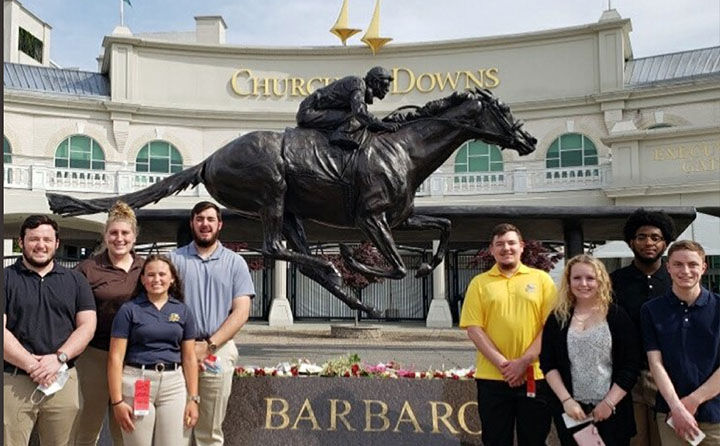 In addition to the group working the NFL Draft, students also headed to the Kentucky Derby in Louisville to support "The Most Exciting Two Minutes in Sports" the first weekend in May.
Ashley Ackerman '21, who has packed a lot into her time at BW, including Super Bowls, National Championships, internships and studying abroad, chose to work the iconic first leg of horse racing's Triple Crown as a capstone experience.
"It was a new and exciting opportunity to enhance my knowledge of the sport and hospitality industry further," Ackerman explained. "The Derby is not only a global event, but it offered me the opportunity to learn about an entirely different side of the sports industry."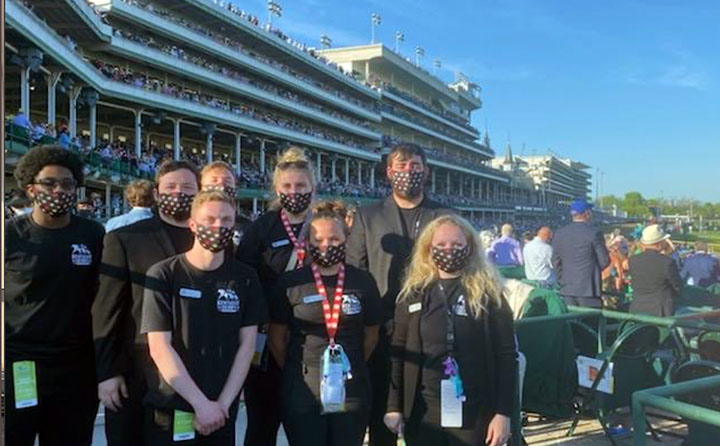 Natalie Wilkins '21 agrees and said she's wanted to work the "Run for the Roses" since touring the historic Churchill Downs track during a BW 2020 College Football Championship trip. "I already had experiences in the more popularized sports, like baseball and football, so getting to experience a completely different work environment was very challenging and exciting."
Just getting re-started
BW sport management is already mapping out a full year of experiences through the 2022 Kentucky Derby.
Future events on the BW experiential learning roster include the U.S. Grand Prix Formula 1 race in Austin, Texas, 2022 College Football Playoff National Championship in Indianapolis and, yes, Super Bowl LVI in Los Angeles.
See media coverage of the program's NFL Draft and Kentucky Derby experiences on 19 News, Crain's Cleveland Business and Fox 8 TV.