BW students 'Got the Beat' at 2021 Rock Hall induction spectacle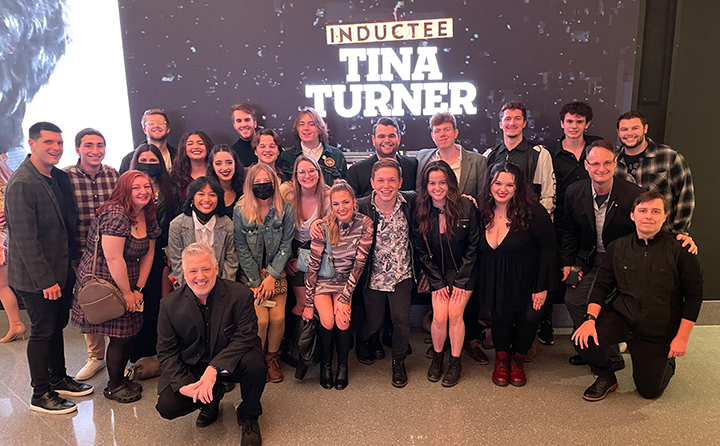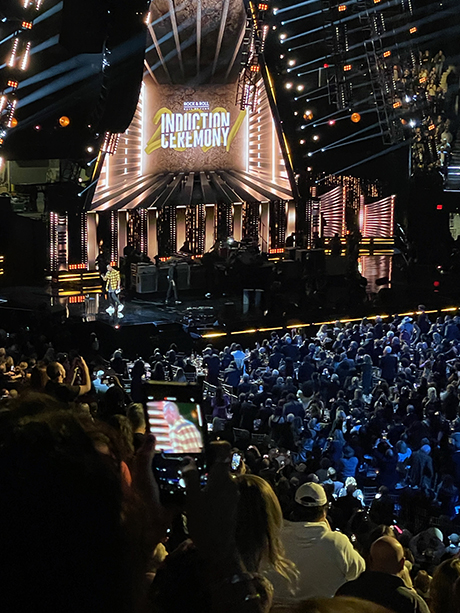 A four-hour, star-studded, extravaganza featuring performances by Taylor Swift, LL Cool J, Carole King, Jennifer Hudson, Christina Aguilera, the Go-Go's, Foo Fighters, Jennifer Lopez, Eminem and Sir Paul McCartney is not bad for a "first concert" ever! 
But that was the experience for at least one of the 50 Baldwin Wallace University students who got the chance to attend the 2021 Rock and Roll Hall of Fame Induction at Cleveland's Rocket Mortgage FieldHouse over the weekend.
Thrilling invitation
How did the students and faculty score such a hot concert ticket? Networking, of course, which is what BW's music industry program teaches and practices.
Dr. Sean Murphy, BW assistant professor of arts management & entrepreneurship and music industry area coordinator, says a longstanding relationship with the venue's event management team led to an invitation from Brooke Bockelman, vice president of booking & events at the Cleveland Cavaliers.
"My music industry students and I did a site visit at Rocket Mortgage FieldHouse back in fall 2019 when they had just finished the renovations and met with Brooke. We hadn't been in touch with many venues at all during the pandemic, so I was thrilled when Brooke reached out to me this past Tuesday, offering us the opportunity for BW students to act as seat fillers for the induction."
The tickets were offered to BW music industry majors, along with arts management & entrepreneurship, sport management and hospitality students who were interested in attending.  
Epic experience
While the event offered an epic music experience, it also served an educational purpose. 
"I think it gave the students an excellent first-hand look into all the different aspects of the music industry that were represented at an event that had such a large scale as this," Murphy says.
"There are so many layers: the technical execution of the concert, the experience inside the venue, the marketing, the booking of the A-list artists that performed and the legal side like the copyrights that will surely be a piece of the HBO production of the event. This concert pretty much touched every sector of the music industry."
For a video account of BW's trip to the induction, check out @bwmusicindustry on TikTok.