BW adds in-demand digital marketing major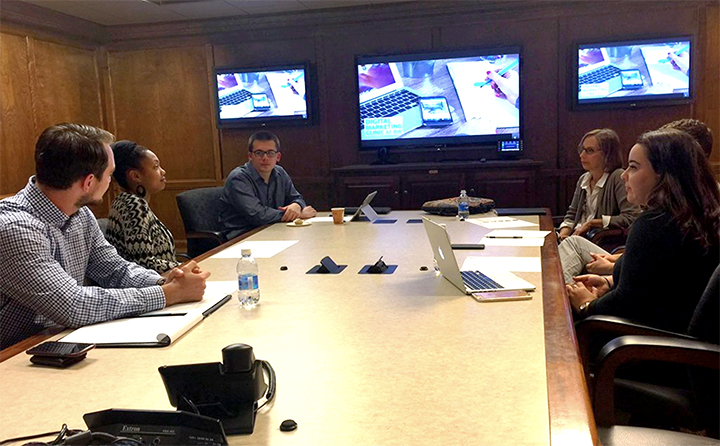 With digital innovation and communication at the forefront of today's must-have marketing strategies, Baldwin Wallace's new major prepares students to excel in a career field that is fast-paced and ever-growing.
Beginning fall 2019, students can major in digital marketing. The interdisciplinary program combines a strong foundation in business with specialized coursework in digital advertising, content marketing, multimedia, brand management, market research, web programming and communications.
Developed with Input from Industry Leaders

"The ability to incorporate strategic, creative and digital skills into the marketing and communication function is essential to the success of any organization looking to distinguish itself among competitors," believes Tim Marshall, who is the director of BW's Digital Marketing Clinic (DMC) and is one of the faculty members spearheading the new major.
"Businesses need professionals who understand and can execute effective campaigns utilizing social media, SEO, web content, paid media and ecommerce," continued Marshall. "When developing this major, we talked with industry leaders and employers throughout Northeast Ohio and around the country in order to create a program that would directly address business needs."
Comprehensive Coursework Focused on Real-World Learning
Marshall went on to say the digital marketing major incorporates coursework in art, business, communications and computer science. Students learn best practices for digital advertising, content marketing, multimedia, brand management, web programming and content creation.

Of importance, he noted, is the ability for students to gain in-demand career certification from industry leaders like Google, HubSpot, Hootsuite, Microsoft and Bloomberg, as well as intern at agencies and businesses throughout Northeast Ohio and beyond.
The major also includes multiple hands-on experiences and touchpoints with outside businesses and industry professionals.
"By the time they graduate, students will have acquired the skills that will enable them to step right into a wide range of career opportunities. We've already had phenomenal success with recent graduates securing employment at local as well as national businesses and agencies," said Marshall.
For students who have earned an associate's degree at a local community college, an A2BW transfer option for the new digital marketing major is also available.
Building on Success
Anticipation for the major has been a year in the making. It builds on the success of the DMC, which Marshall expanded from a pilot project to a signature experiential learning program in 2016. The DMC, which operates under the umbrella of the School of Business but is interdisciplinary, is a student-run, fee-for-service agency offering digital marketing expertise.
Through the DMC, students work with local small businesses and nonprofit organizations to provide customized, effective and research-based inbound marketing services that can include website design, social media strategy, targeted paid media, an automated email marketing plan and content marketing.
"The evolution of the digital marketing major is built upon the success of networking business connections, programs and faculty expertise BW has had for decades," said Dr. Lori Radulovich, chair of the business administration and marketing department.
Radulovich, who established digital marketing coursework at BW and led the cross-campus effort to create the new program, sees the addition of the major as an important new chapter for BW as well as employers, industry and the discipline itself.
"The digital marketing major is an exciting next step that truly addresses a critical, in-demand business need," she said.