Deborah Pryce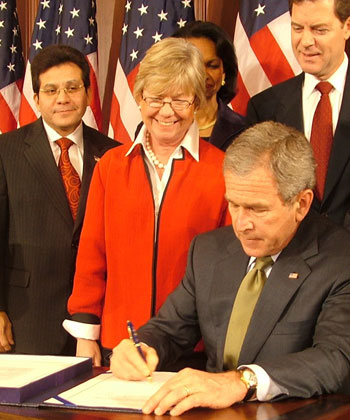 Served in the U.S. House of Representatives, 1993-2009
Born: 1951 in Warren, Ohio
Education: B.A., Ohio State University, 1973; J.D., Capital University, 1976
Prior Experience: Franklin County Municipal Court Judge from 1986-1992; administrative law judge for the Ohio State Department of Insurance from 1976-1978; assistant city prosecutor and senior assistant city attorney for the Columbus City Attorney's Office from 1978-1985
Age When First Elected to the U.S. House: 41
Length of Service: 8 terms
How She Entered the U.S. House: Ran in 1992 for open seat
How She Exited the U.S. House: Decided not to seek reelection in 2008
Party: Republican
Background
In her first campaign for Congress, Deborah Pryce won an unusual 3-way race for an open House seat in 1992. In addition to facing Democrat Richard Cordray, because of Pryce's moderate pro-choice position, pro-life activists put up their own independent candidate, Linda Reidelbach, who received a surprising 18% of the vote.
Running in what became known as "The Year of the Woman," Pryce campaigned as "just a regular person… who happens to be a woman, who used to be a judge, who has a family and life experience." Pryce explained, "I want to be looked at as a whole, complete candidate and not just as a woman who happens to be running." However, as a mother of a 2-year-old daughter, she had to face questions that male candidates rarely had to answer: "A couple of people have asked me how I could leave my little girl to go to Washington…My answer is I have a loving and supportive husband who adores her. It might not be a traditional family like Ozzie and Harriet depicts, but we have a lot of love…Women have always had to juggle more than men no matter what they do" (Farkas & Lane).
Beginning in her first term, Pryce served in the Republican House leadership and was elected Republican Freshman Class President. By 1996, she was Deputy Majority Whip. In 2002, Pryce became the Republican Conference Chair, making her the fourth highest ranking Republican, and the highest ranking Republican woman in congressional history.
After her first election, Pryce's seat was considered safe -- until 2006. In that election cycle, Pryce narrowly defeated Democrat Mary Jo Kilroy after a recount by only 1055 votes out of over 220,000 votes cast. In 2008, facing another competitive race against Kilroy, Pryce decided not to run again, explaining that she wanted to be able to spend more time with her daughter Mia, who she adopted as a single mom at the age of 50. However, Pryce also talked of her disgust with the cost of campaigning and the necessity of "going negative." In 2006, when the average House incumbent raised $1.4 million, she spent $4.7 million, much of it on attack ads. As she explained, "It was obscene the amount of money I had to spend" (Hulse; Auster).
In 2016, Pryce served as a delegate to the Republican National Convention in Cleveland.
Ohio's 15th District
Deborah Pryce, a Republican, represented Ohio's 15th district. When she was first elected in 1992, the district covered most of Columbus and extended into the western suburbs, but was completely contained in Franklin and Madison Counties. With The Ohio State University in the district, over half of the residents had college degrees, compared to about one-fourth of the population nationally. In 2002, the district was expanded north, to include the rapidly growing Union County (shown here). After Pryce decided not to run again in 2008, she was succeeded by another woman, Democrat Mary Jo Kilroy.
Election History
| | | |
| --- | --- | --- |
| Year | Democratic Opponent | Pryce's % of 2-Party Vote |
| 1992 | Richard Cordray | 53.8% |
| 1994 | Bill Buckel | 70.8% |
| 1996 | Cliff Arnebeck | 70.8% |
| 1998 | Adam Clay Miller | 69.8% |
| 2000 | Bill Buckel | 70.8% |
| 2002 | Mark Brown | 66.6% |
| 2004 | Mark Brown | 60.0% |
| 2006 | Mary Jo Kilroy | 50.2% |
District Map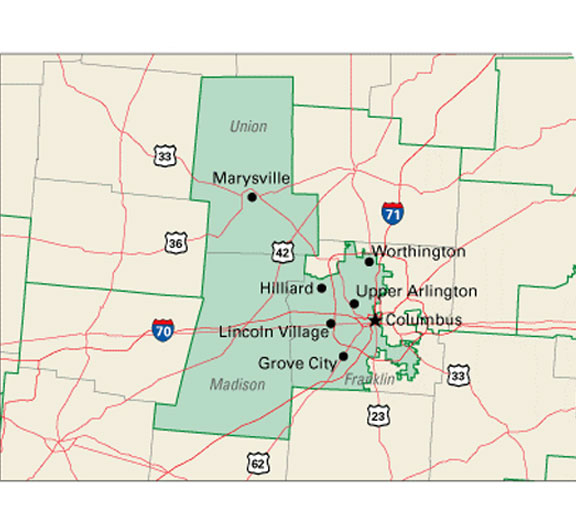 Ohio's 15th District
Sources and Resources:
Auster, Elizabeth. 2007. "Leaving the House for Home," Cleveland Plain Dealer, September 9th.
"Deborah D. Pryce Papers." Ohio Congressional Archives, Ohio State University,
https://library.osu.edu/find/collections/ohio-congressional-archives/deborah-d-pryce-papers/
Farkas, Karen & Mary Beth Lane. 1992. "Women Struggle for Footing on New Political Ground," Cleveland Plain Dealer, October 4th.
Foerstel, Karen. 1999. Biographical Dictionary of Congressional Women. Westport, CT: Greenwood Press.
Hulse, Carl. 2007. "For Retiring Republicans, Several Explanations." New York Times, October 30th, http://www.nytimes.com/2007/10/30/washington/30cong.html
"Pryce, Deborah." Women in Congress, U. S. House of Representatives Office of the Clerk,
http://history.house.gov/People/Detail/19966?ret=True
"Representative Deborah Pryce." Congress.gov,
https://www.congress.gov/member/deborah-pryce/P000555?q={%22search%22:[%22Pryce%22]}&r=1