Student Engagement
In addition to providing students the opportunity to engage in original research, part of the mission of the Center is to provide students with the opportunity to meet female elected officials.
CWPO Student Fellows
Launched in the fall of 2021, the Center for Women and Politics of Ohio is excited to offer the opportunity for BW students to become research fellows. During the semester of their fellowship, students will assist with the ongoing research of the Center on elections and the success of female candidates, developing skills that include the creation and management of large data sets, attention to detail, problem solving and analytical thinking, and writing for digital media. Students will also contribute content for manuscripts and professional academic conference papers. In addition, fellows will have the opportunity to create their own original project, furthering the mission of the Center to promote undergraduate research. Interested students can contact Professor Barbara Palmer at bpalmer@bw.edu.
---
Find the Latest Updates About Our Students
Visit the Center for Women & Politics of Ohio on Jacket Connect.
---
Students Participate in New Leadership Program at Ohio State
May 2023: Irene Jayapandian ('25), Maddie Robinson ('23) and Jillian Smith ('24) were selected to be part of New Leadership in Columbus, along with students from around the state. This immersion program teaches campaign skills and provides networking and mentorship opportunities with successful women leaders, with the goal of increasing the number of women in office. Out of all the participants, Jayapandian was selected to be the student keynote speaker at a reception featuring members of the Ohio Statehouse, Capitol Hill staffers, lobbyists and community leaders.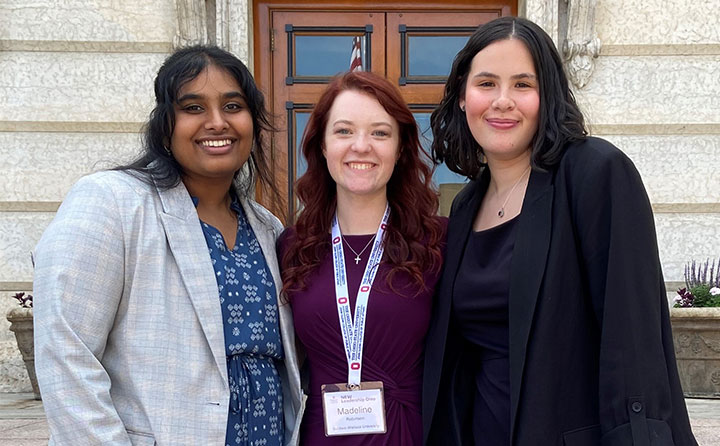 ---
CWPO Research Fellow Co-Authors Conference Paper
January 2022: Anxela Dalipi ('22) co-authored a paper with CWPO executive director Barbara Palmer that was presented at the Southern Political Science Association Annual Meeting, entitled, "Bellwether No More: Ohio and the Representation of Women in Elected Office." The paper was the first analysis of a unique data set that includes over 18,000 candidates and 14,000 elected officials from all levels of public office in the state. Overall, women were 27.3% of office holders and 25.1% of candidates. There was, however, substantial variation across the 33 different offices that are elected in Ohio, which can largely be explained by the stubbornness of gender stereotypes.
---
Students Meet Elected Officials
Fall 2016: Students met with BW alumna Judge Deanna O'Donnell and State Representatives Nickie Antonio and Sarah LaTourette to learn about life on the campaign trail and the importance of public service.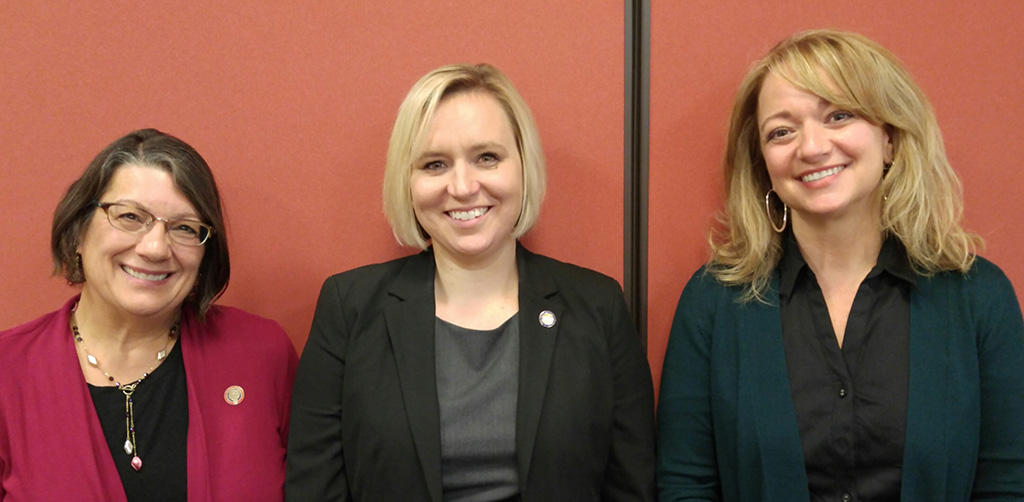 (left to right) Antonio, LaTourette and O'Donnell


BW students with LaTourette, Antonio and O'Donnell
---
Washington, D.C. Field Trip
Fall 2014: Students took a field trip to Washington, D.C. and visited Capitol Hill, Library of Congress and National Press Club. Students met with professionals from Running Start, the Office of Representative Marcy Kaptur, the Cook Political Report and the White House press corps.
View and download field trip report.