In addition to providing students the opportunity to engage in original research, part of the mission of the Center is to provide students with the opportunity to meet female elected officials.
CWPO Student Fellows
Launched in the fall of 2021, the Center for Women and Politics of Ohio is excited to offer the opportunity for BW students to become research fellows. During the semester of their fellowship, students will assist with the ongoing research of the Center on elections and the success of female candidates, developing skills that include the creation and management of large data sets, attention to detail, problem solving and analytical thinking, and writing for digital media. Students will also contribute content for manuscripts and professional academic conference papers. In addition, fellows will have the opportunity to create their own original project, furthering the mission of the Center to promote undergraduate research. Interested students can contact Professor Barbara Palmer at bpalmer@bw.edu.
Students Meet Elected Officials
Fall 2016: Students met with BW alumna Judge Deanna O'Donnell and State Representatives Nickie Antonio and Sarah LaTourette to learn about life on the campaign trail and the importance of public service.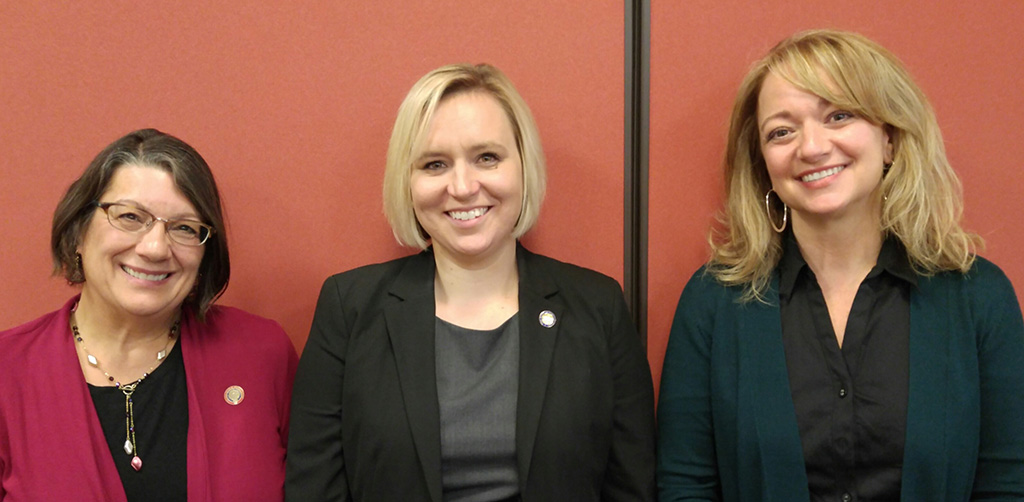 (left to right) Antonio, LaTourette and O'Donnell




BW students with LaTourette, Antonio and O'Donnell

Washington, D.C. Field Trip
Fall 2014: Students took a field trip to Washington, D.C. and visited Capitol Hill, Library of Congress and National Press Club. Students met with professionals from Running Start, the Office of Representative Marcy Kaptur, the Cook Political Report and the White House press corps.
View and download field trip report >