Women in the Ohio Judiciary
2018 updates coming soon.
As of the 2016 election:
Out of the 34 Court of Common Pleas judges in Cuyahoga County, 16 (47%) are women.
Out of the 68 Ohio District Court of Appeals judges, 31 (46%) are women.
Out of the 7 Ohio Supreme Court justices, 3 are women.
Out of the 158 Ohio Supreme Court justices elected since statehood, 10 (6%) have been women.
In 2002, Ohio became the third state in the nation to have a female majority (4 of 7) on its state high court. This majority did not last long, as Justice Deborah Cook left to serve on the US Court of Appeals in 2003.  However, women were in the majority again from 2011 to 2016.
Florence Allen: Trail-Blazer in Ohio and the Nation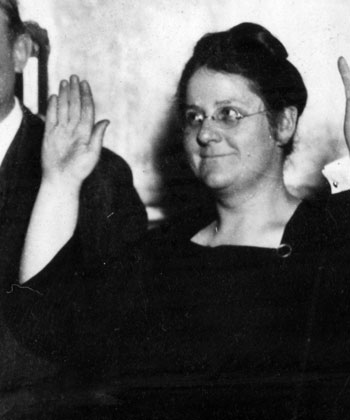 Florence Allen was the first woman ever elected to a judicial office in the nation, when she successfully ran for the Cuyahoga Court of Common Pleas in 1920. Two years later, in 1922, she ran for the Ohio Supreme Court and won, making her the first woman in the nation to serve on a state high court. In 1934, President Franklin D. Roosevelt appointed her to a U.S. Court of Appeals, making her the first woman to serve on the federal bench.
Photo: Cleveland Public Library
Women Who Have Served on the Ohio Supreme Court
History by the Numbers
Women Running for Ohio Supreme Court, 1922 - 2016 (download Excel file)
This file includes data on female candidates for the Ohio Supreme Court from 1922 (the first year women were elected to the high court) to 2016. Justices run for election every six years. Election of the seven members is staggered, so all of the justices are not up for reelection at the same time. 
Biographical data on Female State Supreme Court Justices (download Excel file)
This file includes data on all of the women who have served on the state supreme court and their lower court experience. 
Things to know about Ohio's Judiciary
All judges serve for 6-year terms, with mandatory retirement at age 70. Judges are allowed to finish the term during which they turn 70.
Ohio elects its judges using a method not used in any other state. Judicial candidates first run in a partisan primary, usually in the spring. The winners of these primaries then run in a non-partisan general election in the fall, with no party label after their name. 
If Ohio Supreme Court justices leave before their terms expire, the governor appoints replacements to fill the unexpired term.