On the sidelines and behind the scenes, BW does Super Bowl LVII
A 2015 BW grad is on the coaching staff for the high-flying Philadelphia Eagles while sport management students prepare to work a range of NFL events in Glendale, Arizona.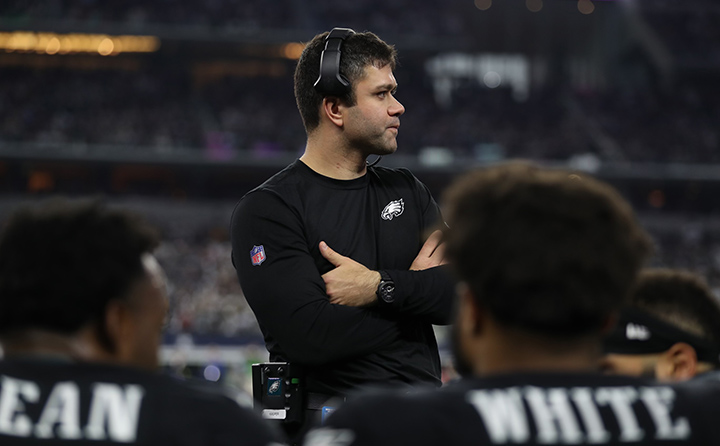 In just his second season with the Philadelphia Eagles, Baldwin Wallace University graduate Joe Kasper '15 is Super Bowl bound.
As an undergrad, the three-year Yellow Jacket football letter-winner, who had his eye on law school post-graduation, got a job as a personnel and development assistant with the nearby Cleveland Browns and has been working in sport ever since.
Coaching with critical thinking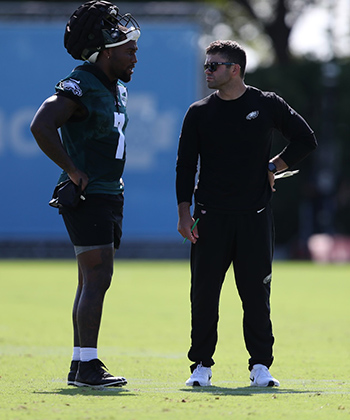 Kasper played safety for BW and earned Capital One Academic All-America honors before graduating with a degree in political science, a course of study that he says prepared him well for the critical and strategic thinking required to support elite athletes.
"I went to BW because I fell in love with the coaches and the importance of football to the community," Kasper recalls.
"I also loved the faculty in the political science department," he continues. "Although I didn't set out to be a coach, the thinking required for building a successful game plan is not unlike the process of creating a foreign policy plan. I apply things I learned at BW every day in my work."
Mixed emotions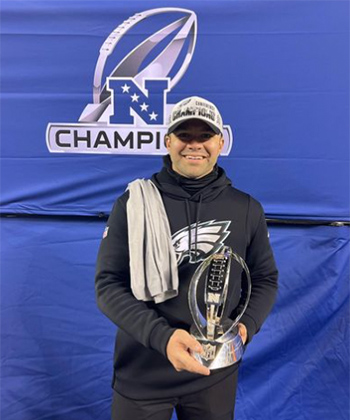 Kasper originally joined the Eagles as a defensive quality control coach during the 2021 offseason after spending the previous three years at Duke University, with prior stints coaching at John Carroll University and for his hometown Mentor High School.
With a dominant pass rush and secondary, the Eagles have a formidable, top-ranked defensive unit in the NFL. Kasper credits "really good people," both players and staff, for the team's success.
"As happy as I am to be in the Super Bowl, because of the nature of personnel movement in the NFL, I'm also a little sad, because this will be our last game with this exact mix of coaches and players, and they are all really good people of high character," Kasper reflects.
Super Sport Management Students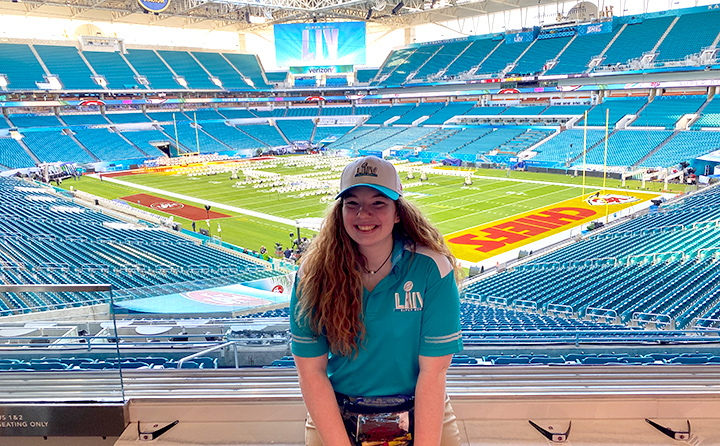 This Super Bowl will not be the first for BW sport management majors, a program that's built a culture of experiential learning at many of the world's most prestigious sporting events over more than a decade.
A group of 21 students departs Tuesday to work at events leading up to and including the "game of all games" in Glendale, Arizona.
Hannah Dick '23 is making her third journey to the Super Bowl with the BW sport management program.
"Being a female in the male-dominated sports industry, I'm going to take advantage of as many of these opportunities as possible to get my foot in the door and make industry connections," says Dick, who's also worked with the Browns since 2021, first in guest services and currently with ticketing operations.
Adding "The Masters" in 2023
Adds Charles Campisi, Ph.D., chair of BW's marketing and sport management department, "This is the industry students like Hannah want to be in, so we make sure to provide the opportunities. Whether it's the Super Bowl, the college football national championship, Formula One races, the Kentucky Derby or the Final Four, we send students to all these places so they can get the experience running those mega-events, in addition to working with our local teams like the Browns, Cavs, Guardians and others."
Campisi also confirms that The Masters, one of the four major championships in professional golf, has been added to the list of elite events BW sport management students can experience in 2023.