BW Sport Management majors take on Super Bowl, NBA All-Stars, March Madness
The teams are set for Super Bowl LVI, and BW sport management majors will be back in the midst of the action this year with 27 students plus three faculty bound for Inglewood, California, and SoFi Stadium February 8-14.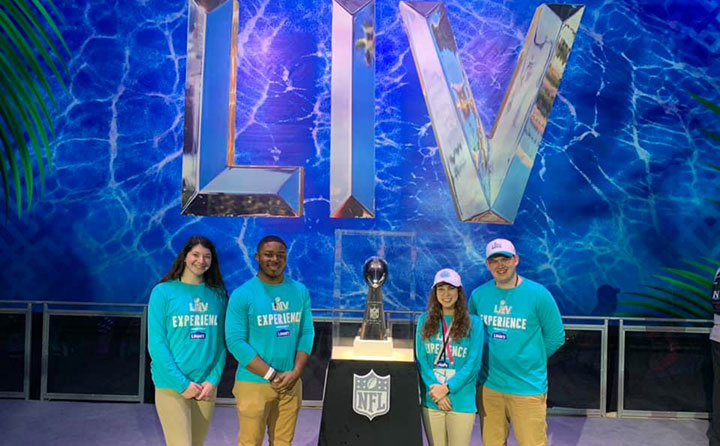 The BW program has taken students to work Super Bowl week events for a decade.
After scaling back and skipping the big event in 2021 due to COVID-19 restrictions, the program's experiential learning trips are back in full swing, including a recent trip to the College Football Playoff National Championship.
Major New Experiences
Work experiences are also planned for the upcoming NBA All-Star Weekend in Cleveland, February 18-20, followed by the program's first journey to the NCAA Men's Final Four (aka March Madness), slated to take place in New Orleans in late March/early April. 
Another brand-new experience on the schedule this year is a Formula 1 race in Miami in May, the same week a group will return to Louisville and Churchill Downs to work the Kentucky Derby.
As for this year's Super Bowl, which features a team from Ohio, Ryan Gorman '25 from Steubenville, Ohio says, "I hope to see what it takes to put on such a huge event, which can't be taught; it must be experienced. This will be my first time in LA and at a Super Bowl. It is truly the experience of a lifetime."
From classroom to reality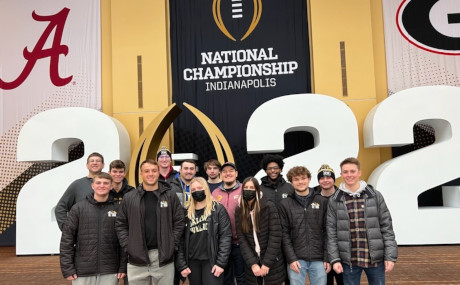 "These work experiences (some paid, some unpaid) help provide industry experience, allow students to see behind the scenes and help determine areas they want to work in," explains Charles Campisi, Ph.D., chair of BW's marketing and sport management department. "Plus, they allow our students to put what they're learning in the classroom into practice.
Assistant professor Tony Dick, who accompanied students to Indianapolis for the college football championship, added, "We try to structure trips so the students experience other educational enrichment and some fun, too. For example, we toured the Indianapolis Motor Speedway and attended an Indiana Pacers game. Our students also worked the Taste of the Championship, which is a major networking and fundraising event that includes some of the finest foods that the host city has to offer."
Because many BW classes are now recorded to provide flexibility, students can stay on top of coursework and take advantage of the hands-on, out-of-state opportunities offered by the sport management program.
BW's active Sport Management Club helps to organize and fundraise to offset some of the travel expenses to the events.
Performing at 'an elite level'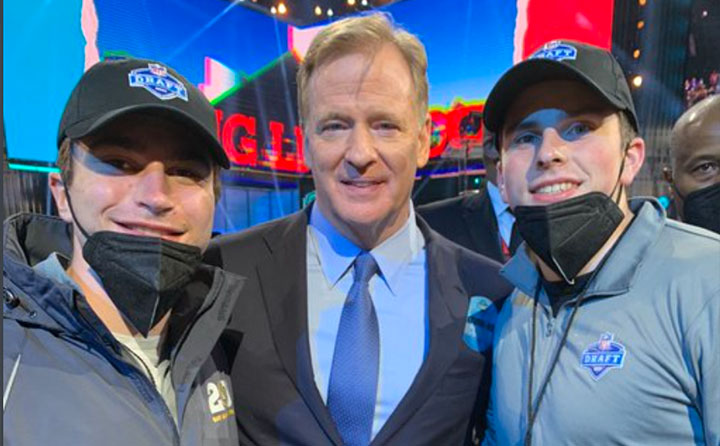 Campisi says there are two main reasons the BW program is able to add and return to an unprecedented number of major sporting events each year, including last year's NFL Draft in Cleveland.
"Networking and making sure our students are performing at elite levels at the events allow us to be invited back and to add opportunities."
Being in the major professional sports market of Cleveland doesn't hurt for events and internships either.
Campisi was recently featured in WalletHub's recent study about the Best Cities for Football Fans.