Hands-on experiences with EEG give BW students grad school edge
Four years of amazing standout success is making Baldwin Wallace's Cognitive Neuropsychology Lab a leader in hands-on brain electroencephalography (EEG) experience and faculty-student collaboration that includes research as well as professional mentoring.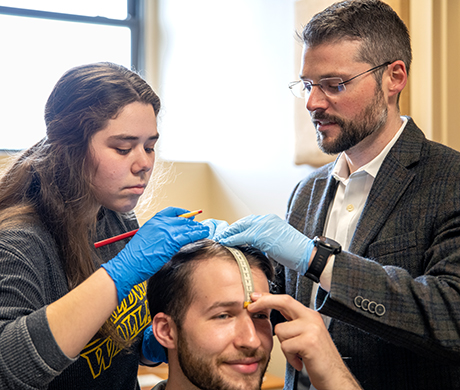 For lab director and principal investigator Dr. Patrick Ledwidge, the momentum is only getting started. Since coming to BW five years ago and establishing the lab, he has exponentially expanded the complexity and scope of the research. 
The lab uses EEG and event-related brain potentials (ERPs) to study theories of executive function, attention and language in human models. The scope of research involves applying neuroimaging and neuropsychological methods to examine biomarkers of cognitive and psychosocial challenges in clinical human populations, particularly traumatic brain injury and concussion.
He has collaborated with other BW departments as well as with external scientists and medical professionals in neuroscience, communication disorders and sports medicine.
From Conservatory Student to Cognitive Scientist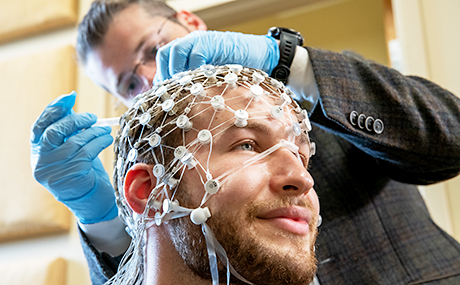 A 2021 graduate, David Peita has had a bit of a twist in his career path. The Lakewood, Ohio, resident enrolled in the Conservatory of Music as a music therapy major. He added neuroscience and psychology as his minors.
"My interest in research didn't start until the summer of my sophomore year," he said. "During my first year with the cognitive neuropsychology lab, I served as an assistant for projects studying language comprehension after concussion.
"As a project coordinator, I developed an adapted Posner cueing paradigm which manipulates a participant's visual attention using emotionally salient facial expressions. I had the opportunity to present a pilot version of this 'Emotional-Spatial Cueing' project at BW's 2021 Ovation Day. It was my first real experience presenting research in a professional setting," he noted.
"Working in the lab for almost three years now, I've gained the necessary skills to be a strong Ph.D. applicant, as evidenced by my acceptance to several different doctorate programs," he stated. "Dr. Ledwidge has been an incredible mentor who has given me guidance while also allowing a certain level of creative autonomy," noted Pieta.
"He taught me how to construct and ask meaningful research questions, how to develop and implement complex cognitive paradigms and how to manage a research project from start to finish. He also gave me an incredibly in-depth introduction to EEG and ERP data collection and analysis," he emphasized.
"I currently work in the BW neuropsychology lab as a post-baccalaureate project coordinator. Next year, I'll begin my doctorate in cognitive and brain sciences at Binghamton University. I'll be studying complex human auditory processing. My goal is to be a cognitive neuroscientist who is valuable in both academic and industrial fields," he added.
Celebrating Victories and Finding Her Career Path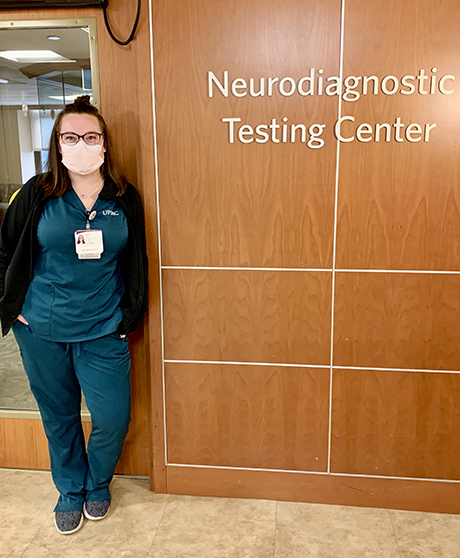 For Erin Neff '21, a neuroscience-psychology major from Pittsburgh, the lab has been an instrumental part of her career path. She joined it as a first-year student during its inaugural year. 
"We started by looking at language and then transitioned to concussions and how brain injury impacts language and response times," said Neff. "I started out as an assistant helping to run the sessions and process smaller bits of the data collected with the team. I was promoted to lab manager, where I led the team and ran research sessions. 
"Dr. Ledwidge was my senior thesis mentor and helped me develop and pilot a research project looking at how concussions during adolescence may impact a brain's response to emotion," she continued. 
"Having Dr. Ledwidge as my professor, mentor and principal investigator for four years allowed him to get to know my ambitions. We spent countless hours working out plans for my future and celebrating victories along the way," recalled Neff.
"There were many times where I was at a crossroads," she admitted. "Dr. Ledwidge would listen and help guide me in finding an answer. I am currently working at UPMC Presbyterian Hospital in Pittsburgh as a neurodiagnostic technologist using EEG to check for seizures. I am gaining clinical experience and studying to take my board examination to become certified in EEG. Afterwards, I plan to become a pediatric neurology physician's assistant. 
Pursuing Her Own Research Passion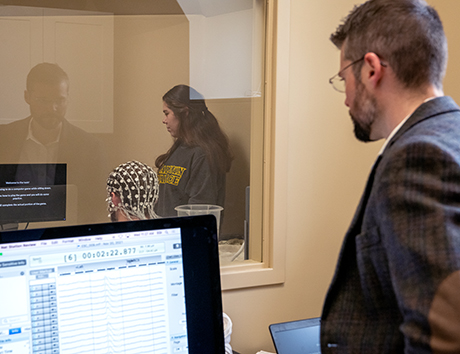 Ask Chagrin Falls, Ohio, resident Elizabeth Castro '22 about the neuropsychology lab, and she'll talk about the extraordinary learning opportunities as well as personal and professional growth.
"I have been a part of the lab since I was a second-semester freshman. I have been involved in three different projects that have investigated traumatic brain injury, adult language and cognition, and most notably, my senior thesis," explained Castro. "My senior thesis, which I am currently doing, has given me exposure to the entirety of the research design process.
"I have gained so much from the neuropsychology lab," emphasized Castro. "Under Dr. Ledwidge's guidance, I have been able to explore my own research interests. This has helped me grow in my passion for neuroscience and boosted my confidence about myself and my career path.
"Professionally, this experience has given me a solid foundation to be able to understand, synthesize and disseminate research findings and has made me a better scientific communicator. I feel prepared for graduate school and to dive further into my interests," she added.
"I am planning on attending graduate school at the University at Buffalo and pursuing a doctorate in neuroscience," said the BW neuroscience-psychology major. "My goal is to have a research lab where I can mentor students and work to advance the fields of cognitive and systems neuroscience. Having had the chance at BW to be in a lab as an undergraduate and be so hands-on has made me realize this is what I want to do for a career," she concluded.