BW earns Gold Military Friendly® designation for veteran's support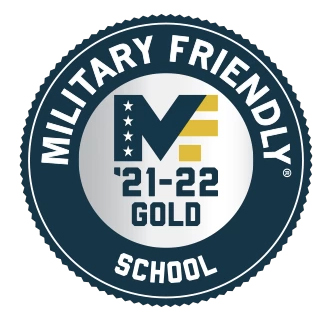 Baldwin Wallace University is among the top, Gold-rated "2021-2022 Military Friendly® Schools" nationwide. The Gold award designation, published by Military Friendly® online and in GI Jobs magazine, reflects "leading practices, outcomes, and effective programs" for active military and veteran students.
More than 1,200 schools sought the Military Friendly® School status, with just 162 two and four-year schools earning a Gold award nationwide; just 10 in Ohio. The gold distinction reflects schools that are "setting the example with their programs and initiatives."
Comprehensive review
Institutions were evaluated using "both public data sources and responses from a proprietary survey," which is owned and operated by VIQTORY, a service-disabled, veteran-owned small business.
VIQTORY calls it "the longest-running, most comprehensive review of college and university investments in serving military and veteran students."
Ensuring academic success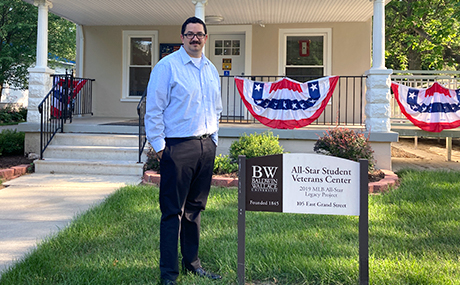 Michael G. Brown '18, who leads BW's dedicated veteran support team as manager of veteran and military services, said, "BW continues to work hard to build up our supportive learning community and to provide the resources service members need to make a successful transition from the military to higher education."
The accomplished U.S. Marine Corps veteran and BW grad said the office he now leads was vital to his own academic journey. "They were instrumental in ensuring I was successful from the day I stepped on campus. I'm grateful to be paying that forward."
Longtime veteran support
Recognized by U.S. News as one of America's Best Regional Colleges and Best for Veterans, BW has a long history of supporting the military, beginning in the 1940s when veterans were the original "non-traditional" students.
BW also has Yellow Ribbon status and grants generous transfer credit for military training, including a waiver of the international studies core requirement based on deployment or overseas duty.
BW has an active chapter of the Student Veterans of America and an All-Star Student Veterans Center that opened in 2019 with funding from Major League Baseball. Learn more information about veterans and military students.