Military & Veteran Students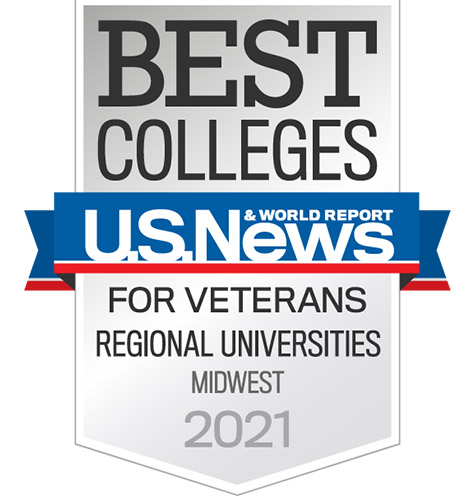 Baldwin Wallace University offers a supportive learning community and the resources needed to assist service members transitioning from the military to higher education. BW has been recognized by GI Jobs magazine as a military friendly school since 2008. As a chapter member of Student Veterans of America, BW sponsors a student veterans organization that promotes camaraderie and social interaction with fellow service members. BW's faculty and staff with military backgrounds often serve as mentors and create a campus environment supportive of our military community.
Educational Benefits for Veterans
The GI Bill has helped educate some of our nation's greatest leaders, including three U.S. presidents, three Supreme Court justices, 14 Nobel Prize winners, 12 U.S. senators and 24 Pulitzer Prize winners.
Receiving VA Benefits
Your first step in receiving educational benefits for your military service is to submit VA Form 22-1990.
The U.S. Department of Veteran Affairs provides service members and veterans with clear, comprehensive guidance to maximize your education and training benefits. If you have questions, call 1-888-GIBILL-1 (1-888-442-4551) or 1-800-827-1000 to speak with a veterans benefits counselor in the Department of Veteran Affairs.
Yellow Ribbon Program
Baldwin Wallace University is pleased to participate in the Yellow Ribbon Program and to offer eligible military veterans an opportunity to attend BW basically tuition-free. Find out more about BW's Yellow Ribbon Program.
College Credit for Your Military Training
Veterans understand that their commitment to military training required intensive learning and skill development in many areas. They are often surprised to learn that this training and education is worth valuable college credit toward a bachelor's degree at BW.
How Does Military Credit Work Toward Your Degree?
Baldwin Wallace University awards up to 25 semester hours of military-related college credit to honorably discharged veterans. You may also qualify for a waiver of some general education requirements based on deployments or overseas duty. When applying for admission to BW, make sure the admission office has copies of your DD Form 214 and any official military transcripts detailing your training and education.
To obtain military transcripts, the Army, Navy, Marine Corps, and Coast Guard have adapted a new, consolidated system called Joint Service Transcript. Transcripts can be accessed right now by using your CAC card or creating a login ID and password.
For Air Force military transcripts, the USAF, through the Community College of the Air Force (CCAF), provides a transcript detailing ACE recommended credit. To order an official copy be mailed directly to BW go to Ordering a CCAF Transcript and follow the instructions.
Additional College Transfer Credit
College work completed through approved military colleges (such as Community College of the Air Force) as well as transfer credit for courses successfully completed at regionally accredited colleges and universities will be considered for transfer credit. As part of the admission process, official transcripts must be sent directly from these institutions to the BW office of admission before credit can be considered.
ROTC Programs
BW is proud to participate in two crosstown ROTC programs in partnership with John Carroll University (Army ROTC) and Kent State University (Air Force ROTC). Learn more information about these ROTC programs.
Your Next Step
Your mission continues now. Call the office of admission at (440) 826-2222 or email transfer@bw.edu with questions or to set up an appointment. An admission counselor will meet with you one-on-one to discuss your past academic and military experience and suggest pathways to the successful completion of your degree.