Five honored with 2018 Alumni Merit Awards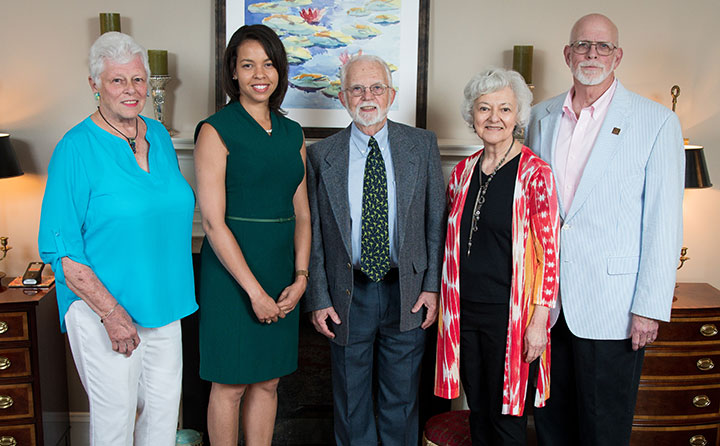 Five accomplished alumni were chosen for the highest honor conferred upon a graduate of Baldwin Wallace by the BW Alumni Association: the Alumni Merit Award.  
The 2018 honorees, recognized for achievements and service to profession, community and alma mater, are Margaret "Muggsy" Bade Mason '59, Nicole M. Bell Mitchell '04, Dr. David O. Norris '61, Helen Rathburn '66 and Tom Rathburn '66.
Margaret "Muggsy" Bade Mason '59
A 1959 health and physical education graduate, Mason went on to an impactful teaching career in Cleveland's western suburbs and also served in the Case Western Reserve University (CWRU) Athletic Club office. As a BW undergrad, she was a member of Delta Zeta and played basketball, earning induction into the BW Athletic Hall of Fame in 1998. As a proud alumna, she has served BW as a class representative for almost 60 years as well as a vice president and long-time active member of the BW Women's Club, raising scholarship funds for female BW students.
Mason's generous volunteerism extends beyond campus to many other area organizations. Among them are College Club West, Alpha Delta Kappa, Lakewood Hospital, Great Lakes Theater Women's Committee, Gallery Group Inc., the Robert Page Singers, Rocky River Junior Women's Club, Boy Scouts, Beck Center and the Eliza Jennings Retirement Home. For 37 years, she has been the official scorekeeper for Cleveland State University's basketball teams.
Nicole M. Bell Mitchell '04
In April of this year, Bell was named the national manager for diversity and corporate social responsibility for Kia Motors America after leading the Honda Manufacturing of Indiana's (HMIN) office of inclusion and diversity. Bell has been recognized as an accomplished young professional by the Indianapolis Center for Leadership Development, Kaleidoscope Magazine and Crain's Cleveland Business.
After earning her B.A. in business administration from BW, Bell added an MBA in human resources/management from Cleveland State University in 2010. Her first major leadership role was executive director for The Presidents' Council Foundation, a nonprofit focused on research and entrepreneurial education in Northeast Ohio's African-American community. At her alma mater, she has been an energetic force behind BW's Diversity Alumni Network. She has provided insights through board and advisory council service for Girl Scouts of Central Indiana, the 500 Festival, the Indianapolis Chamber Hispanic Business Council and the Indiana Conference for Women.
Dr. David O. Norris '61 
From 1966 to 2012, Norris taught at the University of Colorado where he is now professor emeritus in the department of integrative physiology. His interests involve the study of the neuroendocrine and reproductive functions of fishes and amphibians, including the role of environmental factors such as pesticides and pharmaceuticals. He also conducts basic research and consulting work in forensic botany. In recent years, he has published the fifth edition of his textbook "Vertebrate Endocrinology" and co-authored "Forensic Plant Science."
Norris, who earned a B.S. in biology at BW and a Ph.D. from the University of Washington, holds memberships in civic, law enforcement, church and singing groups in his community. His many honors include the Robert L. Sterns Award from the University of Colorado, a NASA predoctoral fellowship, the Irving Geshwind Memorial Lecturer award and election to the American Academy of Forensic Sciences. In 2018, the Society for Integrative and Comparative Biology selected him to present the Howard A. Bern Memorial Lecture and, in 2005, his high school alma mater, Ashtabula, inducted him into its Alumni Hall of Fame.
Helen Rathburn '66 and Tom Rathburn '66
Music education graduate Helen Rathburn and business administration graduate Tom Rathburn have been a united force for good at BW since their 1966 graduation. As a student, Helen Rathburn was a member of Alpha Gamma Delta and several arts and academic honoraries, a frequent cast member of Berea Summer Theatre productions and a White Rose Ceremony participant. Tom Rathburn was member of Theta Alpha Phi theatre arts honorary and attended graduate school in speech and theater at Bowling Green State University. She worked in public relations for BW beginning in 1983, retiring as associate director of college relations in 2006. His career as a CPA took him to Key Bank where he served as vice president and senior manager of trust tax. 
In retirement, the couple has engaged in a variety of volunteer capacities on campus, including support for the BW Conservatory's All-Steinway School Campaign and the Friends of the Conservatory group, of which Helen Rathburn currently serves as president. Together they have contributed many additional volunteer hours to greater Cleveland arts organizations including Playhouse Square and Western Reserve Theatre Organ Society (Tom), Berea Arts Fest (Helen) and the Strongsville Community Band (Helen and Tom). Tom Rathburn has also been a frequent Red Cross platelet donor in the last 25 years. The Rathburns are members of BW's Heritage Society and received BW's Family Heritage Award in 2010.
Celebrating the honorees
President Bob Helmer and his wife, Linda, celebrated these deserving 2018 Alumni Merit Award recipients at a private event at their home in late May.
The BW Office of Alumni Engagement welcomes fellow graduates to send a note of congratulations to any of the honorees. Email bwalumni@bw.edu with "Alumni Merit Award" in the subject line and your message will be forwarded.