Physics major conducts stellar research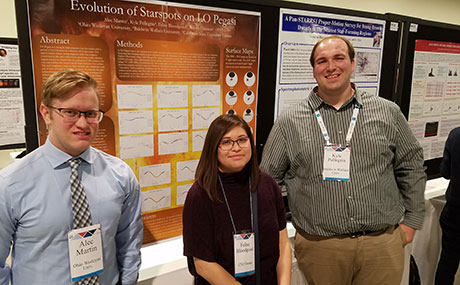 After studying stars light-years away, senior physics major Kyle Pellegrin '18 recently attended the 231st American Astronomical Society Conference in Washington where, under the mentorship of Dr. Robert Harmon of Ohio Wesleyan University, he and fellow undergraduate researchers presented their summer research, "Evolution of Starspots on LO Pegasi."
The project, funded by the National Science Foundation's Research Experiences for Undergraduates Program, focused on studying starspots on the surface of LO Pegasi, a star located approximately 81 light-years from Earth.
"Starspots are regions where the stellar surface is colder than the surrounding area of the star due to the star's magnetic field suppressing the convection of plasma," Pellegrin explained.
Modeling the stellar surface
Pellegrin and his research partners spent the summer gathering data from the night sky using the Perkins Observatory facility in Delaware, Ohio. The team employed a technique known as differential photometry to gather details on the star's brightness and then fed their data into a light curve inversion program, which generated models of the stellar surface.
The models will provide researchers with additional tools to increase their fundamental understanding of starspots in their ongoing efforts to expand their knowledge of the universe.
"I am grateful to Dr. Brent Strunk of the BW Math and Computer Science Department as he is the one who first brought the NSF research opportunity to my attention," Pellegrin said.
New round of research
Following his summer research experience, Pellegrin began further astronomical studies with a small group of students at BW under the guidance of Dr. Peter Hoekje of the physics department and professor Gary Kader, director of the Burrell Memorial Observatory.
"The current focus of this on-campus research is to put in place procedures that will allow for further successful astronomical observations," said Pellegrin. "This will provide a solid foundation to support future work partnering with the American Association of Variable Star Observers."
Pellegrin's current research project also provided the basis for a scholarship grant from the Ohio Space Grant Consortium (OSGC).
Along with presentations from other OSGC scholarship recipients, the results of Pellegrin's research will be presented at the Ohio Aerospace Institute meeting in Cleveland on March 23.