BW MBA team places second in ACG Cup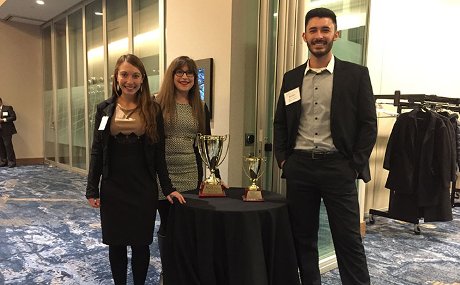 Marking BW's 10th year of participation, a team of five BW MBA students claimed second place at the annual Association of Corporate Growth (ACG) Cup competition. The ACG Cup is an immersive, real-world investment banking case study competition organized by the Cleveland chapter of the ACG.
According to the ACG, "Chapters nationwide host ACG Cup competitions, enabling ACG members to forge closer relationships with leading business schools and introduce the next generation of business leaders into the middle-market mergers and acquisitions, corporate growth and corporate development communities."
Bringing Home Second Place
At this year's week-long, regional competition, BW competed against seven other university teams, garnering the runners-up finish, which stands alongside other high-ranking finishes by BW teams over the past 10 years.
Because of BW's continued success in 2018, the team was invited to the 22nd Annual Deal Maker Awards in Cleveland, an event which welcomes ACG members from throughout the midwest. 
The BW team, representing an impressive range of BW graduate business programs, included Alexis Becker (One-Year MBA), Matthew Baldwin (One-Year MBA), Katelyn LeGros (Health Care MBA), Collin Mottice (Hybrid MBA) and Pedro Manolo Sandoval (3/2 Accounting MBA).
The team was mentored by Dale Kramer, director, MBA and Executive MBA programs, and School of Business adjunct faculty member Kevin Flynn.
About ACG
ACG Cleveland is a networking organization comprised of Northeast Ohio professionals that engage in middle-market mergers and acquisitions, as well as broader corporate finance. Founded in 1981, the chapter is comprised of approximately 500 members.