Fueled by her personal journey, BW grad studies the brain and obesity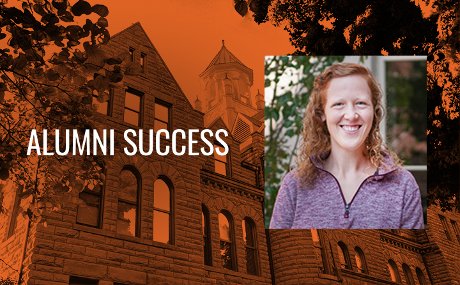 In the immensely complex world of neuroscience, one BW graduate is using her own personal struggle with weight loss to fuel exceptional peer-reviewed research exploring the connections between the brain and obesity.
Sarah Terrill '13, who graduated from BW with a bachelor's degree in psychology and neuroscience, is now conducting research as a fifth-year neuroscience-psychology graduate student at Florida State University (FSU).
Motivation and drive for a difficult field
Terrill's struggle with overcoming obesity has been the driving force for her work. As an undergraduate at BW, she lost over 100 pounds through major lifestyle and eating habit changes.
Throughout her journey, she gained an extreme curiosity for how the mind works when it comes to eating habits.
"Questions from my own experiences drive my research and keep me motivated to investigate these neurobiological secrets underlying the obesity epidemic that affects so many individuals," Terrill writes.
At BW, where Terrill was a four-year letter winner on the golf team, she earned induction into the National College Athletic Honor Society, Nu Rho Psi Neuroscience Honor Society and Psi Chi Psychology Honor Society. She also was awarded the Psi Chi Summer Research Grant, which gave her the opportunity to explore a variety of fields within neuroscience.
She says that her interests became more focused during her senior year when she used ingestive behavior as the basis of her senior thesis.
The Ins and Outs of Terrill's Work
Obesity and its countless effects, including insulin resistance, glucose intolerance, diabetes and hypertension, are now among the leading causes of preventable death in the United States.
Terrill's research, in Dr. Diana Williams' laboratory at FSU, explores how our minds function when we consume food and drink.
To date, Terrill has co-authored six peer-reviewed journal articles within her chosen neuroscience niche and presented her research at multiple international conferences. The Society for the Study of Ingestive Behavior honored her with the Randall Sakai New Investigator Travel Award in 2017 and the Gerard P. Smith Award in 2018.
"My dissertation focuses on a neural pathway that relays information from the gastrointestinal tract to a forebrain area that has traditionally been associated with functions such as learning, motivation and responses to stress, providing a mechanism for the brain to integrate these factors when making choices about what, when and how much to eat," Terrill explains.
Up next, Terrill will continue her research and education as a postdoctoral fellow at the University of Southern California. Her ultimate aspiration is to hold a faculty position where she can have her own independent research program and train future scientists at both the undergraduate and graduate level.