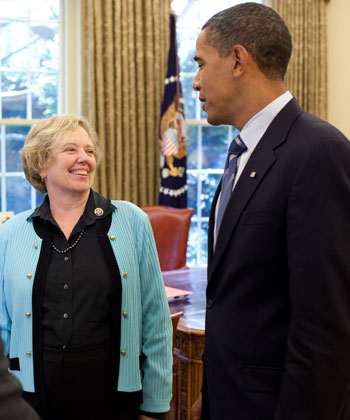 Served in the U.S. House of Representatives, 2009-11
Born: 1949 in Cleveland, OH
Education: B.A., Cleveland State University, 1977; J.D., Ohio State University, 1980
Prior Experience: Member of the Columbus Board of Education from 1992-1999; President of the Columbus Board of Education in 1999; Member of the Franklin County Board of Commissioners from 2001-2008; President of the Franklin County Board of Commissioners from 2005-2007
Age When First Elected to the U.S. House: 59
Length of Service: 1 term
How She Entered the U.S. House: Ran in 2008 for an open seat after Representative Deborah Pryce retired
How She Exited the U.S. House: Defeated in 2010 by Steve Stivers
Party: Democrat
Background
After years of serving in public office at the local level, Mary Jo Kilroy was approached by the Democratic Congressional Campaign Committee to run for US House in 2006.  The race received national attention, as she took on incumbent Deborah Pryce, who was Chair of the Republican Conference and the highest ranking Republican woman in the history of the House.  As Democrats effectively attacked Republicans with creating a "culture of corruption," Pryce's role in the Republican House leadership would prove to be a challenge for her, given the problems plaguing the party, including bribery charges against Pryce's Ohio colleague Bob Ney in the Jack Abramoff scandal.  A month before the election, with incumbent Pryce seen as the underdog, one poll showed Kilroy ahead by 12 points (Auster). While Democrats took back control of the House, on election day, Pryce was ahead by 3500 votes, with 19,000 absentee and provisional ballots yet to be counted.  Kilroy held a post-election-day rally at The Ohio State University, insisting, "The race is still on" (Eaton & Rollenhagen).  Kilroy narrowly lost by 1055 votes. 
Pryce announced she would not seek reelection in 2008, so Kilroy ran in the open seat, and once again found herself in an extremely close race.  In another good year for Democrats nationally, boosted by the excitement over Barack Obama's candidacy for president, Kilroy narrowly defeated Republican Ohio State Senator Steve Stivers.  On the day after the election, Stivers was ahead by 321 votes (Eaton), but after all the absentee and provisional ballots were counted, Kilroy would be declared the winner by 2312 votes out of over 276,000 cast.  
In the House, Kilroy became a vocal supporter of the Affordable Care Act (Obamacare), based on her own experiences after being diagnosed with MS in 2003.  Serving on the House Financial Services Committee, she played a major role in shaping the new regulations of the financial industry in the Wall Street Reform and Consumer Protection Act of 2010.
Given her slim margin of victory, running again in one of the most closely watched races in the nation, Kilroy was targeted by Republicans in 2010 and lost by 13 points in a rematch against Stivers.  She ran again in a newly created district in 2012, but lost in the Democratic primary to Joyce Beatty, who would go on to win the general election. 
Ohio's 15th District
Elected in 2008 for one term, Democrat Mary Jo Kilroy represented Ohio's 15th district, which included most of Columbus and reached far into the western suburbs, extending into Union and Madison Counties, which for a short time, made it a rare swing district (shown here).  Prior to Kilroy, this seat was held by another woman, Republican Deborah Pryce.  The district was dramatically redrawn in 2012, so Kilroy ran again, but in the new 3rd district that covered most of Columbus.  She lost the Democratic primary to Joyce Beatty, who won the general election.
Election History
| | | |
| --- | --- | --- |
| Year | Republican Opponent | Kilroy's % of 2-Party Vote |
| 2008 | Steve Stivers | 50.4% |
| 2010 | Steve Stivers | 43.3% |
District Map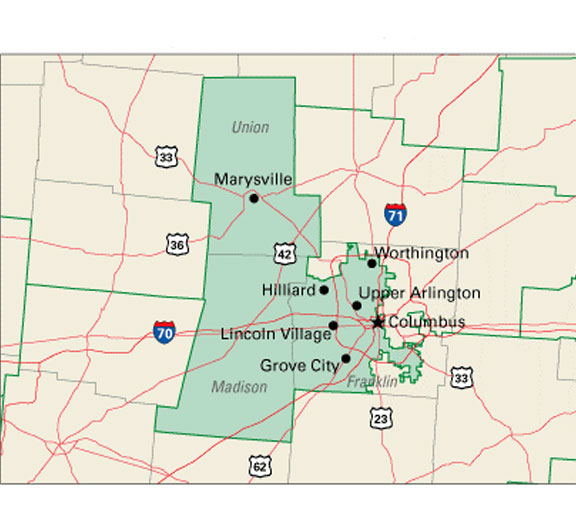 Ohio's 15th District
Sources and Resources:
Auster, Elizabeth. 2006.  "GOP Can Study Ohio Survivors," The Cleveland Plain Dealer, November 12th.
Eaton, Sabrina. 2008. "Ohio Democrats Take Two GOP Congressional Seats," The Cleveland Plain Dealer, November 6th.
Eaton, Sabrina & Mark Rollenhagen. 2006. "Losing Democrats in Ohio are Banking on Uncounted Votes," The Cleveland Plain Dealer, November 16th.
"Kilroy, Mary Jo." Women in Congress, U. S. House of Representatives Office of the Clerk,
http://history.house.gov/People/Detail/16567?ret=True
"Mary Jo Kilroy Papers." Ohio Congressional Archives, Ohio State University,
https://library.osu.edu/find/collections/ohio-congressional-archives/mary-jo-kilroy-papers/
"Representative Mary Jo Kilroy." Congress.gov,
https://www.congress.gov/member/mary-jo-kilroy/K000372?q={%22search%22:[%22kilroy%22]}&r=1