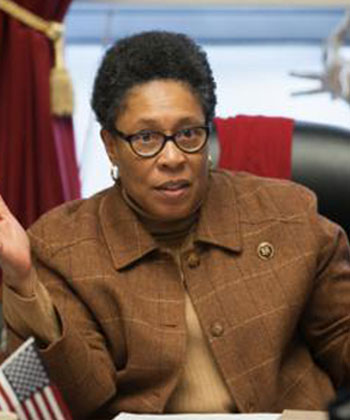 Served in the U.S. House of Representatives, 2008-2021
Born: 1952 in Cleveland, Ohio
Education: B.S., Ohio State University, 1975; J.D., Cleveland Marshall College of Law at Cleveland State University, 1983
Prior Experience: Chief of Staff for U.S. Representative Stephanie Tubbs Jones from 1999-2000; Mayor of Warrensville Heights from 2000-2008
Age When First Elected to the U.S. House: 56
Length of Service: 7 terms (as of Jan. 2021)
How She Entered the U.S. House: Ran in special election in 2008 after the death of Representative Stephanie Tubbs Jones
How She Exited the U.S. House: Became Secretary of Housing and Urban Development in 2021
Party: Democrat
Background
When Marcia Fudge was sworn in as the first female and first Black mayor of Warrensville Heights, US Representative Stephanie Tubbs Jones administered the oath of office. Fudge and Tubbs Jones first met in their teens and worked together in the Cuyahoga County Prosecutor's Office, Fudge went to Washington, DC when Tubbs Jones was first elected and served the Representative's Chief of Staff (Fenno).
When Tubbs Jones suddenly died in August of 2008, on the day of the funeral, friends approached Fudge and told her she should run. They raised $10,000 for her campaign that night (Sims). "It's very difficult to lose someone who is as close to me as Stephanie was," Fudge explained. "Ultimately I decided that it was probably the best thing to do because I want to ensure that her legacy continues" (Zeltner).
Fudge actually ran 3 times for the seat. To fill the remainder of the unexpired term, a special Democratic primary was held on October 14th, and Fudge handily defeated 9 candidates with 67% of the vote (Guillen). In the special general election on November 18th, Fudge ran unopposed, thus winning the opportunity to be sworn in on November 19th, giving her the advantage of having a bit of seniority over all of the incoming freshmen in the 111th Congress (2009 – 2011).     
Tubbs Jones had won the Democratic primary held earlier in the year for the new term in the 111th Congress. Rather than hold another primary for the open seat, in September of 2008, Cuyahoga County Democratic Party Executive Committee selected a candidate. Out of the 280 Executive Committee members who voted, Fudge received 175 votes (63%). In the November general election, Fudge easily won with 85% of the vote. Since then, she has won reelection with at least 80% of the vote every time.
In the House, Representative Fudge created the Congressional Rock and Roll Caucus. She also served as the Chair of the Congressional Black Caucus. She was a co-sponsor of the Voting Rights Amendment Act of 2014, which attempted to restore parts of the Voting Rights Act of 1965 struck down by the Supreme Court.
In 2014, Representative Fudge appeared on the Colbert Report in the segment, "Better Know a District," and fenced in the halls of Congress with host Stephen Colbert.
In 2021, Representative Fudge was nominated by President Joe Biden to be Secretary of Housing and Urban Development (HUD) and confirmed by the Senate on March 10th by a vote of 66-34. Fudge is the second Black woman to head HUD. Patricia Harris, the first Black woman to ever serve in the president's cabinet, was nominated by President Jimmy Carter in 1977.
Learn more about Secretary Fudge.
Ohio's 11th District
Marcia Fudge, a Democrat, previously represented Ohio's 11th district, the home of the internationally known Cleveland Orchestra and Cleveland Clinic. When Fudge was first elected in 2008, the district was quite compact at only 135 square miles, and was entirely within the eastern part of Cuyahoga County, including most of Cleveland and some of the eastern suburbs. Prior to Fudge, this version of the district had previously been represented by another Black woman, Stephanie Tubbs Jones. While it had been reliably Democratic for decades, the district was substantially redrawn in the 2012 redistricting cycle, making it one of the most Democratic districts in the nation. The new district (shown here) still includes parts of eastern Cleveland and its suburbs but now meanders down to Akron 40 miles away. Well over half of the residents are Black. 
Learn more about Ohio's 11th District.
Election History
| | | |
| --- | --- | --- |
| Year | Republican Opponent | Fudge's % of 2-Party Vote |
| 2008 | Thomas Pekarek | 85.3% |
| 2008 | Unopposed (special) | 100.0% |
| 2010 | Thomas Pekarek | 82.9% |
| 2012 | Unopposed | 100.0% |
| 2014 | Mark Zetzer | 79.5% |
| 2016 | Beverly Goldstein | 80.3% |
| 2018 | Beverly Goldstein | 81.9% |
| 2020 | Laverne Gore | 80.1% |
District Map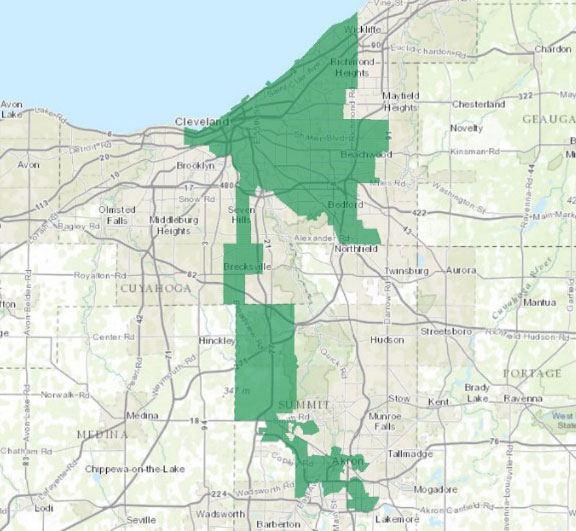 Ohio's 11th District
Sources and Resources:
The Almanac of American Politics, (various editions).
CQ's Politics in America, (various editions).
Fenno, Richard. 2003. Going Home:  Black Representatives and Their Constituents, Chicago:  University of Chicago Press. 
Naymik, Mark, Sarena McRae, Joe Guillen & Patrick O'Donnell. 2008. "Democrats Pick Fudge to Replace Tubbs Jones," Cleveland Plain Dealer, September 12th.
"Representative Marcia Fudge." Congress.gov,
https://www.congress.gov/member/marcia-fudge/F000455?q={%22search%22:[%22Fudge%22]}&r=1
Sims, Damon. 2008. "Marcia Fudge, With Style All Her Own, Takes Congressional Seat," Cleveland.com, November 19th.  http://blog.cleveland.com/metro/2008/11/marcia_fudge_with_style_of_her.html