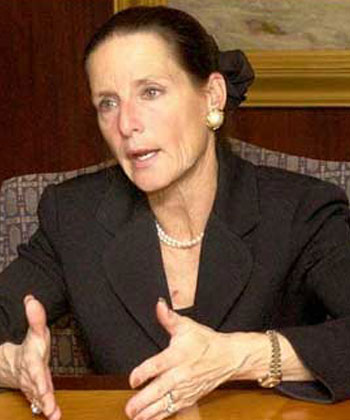 Served in the U.S. House of Representatives, 2005-2013
Born: 1951 in Cincinnati, Ohio
Education: B.A., University of Cincinnati, 1974
Prior Experience: Trustee of Miami Township from 1989-2000; Member of the Ohio State House of Representatives from 2000-2004
Age When First Elected to the U.S. House: 54
Length of Service: 4.5 terms
How She Entered the U.S. House: Ran in special election in 2005 after Representative Rob Portman was appointed US Trade Representative
How She Exited the U.S. House: Defeated in 2012 in a 5-way Republican primary
Party: Republican
Background
Jean Schmidt says that the "best day of her life" was when her father's car qualified for the Indianapolis 500.  Her father owned an auto racing team, so being around cars was a big part of her childhood, but she remembers being told that girls were "never allowed to cross that fence" and work in the pits (Koszczuk & Angle).  The first office Schmidt ran for was Miami Township Trustee.  Local party leaders discouraged her from running, asserting she would not be able to handle the job because she was a woman.  She ran, and she won (Koszczuk & Angle).  She then went on to serve two terms in the Ohio State House of Representatives.  In 2004, she ran for State Senate, losing the primary by 22 votes.  She explained, "This is the way my whole life has been -- one tough race after another" (Kemme). 
In 2005, President Bush appointed US House member Rob Portman to be US Trade Representative, creating an open seat.  In the crowded special election primary, Schmidt defeated 4 other well-known Republicans, including Pat DeWine, the son of US Senator Mike DeWine. DeWine was the favorite, given his name recognition and fundraising abilities, but his campaign was plagued with controversy, including a recent divorce after an affair with a lobbyist.  Schmidt, seen as the underdog, won by 5 points (Barone & Cohen, 2006).  In the special general, she narrowly got past Democrat Paul Hackett with 52% of the vote.  In her speech after her swearing in, she said, "I stand here today in the same shoes, though with a slightly higher heel, as thousands of Members who have taken the same oath before me" (Congressional Record). 
In the House, she proposed legislation focusing on adoption and providing services for birth parents, adoptive parents, and children, including the Motherhood Fairness Act of 2010, that would have provided child tax credits for women who gave a child up for adoption. 
Early on in her congressional career, Schmidt pledged to serve no more than six terms (Koszczuk & Angle).  However, in 2012, after her 4th full term, she lost the Republican primary to newcomer Brad Wenstrup, an Iraqi War vet, who ran ads showing Schmidt kissing President Obama at the State of the Union address (Barone & McCutcheon). 
In the 1970s, Schmidt became an avid marathon runner.  She has run the Boston Marathon several times, including in 2013, finishing just 13 minutes before the bombing (Osborne).
Ohio's 2nd District
Jean Schmidt represented Ohio's 2nd district, in southeastern Ohio along the Kentucky border. When Schmidt was first elected in the special election in 2005, the economically diverse district (shown here) included the eastern part of Cincinnati and the adjacent affluent suburbs, and stretched another 80 miles east into rural and economically depressed Pike and Scioto Counties, which identify as more Appalachian. While the district was not dramatically changed in the 2012 round of redistricting, Schmidt lost the Republican primary. Schmidt is the only woman to have ever held this seat, which has been safely Republican for decades.
Election History
| | | |
| --- | --- | --- |
| Year | Democratic Opponent | Schmidt's % of 2-Party Vote |
| 2005 | Paul Hackett (special election) | 51.6% |
| 2006 | Victoria Wulsin | 50.5% |
| 2008 | Victoria Wulsin | 54.5% |
| 2010 | Surya Yalamanchili | 62.8% |
| 2012 | Brad Wenstrup (Republican Primary) | 46.8% |
District Map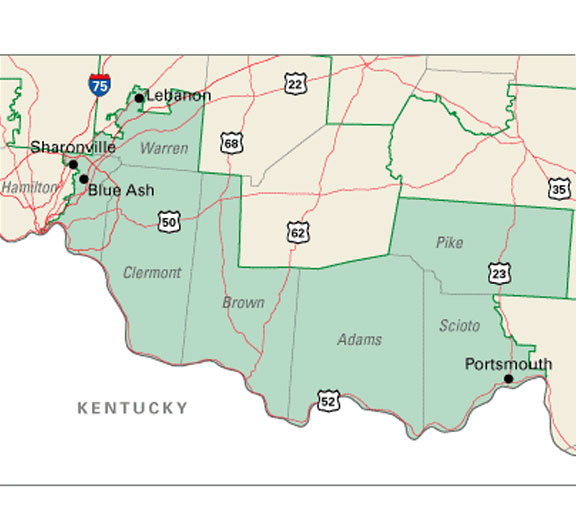 Ohio's 2nd District
Sources and Resources:
Barone, Michael & Richard Cohen. 2006. The Almanac of American Politics. National Journal: Washington, DC, pp. 1314-15.
Barone, Michael & Chuck McCutcheon. 2008. The Almanac of American Politics. National Journal: Washington, DC, pp. 1303-5.
Congressional Record. 2005. "Maiden Speech by the Honorable Jean Schmidt," September 6th, p. H7658.
Kemme, Steve. 2004. "62-Vote Difference Means a Recount in State Senate," Cincinnati Enquirer, March 3rd.
Koszczuk, Jackie & Martha Angle. 2008. CQ's Politics in America. Congressional Quarterly:  Washington, DC, pp. 784-5.
Osborne, Kevin. 2013. "Ex-Congresswoman Jean Schmidt at Finish Line When Boston Marathon Explodes," WCPO Digital, April 15th. http://www.wcpo.com/news/local-news/ex-congresswoman-jean-schmidt-at-finish-line-when-boston-explosions-occurred
"Representative Jean Schmidt." Congress.gov,
https://www.congress.gov/member/jean-schmidt/S001164?q={%22search%22:[%22Schmidt%22]}&r=1
"Schmidt, Jean." Women in Congress, U. S. House of Representatives Office of the Clerk,
http://history.house.gov/People/Detail/22585