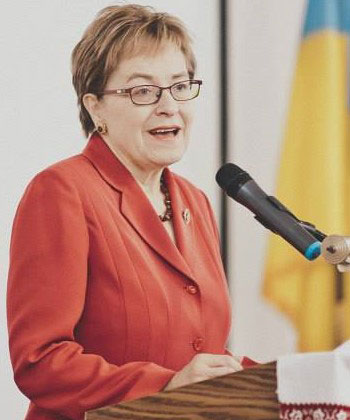 Served in the U.S. House of Representatives, 1983-present
Born: 1946 in Toledo, OH
Education: B.A., University of Wisconsin, 1968; M.A. in Urban Planning, University of Michigan, 1974; post-graduate studies, Massachusetts Institute of Technology, 1981
Prior Experience: Urban Planner for the Toledo-Lucas County Plan Commissions from 1969-1975; Director of Planning for the National Center for Urban Ethnic Affairs from 1975–1977; Domestic Policy Advisor for President Jimmy Carter from 1977-1979
Age When First Elected to the U.S. House: 36
Length of Service: 20 terms (as of Jan 2021)
How She Entered the U.S. House: Defeated incumbent Representative Ed Weber in 1982
Party: Democrat
Background
In the 117th Congress (2021-23), Marcy Kaptur holds the record as the longest serving woman in the history of the US House, with her career spanning 40 years. She still lives in the house she grew up in. From Polish-American working-class roots, she was the first in her family to go to college. She applied to the Air Force Academy and the University of Notre Dame, but was rejected because she was a woman (Gomez). She received a scholarship to attend the University of Wisconsin. Kaptur began volunteering with the Ohio Democratic Party when she was 13 and remembers going to vote with her politically-active mother as a child.
In 1982, when she was working on her PhD at MIT, local party leaders approached her to run for US House. The race was a long-shot for the Democrats, as she would be taking on incumbent Republican Ed Weber. After agreeing to run, she desperately needed money for her fledgling campaign. Her idea: a bake sale. "We all laughed," said Jim Ruvolo, the chair of the Lucas County Democratic Party. But Kaptur and her supporters raised $10,000 selling cookies, pies and pastries. "We all shut up after that," said Ruvolo (Gomez). In a race that gained national attention, Kaptur won with 60% of the vote. At age 32, should would be one of the youngest women ever elected. Bake sales would remain an integral part of her campaign for years to come.
In the House, Kaptur was largely responsible for the building of the WWII Memorial in Washington, DC, first introducing legislation for the memorial in 1987. She has been a strong opponent of international trade agreements, including NAFTA. In 1996, presidential hopeful Ross Perot asked her to be his running mate, but she declined.
Since her first election in 1982, she has won with an average of 72% of the vote. In 2012, her district was substantially redrawn, and she was paired against 7-term Democratic incumbent Dennis Kucinich in the primary. The new district stretched over 100 miles along Lake Erie, from downtown Toledo to downtown Cleveland. Occasionally, when she was campaigning in the eastern part of the district, she would spend the night with a congregation of nuns instead of driving 2 hours all the way back to Toledo (Gomez). Kaptur defeated Kucinich with 55% of the vote and easily won the general election over Republican Sam "Joe the Plumber" Wurzelbacher.
Learn more about Representative Kaptur.
Ohio's 9th District
Marcy Kaptur currently represents Ohio's 9th district. Given her long tenure in office, her district has been redrawn 3 times. When she was first elected in 1982, the district was relatively small and compact geographically, including Toledo and then extending west into neighboring rural Fulton County. At the time, Kaptur's district was probably best known for being the home of Corporal Max Klinger from the television show, "M*A*S*H." After the 1992 round of redistricting, the district was expanded to the east and south into next-door Ottawa and Wood Counties. In 2002, it was substantially redrawn, beginning its meander to the east along the southern shore of Lake Erie. In 2012, the district was gerrymandered even more, called one of the five ugliest districts in the United States, and was nicknamed the "mistake on the lake" because of its unusual shape that stretched over 140 miles along Lake Erie from Toledo to Cleveland (shown here). At one point, the district is only as wide as a bridge and runs along a beach.
Learn more about Ohio's 9th District.
Election History
| | | |
| --- | --- | --- |
| Year | Republican Opponent | Kaptur's % of 2-Party Vote |
| 1982 | Ed Weber | 59.6% |
| 1984 | Frank Venner | 65.6% |
| 1986 | Mike Shufeldt | 77.5% |
| 1988 | Al Hawkins | 81.3% |
| 1990 | Jerry Lammers | 77.7% |
| 1992 | Ken Brown | 77.1% |
| 1994 | Randy Whitman | 75.3% |
| 1996 | Randy Whitman | 78.7% |
| 1998 | Edward Emery | 81.2% |
| 2000 | Dwight Bryan | 77.3% |
| 2002 | Edward Emery | 74.0% |
| 2004 | Larry Kaczala | 68.1% |
| 2006 | Bradley Leavitt | 73.6% |
| 2008 | Bradley Leavitt | 74.4% |
| 2010 | Rich Iott | 59.4% |
| 2012 | Sam Wurzelbacher | 76.0% |
| 2014 | Richard May | 67.7% |
| 2016 | Donald Phllip Larson | 68.7% |
| 2018 | Steven Kraus | 67.6% |
| 2020 | Rob Weber | 63.1% |
District Map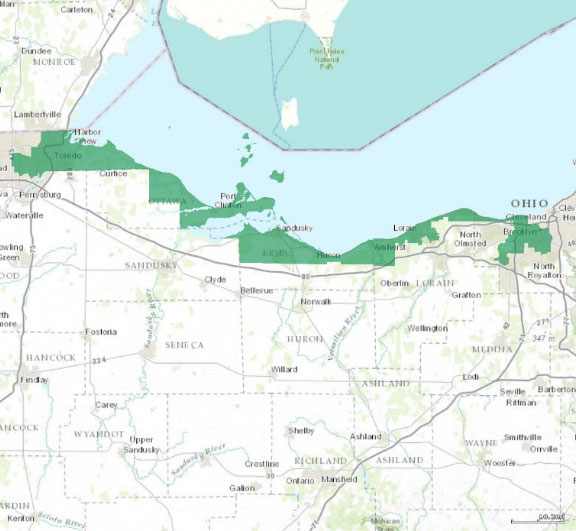 Ohio's 9th District
Sources and Resources
The Almanac of American Politics, (various editions).
CQ's Politics in America, (various editions).
Foerstel, Karen. 1999. Biographical Dictionary of Congressional Women. Westport, CT: Greenwood Press.
Gomez, Henry. 2012. "Blue-collar roots guide Marcy Kaptur's folksy -- and occasionally fiery -- career in Congress," Cleveland Plain Dealer, February 18th, http://www.cleveland.com/open/index.ssf/2012/02/blue-collar_roots_guide_marcy.html
Kaptur, Marcy. 1996. Women of Congress: A Twentieth Century Odyssey. Washington: Congressional Quarterly.
"Representative Marcy Kaptur." Congress.gov, https://www.congress.gov/member/marcy-kaptur/K000009?q={%22search%22:[%22marcy+kaptur%22]}&r=1