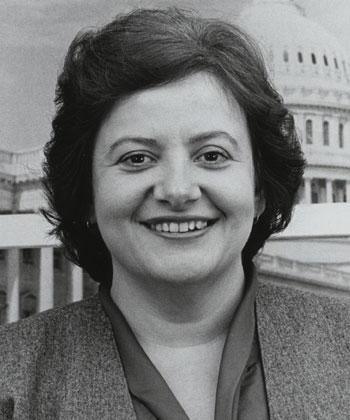 Served in the U.S. House of Representatives, 1977-93
Born: 1940 in Cleveland, Ohio
Education: B.A., Ursuline College, 1962; M.A., John Carroll University, 1966; also attended Columbia University and the Royal Academy of Dramatic Arts in London
Prior Experience: Member of the Cleveland City Council from 1973-1976; member of the Ohio Democratic State Central Committee from 1973-1975
Age When First Elected to the US House: 36
Length of Service: 8 terms
How She Entered the U.S. House: Ran in 1976 for open seat when incumbent Representative James Stanton ran for US Senate
How She Exited the U.S. House: Defeated in 1992 general election after redistricting substantially redrew her district
Party: Democrat
Background
When Mary Rose Oakar successfully ran for US House in 1976 at the age of 36, she would become one of the few woman in history to be elected under the age of 40.  Her parents were of Lebanese and Syrian ancestry, making her one of only a handful of Arab-Americans to ever serve in Congress. The first public office she ran for was Cleveland City Council.  During her campaign, she handed out pens decorated with roses.  In 1976, Oakar entered a crowded Democratic primary for US House with 11 other candidates, running for an open seat that had been created when incumbent Democrat James Stanton ran for US Senate.  Campaigning in a convertible covered with roses and highlighting the fact she was the only woman in the race – and the only one who was not a lawyer -- she won the primary and then went on to win the general election. The Republicans did not even bother putting up a candidate.
In the House, she was a staunch advocate for women's economic equality and independence, sponsoring several bills on pay equity and comparable worth.  She introduced the bill to create the $1-coin featuring Susan B. Anthony. She also proposed a House Resolution to make the American rose the "national floral emblem of the United States of America." 
During her congressional career, Oakar ran unopposed 3 more times, and when she had a Republican opponent, she never received less than 70% of the vote, until her 1992 reelection campaign.  With her district substantially redrawn and several scandals hanging over her head, she faced 6 challengers in her own primary.  Oakar had been caught up in the House Banking Scandal, writing over 200 bounced checks.  While she managed to win the Democratic primary, she was defeated in the general election by Republican Martin Hoke by 14 points.
After she left the House, Oakar was indicted for illegal campaign contributions, plead guilty, and received 2 years of probation, community service and fines.  Her dedication to public service, however, did not end.  In 1995, President Bill Clinton appointed her to the Advisory Board for the White House Conference on Aging.  She also successfully ran for the Ohio State House of Representatives in 2000 and served one term.  In 2012, at the age of 72, she won a seat on the Ohio State Board of Education, representing the 11 th District, and served until 2016.
Ohio's 20th District
Mary Rose Oakar represented Ohio's 20th district. When she was first elected in 1976, the district was entirely within Cuyahoga County included most of Cleveland on the west side of the Cuyahoga River (shown here).  The district included large ethnic working-class neighborhoods of Polish, Czech, Italian, German, Hungarian and Slovenian immigrants.  By 1982, the population had substantially declined, so the district had to be redrawn to include all of downtown Cleveland and extended into the suburbs to the west and south, but it remained solidly Democratic.  When Ohio lost 2 House seats in 1992, the district was basically eliminated and what was left was renumbered as the 10 th district (shown here).  Running in a largely new constituency and plagued by scandal, Oakar lost to Republican Martin Hoke (shown below in maps from The Historical Atlas of United States Congressional Districts, 1789-1983 and from the Ohio Secretary of State, 1992).
Election History
| | | |
| --- | --- | --- |
| Year | Republican Opponent | Oakar's % of 2-Party Vote |
| 1976 | Unopposed | 100% |
| 1978 | Unopposed | 100% |
| 1980 | Unopposed | 100% |
| 1982 | Paris LeJeune | 88.3% |
| 1984 | Unopposed | 100% |
| 1986 | Bill Smith | 84.9% |
| 1988 | Michael Sajna | 82.6% |
| 1990 | Bill Smith | 73.3% |
| 1992 | Martin Hoke | 43.2% |
District Maps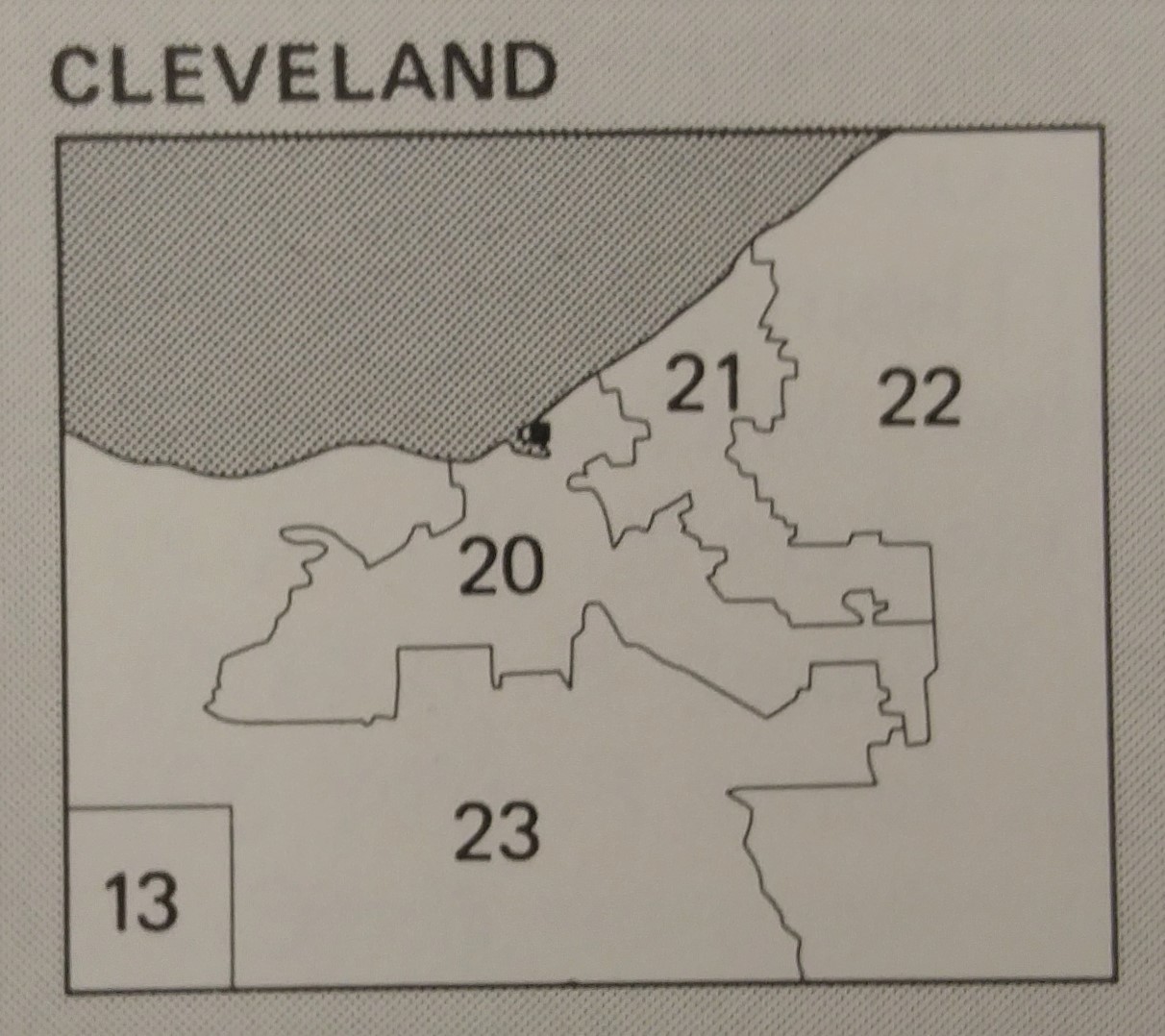 Ohio's 20th District in 1976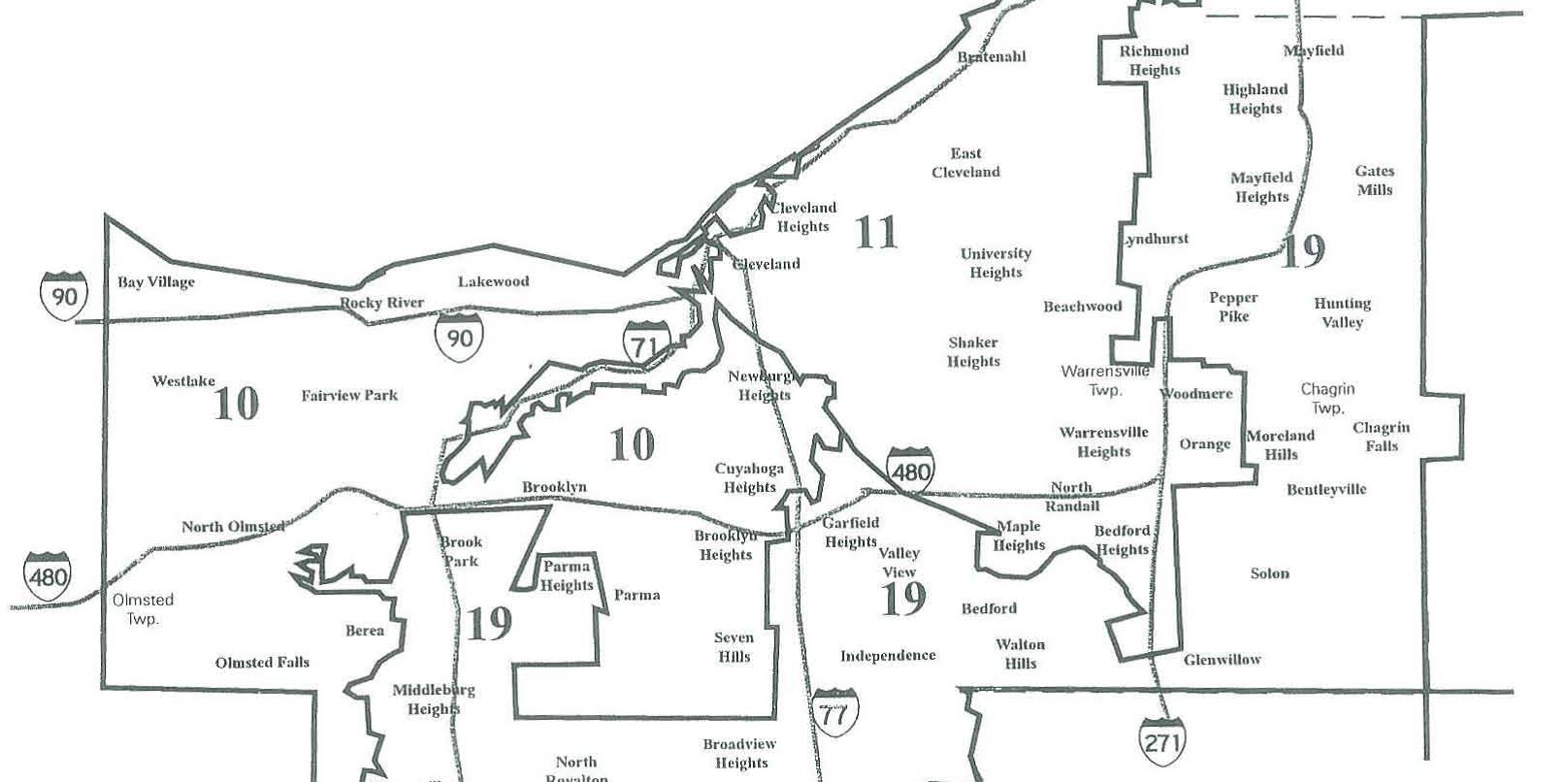 Ohio's 10th District in 1992