Introducing the BW Carmel Boyer School of Business
The name, announced on April 29, honors the extraordinary examples of Willard "Bill" Carmel '52 and George Boyer '51, who shared a devotion to the success of generations of BW students.
In business and in life, Baldwin Wallace University graduates Willard "Bill" Carmel '52 and George Boyer '51 found the freedom to soar.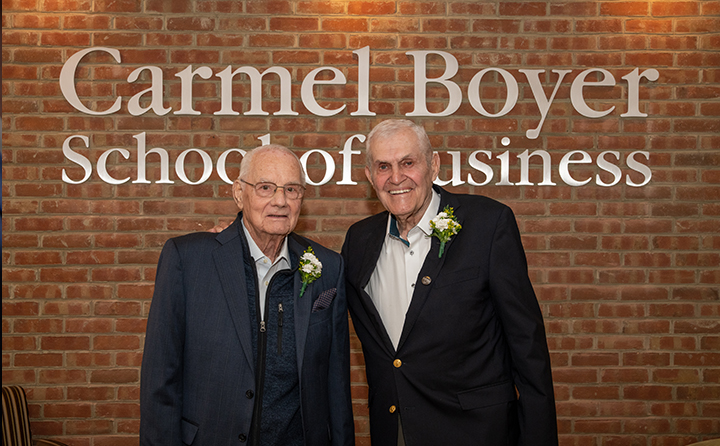 "These two distinguished alumni led parallel and intersecting lives of great purpose — building a legacy of exceptional career achievement, deep personal fulfillment and enduring community impact," said BW President Bob Helmer.
Now, both men are honored in the new name for BW's business school: the Baldwin Wallace University Carmel Boyer School of Business, unveiled at a celebration on Friday, April 29.
The name celebrates a shared devotion to the success of generations of BW students that remained rock solid even as thriving finance careers anchored one in Northeast Ohio and took the other to New York City.
From curious students to titans of finance
Friends for 70 years, Carmel and Boyer connected while studying business at Baldwin Wallace in the late 1940s and early '50s.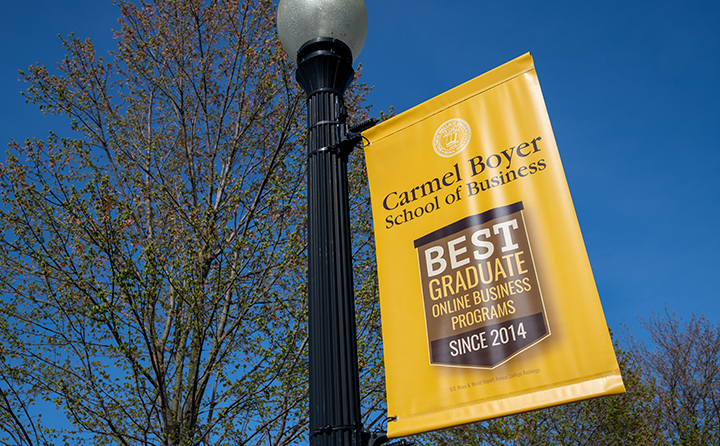 Both pride themselves on being students of legendary BW business professor Jacob O. Kamm '40 and attribute the seeds of their career success to his influence. It is fitting that the Carmel Boyer School of Business is housed in BW's Kamm Hall, which bears their college mentor's name.
"Jake was responsible for so many of us who found success in financial services," Boyer shared. "He stimulated our minds. We had an investment club, and he instilled in us the idea of careful research and patience in investing."
Carmel called Kamm "inspiring," and both men recalled their professor taking them to visit C-suites around the region. "We would get all dressed up, tuck our Wall Street Journals under our arms and go downtown," Carmel remembers.
Carmel and Boyer both went on from college to achieve extraordinary business success in their careers. Carmel rose to be CEO of the Cleveland-based investment company McDonald & Company Securities; Boyer was a partner in the Wall Street firm Goldman Sachs.
Exemplary service, powerful leadership
But it was their roles as trustees of their alma mater that made them men of consequence in the history of BW.
"With nearly 100 years of combined service on the BW Board of Trustees, Bill and George paid their success forward to generations of BW students who came after them, giving time, talent and treasure to BW," notes BW Board Chair Agnes Dover. "Their impact is extraordinary."
"As business leaders and trustees, both commanded respect," said Pat Dunlavy '71, who served as a trustee before taking on the role of VP for Philanthropy. "When they spoke, all trustees listened closely. Many of us who served with them consider both men to be mentors and friends."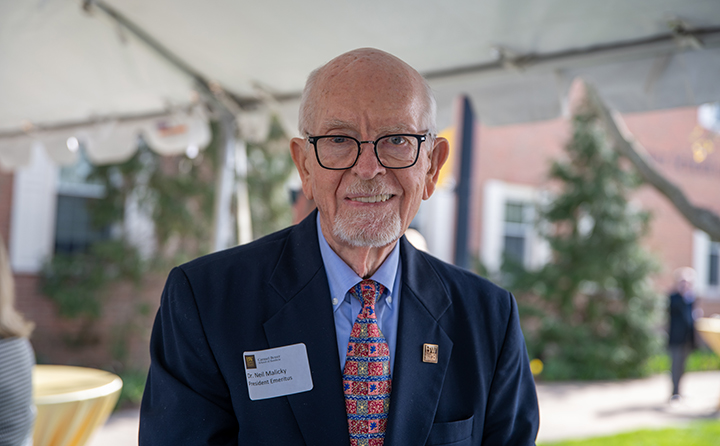 Carmel chaired the BW Trustees for five years and led three capital campaigns. Former BW President Neal Malicky wrote in his memoir that Carmel was a partner in BW's rebound from a financial slump during his time as president.
Malicky also approached Boyer about serving as board chair, but Boyer suggested his talents would best be leveraged as chair of the Investment Committee instead.
Building long-term BW benefits
And so, Boyer (and Carmel, too) spent years providing leadership for the management of BW's endowment, each applying their specialized financial acumen – Boyer on the equity side of the fund, Carmel on the fixed income side.
"They shouldered that significant burden of managing and growing the endowment for free, saving the University significant sums in investment fees," said Dick Fletcher '70, MBA '76, a recently retired longtime senior officer of BW. "George used to say the first thing he did in the morning was check the value of the BW portfolio."
Such savvy and dedicated stewardship helped the endowment grow by leaps and bounds. In fact, BW's investment return was in the top five percent of all colleges and universities in the nation for a number of years.
Malicky recalled, "The leadership of George Boyer, Bill Carmel and other members of the Investment Committee was absolutely essential to such growth. It did and will bring long-term benefit to Baldwin Wallace."
Today, BW's endowment is a vital source of institutional stability and scholarship support for students.
Mentorship matters
Mentorship was another key value for each man as they developed, motivated and challenged young business talent the way they were taught and mentored as promising young BW business students.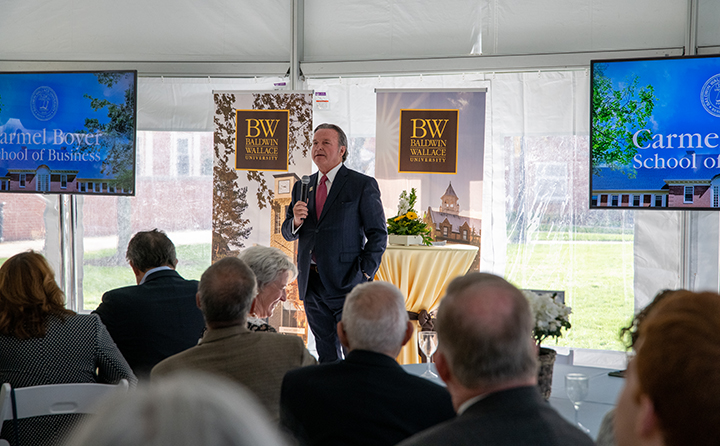 Carmel often recruited talent from BW and found his eventual successor in a 20-year-old BW intern he hired: Bill Summers '72.  
"Bill [Carmel] became my mentor, coach and advocate," Summers recalls. "He was the equivalent of my business 'father,' and when my dad died in 1989, he became like an actual father to me."
Mentorship matters. Following Carmel's retirement, Summers was elevated to president of McDonald & Company and quickly added the title of CEO.
Advice for student success
Looking back, both Carmel and Boyer considered the range of values that undergirded their fulfilling careers and lives.
Carmel believes managers must remember that business is people-powered. "When people get into positions of power, I don't think you can be successful unless you really like people. If you're going to be in any management position, you have to like people and treat them the way you would want to be treated."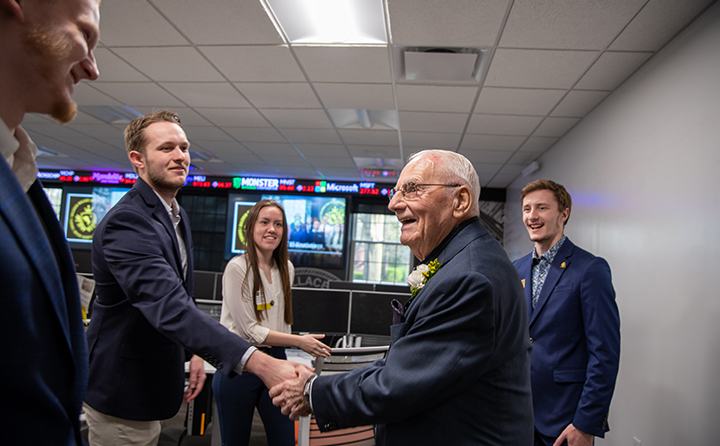 He also urges students today to "work hard and love what you do."
"Everybody is born with their own specific talents and advantages. You just have to find what you're good at. Find the right job and fall in love with what you do. From day one, I woke up ready and eager to get to work."
Boyer's advice to future business students, dispensed in a separate conversation, mirrors his longtime friend's. "Work hard, be charitable and have civility."
Boyer adds, "It's also important in life to be charitable and honorable. Like that line at the end of the movie 'Saving Private Ryan' says, 'Be a good person.'"
Representing the best of business
"Future BW business students should know that their school is named for two of the finest businesspeople in investment banking, and they did it with class and dignity," Summers notes.
"There could not be more loyal, devoted, successful, classy, generous and kind businesspeople that ever walked the halls of BW," Summers concludes. "How talented they were, yet humble; confident, hard-working and demanding, but fair and kind; generous but not boastful. There are no finer men in every respect than these two."
Carmel and Boyer embody what it means to be a "success:" pursuing their dreams with integrity, purpose and drive and finding the freedom to soar — in business and in life.
Individual bios and video tribute
Find out more in this story about Bill Carmel's extraordinary life and career.
Read more in this piece on George Boyer's extraordinary life and career.
Watch the video below, narrated by Bill Summers '72, to trace the intersecting lives, careers and impact on BW's School of Business by Jacob O. Kamm, Bill Carmel and George Boyer.