BW honors trustee Willard 'Bill' Carmel in naming of Business School
Revered as a business strategist and leader whose personal and professional success reflect the values, tradition and mission of Baldwin Wallace University, Willard E. Carmel '52 is being honored by the naming of the BW Carmel Boyer School of Business.
The new name recognizes the outstanding and ongoing contributions of Carmel and George T. Boyer '51, who both retired from the board in October after a combined 94 years of service. 
Carmel, whose steadfast support, visionary thinking and generosity to the university have led to the addition of numerous new buildings, programs and initiatives, has created an indelible and exemplary footprint in BW history.
Illustrious Career, Mentor
A graduate of Grafton High School, Carmel followed the earlier footsteps of his aunt and brother-in-law in enrolling at BW. The hard-working student took a full load of classes in the morning and then worked 35-40 hours in the afternoons and evenings at a local A&P to pay for tuition.
Carmel attended BW from October 1947 through June 1948. In the summer of 1948, he learned about college tuition benefits that came along with the Army Reserves and enlisted. "I came home and told my mom, and she almost passed out," he recalled. "But that decision allowed me to come back to BW and to succeed as a student."
At BW, he studied business under the leadership of the renowned Dr. Jacob O. Kamm '40. After graduating, he joined Field, Richards & Company, where he was later named a vice president at age 27. In 1964, the firm was acquired by McDonald & Company. The following year, Carmel was named a partner and was instrumental in managing the most successful municipal bond operation in Ohio. As he progressed in his career to managing partner and then chairman and president, Carmel led the Cleveland-based company to excellence in becoming one of the larger brokerage firms in the country. 
A relationship-builder, Carmel has mentored countless BW students over the years and represents the best of a BW education — the characteristics and values he has modeled for decades, both personally and professionally, are the same ones the university strives to instill in students.
Exemplary Leader for BW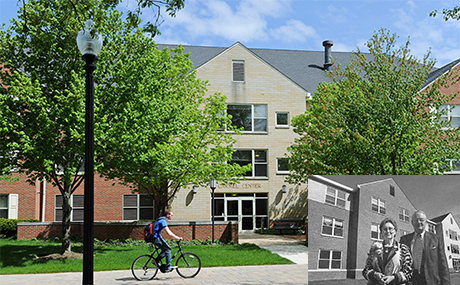 In the past four decades, Carmel has contributed his time and talent as a working member of five trustee committees and as vice chairman and chairman of the BW Board of Trustees.
In the late 1980s, he worked to secure BW's financial future as co-chair of a capital campaign that raised $19.2 million against a $15 million goal. Likewise, in the mid-1990s, he was co-chair of The Campaign for the 21st Century, where his strong leadership helped raise a goal-breaking $55 million that would bolster the university for major capital renovation and new construction, student scholarships, endowed chairs and other prominent initiatives. He would repeat this same success again as a co-chair for Transforming Lives: The Campaign for Baldwin-Wallace College, where in 2011, the BW community celebrated the conclusion of a triumphant $97.2 million philanthropic achievement.
For Carmel, these campaigns helped to cement BW's strong foundation for the future. He led not just by work and persuasive and powerful words but also by example. He and his wife, Donna (nee Heffelfinger) '54, have been steadfast and gracious supporters. Among their many philanthropic contributions is an endowed scholarship for students and funding for one of BW's popular residence halls.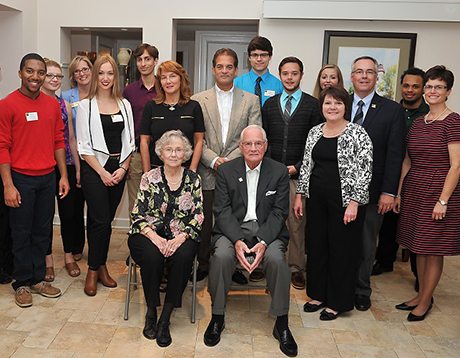 In October 2000, the BW community gathered for the dedication of The Willard and Donna Carmel Living Learning Center, a residence hall named in honor of the generous Bay Village, Ohio, couple who provided the lead gift (which was then matched by Peter Kleist). Today, the residence hall stands as a proud and vibrant reminder of their devoted service, exceptional leadership and countless contributions to their alma mater.
"I could give you a lot of reasons to give back to BW, but two are most important," emphasized Carmel. "One, Jake Kamm is responsible for setting me on my career path, and also, my wife and I met and were married in BW's chapel. The direction of my life was forever changed by my experiences at BW."
Lauded, Loyal Alumnus
His decades of superlative service and professionalism have been recognized through the awarding of a BW honorary Doctor of Laws degree to him in 1986 as commencement speaker and earlier when he was named a 1972 Alumni Merit Award recipient. The latter is BW's highest alumni recognition.
In 1995, Carmel was lauded for a lifetime of outstanding achievement, leadership and service by The Ohio Foundation of Independent Colleges. He was named to its elite Hall of Excellence, which honors alumni of Ohio colleges whose achievements exemplify the tradition, ideals, strengths and values of independent higher education. 
In his memoirs, BW President Neal Malicky reflected on Carmel and the integrity and sincerity he had for his role as a trustee. "He brought to the position a history of dedicated support of BW and a high degree of respect in the corporate community of northeast Ohio. Bill and I developed a personal friendship which will, without question, be with each of us through all our days."