BW grad makes broadway debut behind the scenes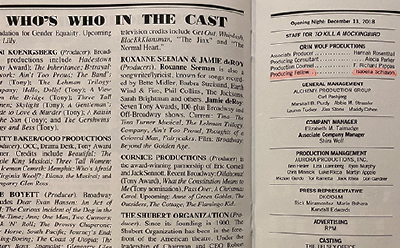 Isabella Schiavon '21, a Baldwin Wallace University arts management and entrepreneurship and marketing graduate and a transfer student from a BW partner university in Brazil, made her Broadway debut with the reopening of "To Kill a Mockingbird," serving as a producing fellow with Orin Wolf Productions.
Opening night ended with Schiavon's boss, Orin Wolf, executive producer and native Clevelander, offering a toast to the company after the audience had left the building. "That was my first time stepping on a Broadway stage, and it was magical," Schiavon recalls.
"To Kill a Mockingbird" reopened on Broadway on October 5, with Schiavon's name in the playbill. Schiavon says her job is "the perfect definition of arts management" because producers "make art happen by managing budgets, schedules, artists and creative visions."
Reopening Night Sell-out
Schiavon started working two months before "To Kill a Mockingbird" was expected to reopen following COVID-19 shutdowns. She said, "Being in the room for the first day of rehearsal after the pandemic was incredible." As a producing fellow, she worked diligently on the show while learning on the job.
Despite the pressure for a reopening without a hitch, Schiavon worked hard to make sure things were all up and running, and her work was rewarded with a sold-out theater and an immediate standing ovation from the crowd.
BW Mentors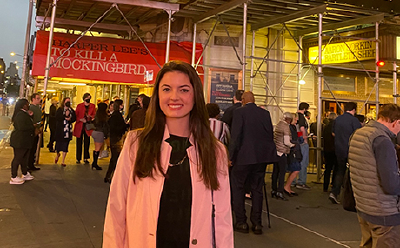 Schiavon is grateful to BW faculty for helping her get to Broadway, saying that though she learned a lot about management, marketing and finance from her old school in Brazil, BW was able to help her apply those skills to the arts.
In particular, she expressed gratitude to Bryan Bowser, program director and associate professor of arts management and entrepreneurship at BW, saying, "Bryan Bowser took a chance on me, and I can't thank him enough."