Parent & Family Weekend bonds legacy families to cherished BW experience
It doesn't take much to nudge a story or two from BW legacy families, whose Brown & Gold span is a generation or more. What they all have in common is beaming YJ4L pride that gives heart to the BW experience.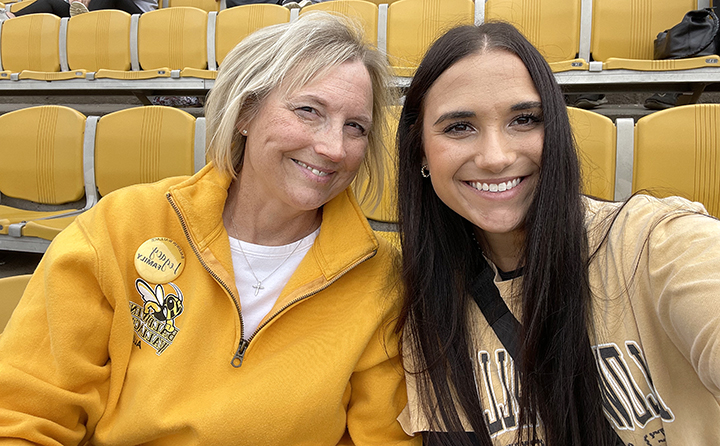 Cow in Marting – Absolutely!
Just ask Kathy (Conway) Molek '91 of Norwalk, Ohio, who was one of hundreds of guests celebrating Parent & Family Weekend. And while she'll offer an affectionate mama-boast to her twins Regan and Kaitlynn Olak '23, she'll also give a quick and colorful nod to great-uncle Leonard Moulder '39.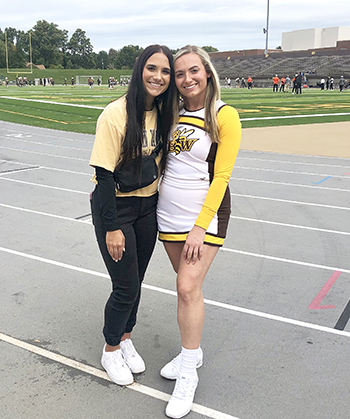 After all, BW oral history is a rich tapestry of narrative and storytelling that infuses truth with a bit of whimsy and marvel to produce cherished memories of years long past.
But in the case of the Moulder, his family says the hand-me-down tale inks true.
"If you have ever heard the story about the fraternity that took a cow up to the top of Marting Hall, it was Lambda Chi Alpha," said Molek. "My great-uncle is the one who took the cow up there — it's a true story!"
Also true is the family's widespread connection to BW, which includes the twins' late father, Tom Olak '92; Molek's current husband, Mike '89; and other relatives who made BW their alma mater.
"When Regan and Kaitlynn began their college search, my one request was that BW be their first visit. Then they could visit any other schools they wanted. My motive for doing this is that I knew BW would set the tone that all other schools would have to live up to," said Molek.
Her mother's intuition was spot-on. The twins enrolled at BW. "BW still feels like home to me every time I set foot on campus, even 30 years later. I am thrilled that Regan and Kaitlynn have found BW to be a special place, too. It's a bond we all share," she added thoughtfully.
A Phone Call That Said It All
Proud papa moments have been plentiful for Donald Glass '91, whose daughter Emma '22 graduated in May with a major in health promotion and coaching and is currently enrolled in the university's Accelerated Bachelor of Arts in Nursing program.
The most recent one was Saturday as the Columbus, Ohio, family gathered for BW's Parent & Family Weekend.
"I believe Emma's choice of choosing BW began when she was very young," he recalled. "I took the family to homecoming activities and would share stories about the great times I had there.
"When it came time to look at colleges, BW was high on her list. But I wanted to make sure it was not because of me. We visited 8-10 schools similar to BW. She kept coming back to Baldwin Wallace as her number one choice. As she would say, 'the other schools could not match up,'" he explained.
"During our multiple school visits to BW, Emma noticed how Dr. Helmer and others would personally welcome her to campus by name because they remembered her. It left such a huge impression on her," Glass emphasized. "Dr. Helmer actually called Emma personally to tell her she got accepted to the school — something Emma will never forget!

"I actually get a little emotional thinking about Emma graduating from BW. I am so proud and humbled that we share this legacy. I have always known BW was a very special place, and I am forever grateful they took a chance on a young guy like me from Erie, Pa. I could never imagine back in the day that I would have a daughter attend and graduate as well. I am truly blessed to have this bond with Emma … as long as she does not mind me saying when we are on campus, 'That building was not here when I attended,'" he said earnestly with a slight quip at the end.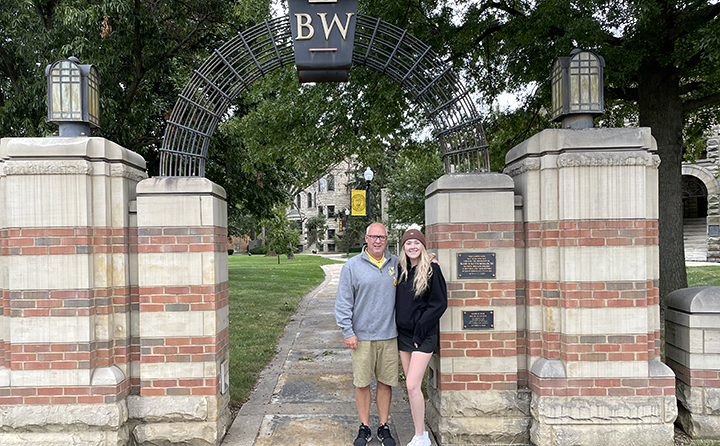 Following in her Footsteps
Nothing beats a tailgate celebration, especially when your student is by your side. Not only does the mother-daughter duo of Tanya (Kostura) '89 and Emily Niezgoda '23 share a love of Brown & Gold, but the pair also has similar majors of accounting, though Emily will be staying on an extra year to graduate from BW's new master of accountancy program.

"When Emily was looking for colleges, I told her about my experience at Baldwin Wallace and my accounting major," said Niezgoda of Seven Hills, Ohio. "She was amazed at the beauty of the campus and how truly welcoming she was made to feel. She learned about the stellar accounting program and even sat in on an accounting class. The professor made her feel comfortable and part of the class and then actually walked her around to meet other professors when the class was over. When she came home, her decision was made.
"Baldwin Wallace is a place I remember as making me feel happy. It has a 'family feel' where everyone — from students to faculty to staff — is so warm and helpful. They wanted to see me achieve my best. I knew Emily would think the same way I did about BW. It makes me proud to know that my daughter is following in my footsteps, and we will forever share this commonality," she reflected.
"Along with my husband, Mike, we had a spectacular time at BW's Parent & Family Weekend," she emphasized. "Nothing beats spending time with my daughter and showing off our BW legacy spirit by cheering on our Yellow Jackets and being a proud YJ4L family!!"