BW research explores factors that explain regional differences in depression
A BW public health professor and graduate student have published one of the first studies to dig into the geographic factors behind the prevalence of depression.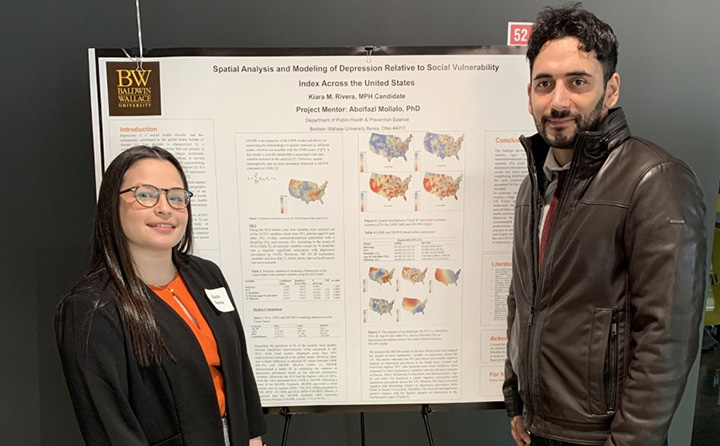 As awareness around mental health conditions rises, Baldwin Wallace University Public Health professor Dr. Abolfazl (Abe) Mollalo and graduate student Kiara Rivera '22 applied geographic models to explore why depression varies locally in the United States.
"In the United States, about 21 million adults experience a major depressive episode which is considered a primary risk factor for suicide," Mollalo explains. "Most previous studies have focused on the medical aspects of depression, with little attention to its geographic distribution and associations with social factors." 
Social factors behind depression
In the study, published in the journal Geospatial Health, Mollalo and Rivera explored the potential impacts of what is known as "the social vulnerability index (SVI)," which includes unemployment, poverty, education, housing stability and healthcare access, on the depression prevalence across the United States. 
Their modeling zeroed in on four main factors that could explain more than 86% of local geographic variations of the depression prevalence across the country:
per capita income
age 65 and older
belonging to a minority group
disability
Supporting public health measures
The BW research, which served as Rivera's Master of Public Health (MPH) thesis, highlights how addressing specific social determinants of health can make a difference in mental health.
"Through this work, we were able to observe how public health measures might impact mental health outcomes nationwide," Mollalo explains. "The findings of this study may support public health measures for targeted interventions that could reduce health disparities related to depression. 
Focusing on mental health
Rivera, who previously collaborated with Mollalo to study geographic factors in COVID-19, aims to encourage other students and researchers to continue to advocate for mental health awareness.
"My hope is to continue to learn how I can better serve our community through evidence-based research as a future healthcare professional," she notes. Rivera, a recent MPH graduate, plans to pursue a career in medicine in the upcoming years.