COVID-19 risk research by BW professor and student published in top-tier journals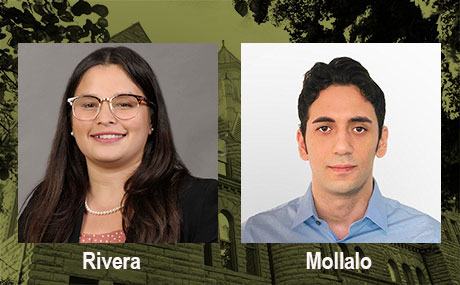 Understanding the factors connected to the spread of COVID-19 has proved challenging in the midst of the pandemic.
Researchers and public health officials are scrambling to find answers.
BW public health professor Dr. Abolfazl Mollalo and Master of Public Health (MPH) student Kiara Rivera '22 took up the challenge this spring.
The results of their work are now published in two top-tier journals and cited by researchers around the world.
Research Gaps
"Prediction of the COVID-19 incidence rate is a matter of global importance," Mollalo, Rivera and their co-author write in the opening abstract of one article. They note that few studies have examined modeling of COVID-19 incidence in the United States, "particularly using machine-learning algorithms."
"Our research focuses on the geographic component of COVID-19, which is overlooked in most epidemiological studies," Mollalo explains.
Geographical Analysis and Modeling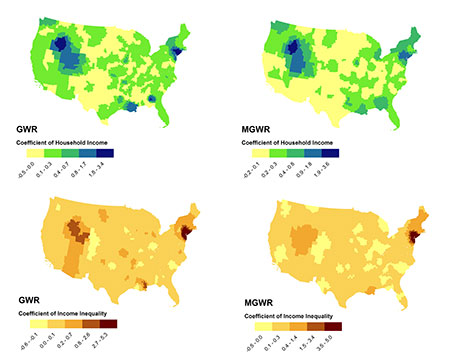 The study involved collecting and analyzing a database of 57 variables that could explain and predict geographic variations of COVID-19 incidence rates across the continental U.S.
The researchers uncovered that the most substantial factors include heart disease, pancreatic cancer and leukemia, along with socio-economic factors such as income inequality and median household income.
The variables could also explain the presence or absence of disease hot spots identified in other studies.
"National-level interventions such as testing and tracing of patients can be targeted at the identified high-risk counties," Mollalo notes.
Adding to the global knowledge base
The latest findings, published in the prestigious International Journal of Environmental Research and Public Health this month, follow an earlier study, which was published in another top-tier journal Science of the Total Environment.
While just recently published, the papers are having an impact on global research, cited 12 times in less than two months by researchers conducting studies in Europe, China, India, Germany, Ecuador and worldwide.
'Rewarding' student-faculty collaboration
Rivera, a Central Florida biology grad and medical scribe with a goal of enrolling in medical school, calls the experience of collaborating on vital research in the midst of a pandemic "incredible" and "rewarding" and Dr. Mollalo an "exceptional advisor."
She adds, "Through this experience, I have gained a better understanding of the importance of collaborative, interdisciplinary research and its applications in various disciplines within public health, which has motivated me to continue to conduct research as a future public health professional and physician."
Not done yet
Rivera and Mollalo are not done collaborating. "We have submitted another manuscript which is under review," Rivera reports. "And we're working to improve the accuracy of our models."