Pandemic slapstick is just the ticket for BW student actor-playwright-director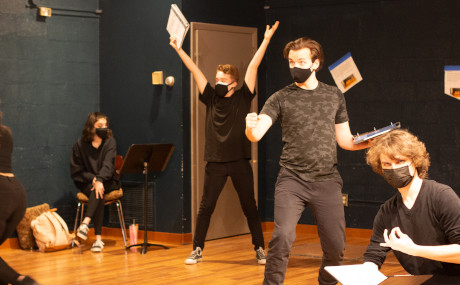 Despite seemingly insurmountable pandemic challenges, Baldwin Wallace acting major Sam Sommer '21 succeeded in directing his thrice-written play.
Along with cast members Kyle Clark '22, Marcus Class '22, Bryce Edwards '21, Dan Eggers '23, Rachel Gold '22, Retta Laumann '21 and Grace Oddo '22, the intrepid troupe produced Sommer's "Staged Reading: A Staged Reading" this spring.
A play within a play
The unique take on meta-slapstick comedy is about a group of actors putting on a staged reading of a play about a group of actors putting on a play about a staged reading. They try to maintain their professionalism, but they put a little too much trust in theatre magic to save the day. High jinks ensue as the actors discover the many ways a staged reading can go wrong — even though there are no sets or costumes, and the actors have their scripts right in front of them.
Third time's a charm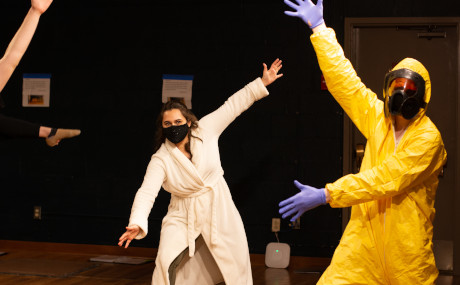 Sommer started writing the show in 2019, and when the pandemic hit, he wasn't even sure it would be produced. After many rewrites, he ended up with three versions – live, virtual and hybrid – with each dependent on the threat level of COVID-19.
The show was produced using the hybrid version. "We started rehearsals over Zoom, but there's only so much you could do virtually with a show like this where physical comedy is part of the DNA," Sommer said.
Eventually, the students rehearsed in person with masks and physical distancing mandated by the University. They made the best of the challenging situation, which also offered unique learning opportunities. "This included brand new gags like the character, Liam, wearing a hazmat suit by the end of the show and how social distancing cancels out any form of intimacy," Sommer noted. "We found new forms of cracking jokes about the pandemic through necessity. For example, when the characters of Liam and Ava are told to hold hands, Bryce and Rachel ended up just holding out their hands without getting close at all."
Opportunity out of loss
In the show opener, Sommer apologizes to those who came to see "Twelfth Night," which had been canceled due to COVID-19. He goes on to say, "But with great loss comes great opportunity." That sentiment played out in an unexpected way for the cast as they trudged through an isolating pandemic winter.
"A bunch of us started out as almost strangers and became a true family throughout it," Sommer said. "There were many nights where I had us all just talk about our problems in the world. Everyone was allowed to share whatever they wanted, and no one was pressed into sharing something they were uncomfortable sharing. I feel like this really helped our production as, with a world where everyone is isolated, it was incredibly helpful to be heard and to be open."
See for yourself
The show was filmed in BW's Acting Studio with health safety protocols in place and premiered on Sommer's website for a ticketed audience. The full production can be viewed via the video below or on YouTube.