BW student-athlete plants future in nature
Being able to participate in collegiate athletics is something many kids dream about. For BW women's volleyball student-athlete Maddie Bednar '22, pairing that with coursework opportunities inside and outside of the classroom means a lot more.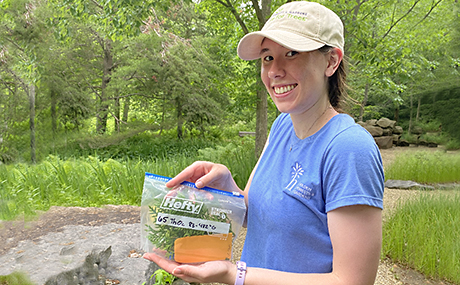 Bednar, a biology major, is working with BW biology professor Dr. Natalie M. Barratt and fellow teammate Ivy Earl '22, a biology and public health major from Howell, Michigan, on a research project.

"It was Dr. Barratt that helped develop my love of botany and plants. It fostered my desire to work with plants in the future," said Bednar. "I had never done research up until that point, so being able to do that with a teammate whom I have known for a while was really fun."
In addition to her research with Barratt, Bednar was an intern at Holden Arboretum in Kirtland, Ohio. The Chagrin Falls, Ohio, resident spent her days doing a mix of lab and fieldwork. She collected samples of mostly conifers and processed the samples.
It was there that Bednar had the opportunity to work alongside a postdoctoral scholar. Though the scholar is now a professor in Oregon, Bednar is still working with him on the research project.

When asked how Bednar balances being a student, athlete and intern, she noted, "I've been a student-athlete for a very long time. I've learned how to balance practice, games and work. What I've found is that having all these things at once gives me a schedule, keeps me focused and is very natural for me."